Around 41% of homes built after 2018 have fireplaces included in the original build. Gas and electric fireplaces became very popular for several years, and many homeowners invested in them. If you've recently purchased a home or if you have an eclectic or gas fireplace, you may want to consider replacing it with a wood-burning fireplace. Traditional fireplaces come with many benefits, and they aren't talked about enough.
Well, we are here to change that. We've put together this guide to help you make an informed decision. Continue reading to learn why you should buy a traditional fireplace for your home.
1. Low Maintenance
Homeowners often assume that wood-burning fireplaces will be a lot of maintenance. However, that isn't the case. Wood-burning or traditional fireplaces don't require a lot of work.
The only maintenance is removing ashes from the base. You'll have to shove them out every two or three days after they have been fully burned.
There are several things you can do with the ashes as well. They can be used as a plant fertilizer and can keep pests out of your gardens.
A gas fireplace requires professional maintenance to make sure it's running properly. If something goes wrong, it can be hard to fix it if you're not an expert. That isn't the case once you have a traditional fireplace installed.
2. Beautiful Décor Element
A traditional fireplace is a great addition to your home decor. Whether you're hosting a holiday party or having a night in with your spouse, a fireplace can set the mood. You change the entire ambiance of your home by simply starting a fire.
There are also many options available when it comes to a traditional fireplace. If you have a modern home, there are fireplaces that will match your aesthetic. The same is true if you have an industrial-style home.
Switching from an electric fireplace to a wood-burning one isn't going to be an eyesore in your home. You can use it as a centerpiece and decorative.
Even in the warmer months, when you don't need the heat, you can still use it as a decorative piece. It can act as a natural focal point, and it's also functional as you can mount your TV above it as well.
3. Cut Energy Costs
Traditional fireplaces are great for keeping your energy costs low. You'll be able to turn your central heat down or even off in the winter and still keep your home comfortable.
It's normal for homeowners to be concerned with high utility bills. You can cut this concern when you have a traditional fireplace. With a traditional fireplace, you have control over how much you spend on energy and take responsibility for your own energy source.
Even if you don't live on your farm or have access to your own firewood, there are ways to save money. You can buy in bulk or get a permit to collect your own on government property.
To save money in the warmer months, be sure to close the damper. This will help ensure that heat and cool air don't escape through the chimney.
4. Energy Independence
Energy independence is another benefit of a wood-burning fireplace. It's not uncommon for storms to take out the power. That could leave you without warmth and light for days, which is less than ideal.
Even in the summer, when you don't need warmth if the power goes out, it could be hard to cook food. It can take days, sometimes weeks, for electrical companies to get power up and running again, depending on how bad the storm is.
You don't want to be left without any source of heat or cooking methods. With a wood-burning fireplace, you don't have to worry about that.
You never know when an emergency could strike, and it's always better to be prepared. You'll have peace of mind knowing you aren't completely dependent on a centralized energy provider.
5. Increased Home Value
It's important that you don't always keep the future in mind. Even if you don't plan to sell your home in the near future, it's important to think about how you can increase your home's value.
It's estimated that a fireplace can increase the value of your home by $12,000. On average, it costs between $8,000 and $10,000. You can make money off your fireplace if you plan it out correctly.
People are willing to spend more on aesthetically pleasing and functional additions.
6. Health Benefits
You may be surprised to learn that there are several health benefits that come with switching from a gas fireplace to a wood-burning one. Listening to and watching a wood fireplace burn can be very therapeutic and relaxing.
It can help with stress relief and increase a sense of calmness. Being comfortable and cozy in your home can also improve your mood. This is another benefit that you can only get from a traditional fireplace, not from an electrical or gas fireplace.
Traditional Fireplace
Owning a home takes a lot of work. There are so many decisions to make. You have to consider your finances, aesthetics, and your resale value.
As you can see from the information above, a traditional fireplace is a great choice. Creating a home that you love makes all the difference, and a modern fireplace can change the entire atmosphere.
Don't wait to add a new fireplace to your house, contact us here. Our team of experts can help you install and design your dream fireplace and answer any questions you may have.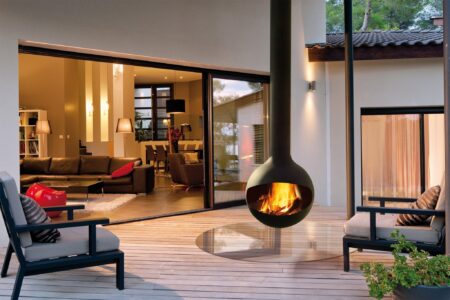 Venting a gas fireplace is crucial for proper air circulation and the removal of harmful combustion byproducts. However, not all homes are equipped with a
Read More »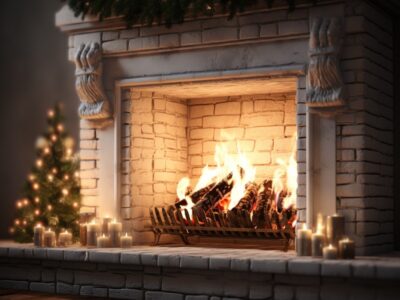 Cleaning white fireplace brick is essential to maintain its appearance and ensure the longevity of your fireplace. However, the cleaning process may vary depending on
Read More »
Looking to add a touch of elegance and warmth to your living space? Discover why a stone fireplace mantel is the perfect choice. Explore the
Read More »