Innovative Commercial Electric Fireplaces in Philadelphia
Do you want to create a warm and inviting space for your business? Discover the beauty and durability of our commercial electric fireplaces today.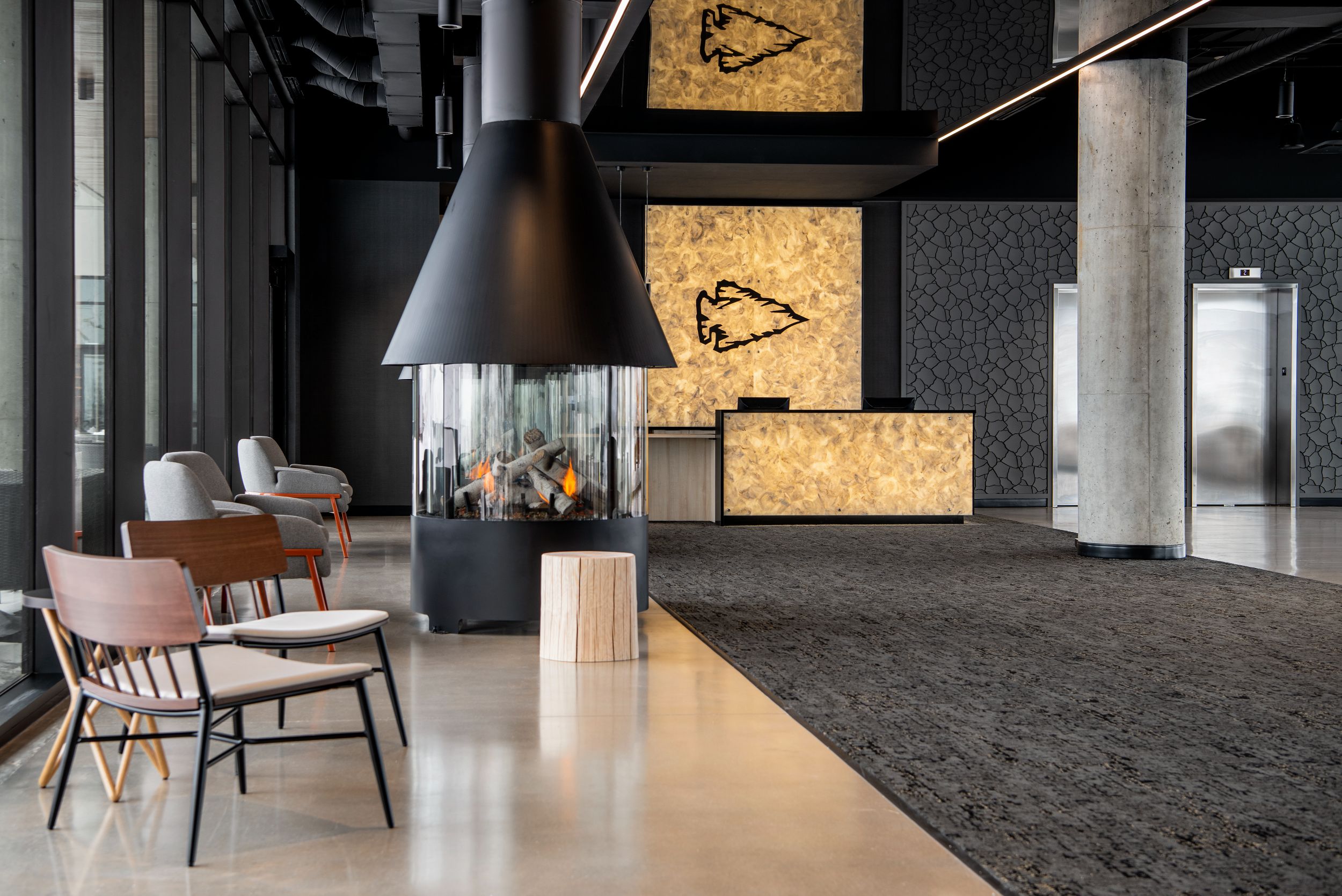 Where Traditional Meets Modern
There is nothing like a fireplace to create a sense of home. When you create a welcoming environment at your business, you encourage customers to stay longer and have more positive associations with your establishment.
At Dreifuss Fireplaces, we can help you or your client add this wonderful feature to their buildings. Commercial electric fireplaces combine the traditional look of a fireplace with innovative features, such as WiFi, Bluetooth, and smart home technology, for a fireplace that's breathtaking and easy to operate.
If you are ready to invest in a commercial electric fireplace, contact us today or visit our showroom in Philadelphia. We offer expert installation to businesses in Pennsylvania, New Jersey, and Delaware.
[Let's Begin]
Stunning Commercial Fireplaces for Any Space
When it comes to commercial fireplaces, the possibilities are endless. We partner with all the leading manufacturers to provide commercial electric fireplaces and electric fireplace inserts that look great and offer unparalleled durability and safety.
Our commercial electric fireplaces come in hundreds of styles, including traditional, contemporary, and modern. They also feature a wide range of materials, including brick, stone, and tile. We even offer electric fireplaces with mantels for a classic look.
Packed With Smart Features
Modern electric fireplaces offer tons of excellent features that make them safer and easier to use. Many of our commercial electric fireplaces are cool to the touch, are energy efficient, and have smart home features that allow you to operate them anywhere. This makes managing them easier for your staff and allows you to customize the flame and heat settings. They can also help heat your space and reduce your energy bills.
High-Quality Commercial Grade Fireplaces
Our commercial-grade fireplaces are not only designed to be safe but they are also built to last. These fireplaces were designed for use by architects and builders to be incorporated into the design and structure of commercial spaces. We also adhere to the highest safety standards, providing UL or CSA approvals to meet all local and national building codes. 
Why Our Clients Choose Us
At Dreifuss Fireplaces, we are proud to be one of the leading commercial fireplace suppliers in the Delaware Valley. Keep reading to find out why our clients continue to choose us. 
A Tradition of Excellence Since 1876
For more than 150 years, the name Dreifuss has stood for quality and exceptional attention to detail. All our expert installers are NFI-certified and insured for your safety. 
Premium Manufacturers
We work with some of the best electric fireplace manufacturers in the industry, including Stoll, Da Vinci, Ortal, and more. This ensures that your fireplace will stand the test of time. 
We Work Closely With Architects & Builders
Are you an architect or builder creating a space for your client? We will work with you throughout the design and installation process to ensure that our commercial electric fireplaces exceed your expectations. 
Stunning Showroom
Want to see some of our most popular commercial fireplaces in person and learn more about all the features that make them unique? Visit our extensive showroom to explore your options. 
Who We Serve
Fireplaces are an excellent investment for any business, but they are extremely popular in restaurants, bed & breakfasts, golf & country clubs, spas, casinos, ski resorts, hotels, and other hospitality-related industries. However, they are also a great addition to any office or retail space. No matter what industry you or your client are in, we can tailor your fireplace to your needs. We work with business owners, architects, builders, commercial construction companies, and engineering firms to design custom solutions for each client. 
Why Choose an Electric Fireplace?
Electric fireplaces are an excellent choice for commercial spaces as they are safer than wood-burning fireplaces and can lower your liability. Some more great benefits of fireplaces include:
Dozens of Great Design Options
Our electric fireplaces can feature LED screens, realistic flames, a sleek modern design, and more. No matter what aesthetic you are going for or what features you need, we have something perfect for you. 
Energy-Efficient & Environmentally Friendly
Our electric fireplaces are an affordable way to add heat to your property during the colder months. They use minimal energy when the heating function is turned off in the summer.
Easier Operation
You and your staff have so much to do in the day. Our electric fireplaces are effortless to operate with a remote or smart device, depending on the model you choose. 

How Our Commercial Electric Fireplace Installation Services Work
Step 1: Request a Consultation
Our team will work with your client to choose the perfect commercial electric fireplace for their business. Then we will give you a quote.
Step 2: Expert Installation
Our team will work with your architect or contractor to ensure that your fireplace is safely and properly installed. We adhere to all local and national ordinances.
Step 3: Open Your Doors
Once your project is complete, you'll be able to invite your customer to enjoy your renewed establishment. Contact us today to get started.
How Much Do Our Electric Commercial Fireplaces Cost?
Our electric fireplaces are a great investment in the operation of your business and can turn any space into an unforgettable experience. We offer competitive rates on all our services and can create a custom solution for your business. Contact us today to get a quote.
Invest in an Electric Fireplace for Your Business Today
Are you ready to envelop your customer in warmth and comfort? Contact us today to discover all our electric commercial fireplaces, or visit our exquisite showroom in Philadelphia.