An electric fireplace brings you all the warmth and comfort of a traditional fireplace, but without the pain of venting and masonry issues.
And that's just one of the many advantages of using an electric fireplace. All it takes is a nearby electrical outlet to add some tastefulness and toasty charm to any room. For those who want the cozylook of a fireplace, but without the hassle, electric fireplaces are the perfect option.
We've assembled these electric fireplace design ideas to help stoke your creativity, and hopefully inspire you to start experimenting with the versatility of these wonderful fireplace alternatives.
1. Traditional Design
The simplest and most popular electric fireplace design idea is the traditional look. It's what everyone knows and likes, and you can't beat it for simplicity and aesthetic appeal.
Of course, designing an actual traditional fireplace is an expensive and complicated project. But the beauty of an electric fireplace means that setting one up is a cinch—all it takes is somewhere to put it and a nearby outlet to plug it in.
Your home is a place for creating new memories with friends and families, and an electric fireplace insert in a traditional setup is just what's needed. You can make any room instantly more inviting by installing an electric fireplace insert in a stacked stone or rustic mantel design.
You'll be able to decorate the mantel however you want, and enjoy the warmth of the electric fireplace without the hassle and care of a real fire.
2. Recessed Electric Fireplace
Maybe you're interested in less traditional electric fireplace design ideas. Perhaps you'd like something that takes up less space and requires less bother.
In this case, consider choosing a recessed fireplace, which is one you can install right in a room's wall to maximize the amount of available space. There's a plethora of electric fireplace wall designs, and you can even install a simple shelf beneath the recessed fireplace in lieu of a bulky mantel.
Recessed electric fireplaces come with a host of convenient features, including flexible control modes, remote control activation, and even touch screens for easy functionality.
3. Freestanding Fireplace Design
On the other hand, what if you're looking for a fireplace design idea that eschews the need for a wall altogether?
This is where a freestanding electric stove comes into the picture. The flexibility of electric fireplaces means you're not restricted to large mantels and extensive ductwork.
With a freestanding electric fireplace, you can place it anywhere to bring a little warmth and coziness to open concept floor plans. Just arrange some seats or a sofa nearby, and you have a very pleasant and comfortable place to enjoy the heat on a cold winter's day.
Freestanding electric fireplaces are small and compact, and feature a transparent glass window to provide that cheerful visual of a crackling fire. And it's not restricted to winter use, either—you can use the flame effect without the heat function to bring that visual appeal to any room during any season.
4. Home Spa
Look, there's nothing that says you can't use an electric fireplace in a luxurious bathroom.
Flames and water aren't always the best combination, but electric fireplaces do away with that issue altogether. This gives you a great deal of flexibility—including placing a nice electric fireplace right near a bathtub.
It's a great way to inject a little more decadence into your bathroom, and you can avail yourself of a recessed or wall-mounted fireplace to save space and afford you greater creative possibilities. If your home experiences cold winters, a cozy electric fireplace in a bathroom can be a lifesaver, besides providing a pleasing aesthetic centerpiece and attraction.
5. The Modern Look
For those looking for more modern electric fireplace design ideas, there are options for that as well.
For instance, you can incorporate an electric fireplace right beneath your flatscreen TV to inject a little more flair into your modern living room. An electric fireplace is perfectly safe to place underneath (or above, depending on your tastes) a television set. All you need to do is adhere to the minimum safe recommended distance between the TV and the fireplace, which is usually one to two feet of separation.
6. Rustic Charm
One thing that's hard to replicate in an electric fireplace is the ease and pleasure of adding wood logs to stoke the flames. Obviously, that's not a possibility with electric stoves, which can be adjusted merely by the flick of a switch.
But wood logs still have an important role to play in creating a little rustic charm for your electric fireplace. You can keep a stack of logs nearby, if for no other reason than to evoke that traditional fireplace feel. Or, for something a little more creative, you can surround your electric fireplace insert with a mantel of wooden logs for a log cabin aesthetic.
7. Electric Fireplace as Home Decor
An often-overlooked fireplace design idea, made possible by electric inserts, is to use them to add character to your home.
This can be done by using recessed fireplaces to fill up blank spaces on walls in different rooms. It really is the best of both worlds—creative wall decor that adds warmth to your home!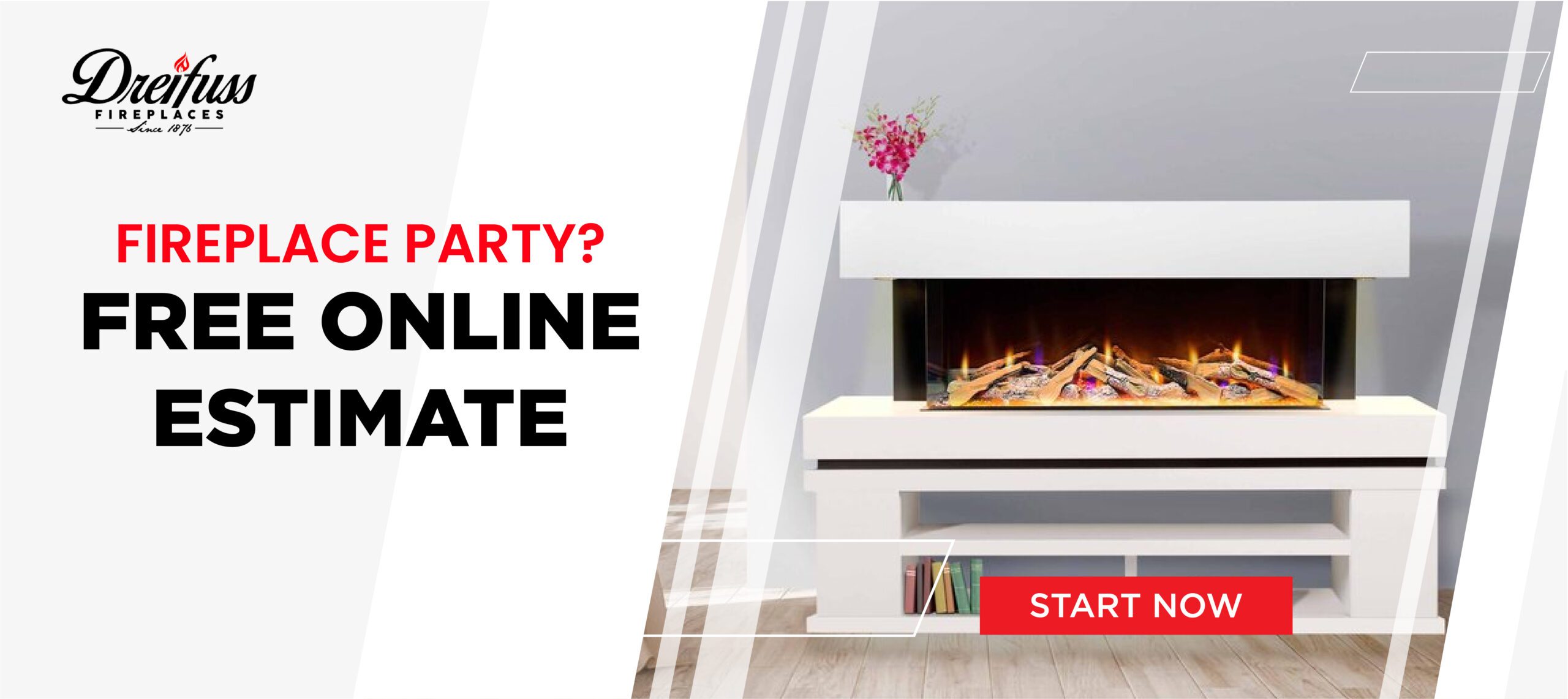 8. Combination Electric Fireplace and Entertainment Center
Our final electric fireplace design idea is one that combines an entertainment center with an electric fireplace for the ultimate in contemporary style.
These attractive combos are defined by the built-in electric fireplace as a centerpiece, with shelves and cabinetry for gaming consoles and TV sets. You can enjoy the benefits of an entertainment center, with shelving for books or decorative art pieces, right along with a fully functioning electric fireplace.
Get Inspired With These Electric Fireplace Design Ideas
Everyone loves a traditional, wood-burning fireplace.
But the hassle of installing and maintaining these fireplaces, to say nothing of the expense, can be daunting. We hope these electric fireplace design ideas will show you that electric fireplaces are a versatile and cost-effective alternative.
At Dreifuss Fireplaces, we have an extensive collection of electric fireplaces that are suitable for any home and design aesthetic. To learn more about your options and for help selecting your next fireplace, go ahead and contact us today.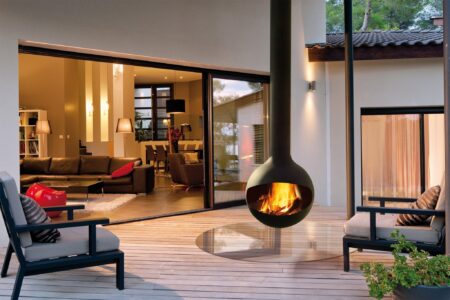 Venting a gas fireplace is crucial for proper air circulation and the removal of harmful combustion byproducts. However, not all homes are equipped with a
Read More »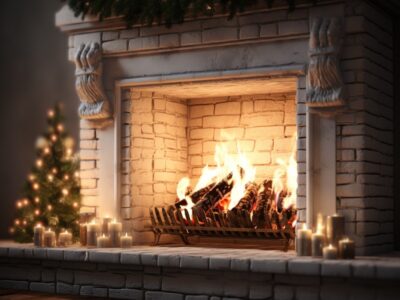 Cleaning white fireplace brick is essential to maintain its appearance and ensure the longevity of your fireplace. However, the cleaning process may vary depending on
Read More »
Looking to add a touch of elegance and warmth to your living space? Discover why a stone fireplace mantel is the perfect choice. Explore the
Read More »