Did you know that only 41% of newly built homes in 2018 came with at least one fireplace? So, the chances of your new house having one are not in your favor.
The good news is that you can design a fireplace that is perfect for your home and lifestyle. You can even put your fireplace outside to make your yard just as cozy as the inside. 
Get started with these 25 outdoor fireplace ideas. 
1. Patio Fireplace
Use your patio as inspiration for your fireplace design. In fact, you can incorporate it into your patio landscape by adding similar colors and rearranging your furniture to make the fireplace the focal point. 
2. Wooden Plank Fireplace
Wood doesn't just belong in the fireplace, it can also be an accent to create a farmhouse look. The fireplace interior should be stone, metal, or brick but the outside can be encased in vertical wooden panels to give it length and warmth. 
3. Mixed Brick Fireplace
Brick is one of the oldest building materials, dating as far back as 7,000 BC. Since then, bricks have changed just enough to give you several options to choose from. Create a masterpiece of historical masonry by mixing different sizes and colors of brick. 
4. Stucco Fireplace
A custom outdoor fireplace is easy to create when you use stucco. You can manipulate it to fit any space and style. Plus, stucco serves as a blank canvas for painting options. 
5. Grand Fireplace
The best part about outdoor fireplaces is that you can go as big as you'd like. Spread your fireplace along an entire wall or create a tall chimney to act as a sculpture piece and a smoke stack. 
6. In-Ground Fire Pit
If you have limited wall space or just want something different, then place your fireplace in the ground. This is a perfect option for large gatherings as you get 360-degree access to the fire. An in-ground fire pit allows you to cover it when not in use to make extra space.
7. Above-Ground Fire Pit
A more traditional fire pit is above ground but these are just as useful as in-ground. They can be designed as built-in structures or mobile units to relocate your fire pit whenever you need to. 
8. Double-Sided Fireplace
You may have seen a double-sided fireplace indoors from decades ago. Now you can move this popular retro-style fireplace outside for optimal style. 
9. Indoor/Outdoor Fireplace
Another option for a double-sided fireplace is one that serves your indoor and outdoor living areas. Choose from a large inventory of fireplaces to make each side of your fireplace different. 
10. Contemporary Fireplace
A backyard fireplace doesn't have to be rustic. Choose a contemporary look by using straight lines and simple shapes like a rectangular cement fireplace. 
11. Tuscan Slate Fireplace
Bring in a piece of Tuscany to your backyard using large slate slabs. Earth tones help complete this look along with sleek lines.
12. Copper-Accented Fireplace
Design a custom fireplace with expensive-looking copper. The metallic shimmer of copper can be used as an accent on any type of fireplace, from brick to cement. 
13. Covered Fireplace
Give your fireplace protection from the elements while making it useful even during stormy weather. Place it in your sunroom, use an awning, or simply put your fireplace under your deck for extra coziness. 
14. Rustic Fireplace
There are many ways to go rustic when you combine the outdoors with a fire. One way is to add several organic elements like a large boulder, local stones, and refurnished wood for a mantel. 
15. Minimalist Wood-Burning Fireplace 
Consider a minimalist design with a classic wood-burning fireplace. These small units were used as a stove before modern kitchens, but they can also provide ample warmth and comfort. 
16. Functional Fireplace
A fireplace can serve more purposes than entertainment and heat. You could install a fireplace that is as functional as your kitchen. Use it to cook food by adding a complete stove on top and a rack for baking inside. 
17. Incorporated Fireplace
A fireplace can blend into your outdoor space if you desire. Think about using the same material as your house's structure like aluminum siding or the same color brick so that it disappears into the background. 
18. Curved Fireplace
The great part about creating a customer fireplace is that it can be built to conform to your space. Layered brick or stone slabs can easily be contorted into a crescent for a masterful centerpiece. 
19. Floating Fireplace
You may think that a fireplace needs to be on the ground. However, you can also install a hanging fireplace to create an illusion of weightlessness. 
20. Open Fireplace
Eliminate the walls of your fireplace to create a stand-alone fire. Unlike a fire pit, this design may use gas or electricity to keep the fire going and contained in a straight line.
21. Fireplace with Water Features
Add another one of the elements to your fire for ultimate relaxation. A fireplace with water features on each side brings balance to your space. 
22. Stainless Steel Fireplace
A sleek look is achieved by using stainless steel as your material of choice. Just be aware that steel can get hot on the outside, so you may want to use it as an accent or secondary covering material. 
23. Stacked Stone Fireplace
Stones themselves can be used as the structure of your fireplace. Flat stones are stacked on top of one another to build your fireplace from the ground up. 
24. Fireplace Enclosure
Separate your fire from the rest of your backyard by using a circular enclosure. This method also adds natural seating around your fire and acts as a sacred space for special occasions. 
25. Campground Fireplace
Go completely rustic by having a fire right on the ground. All you need is a clear plot of land, a dugout fire pit, and a circle of bricks, stones, or cement blocks to contain your fire. 
Building One of These Outdoor Fireplace Ideas
It may seem overwhelming to choose from one of these outdoor fireplace ideas. However, once you choose a design then building it is easy with Dreifuss Fireplaces to assist you with construction. 
Get started by contacting us today to discuss your ideal outdoor fireplace.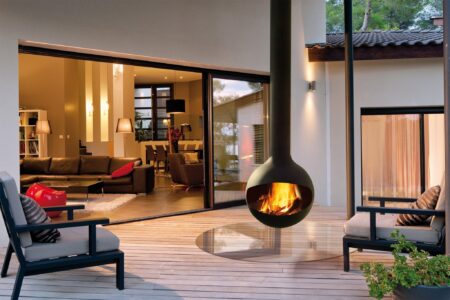 Venting a gas fireplace is crucial for proper air circulation and the removal of harmful combustion byproducts. However, not all homes are equipped with a
Read More »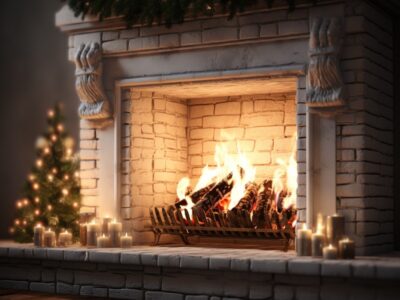 Cleaning white fireplace brick is essential to maintain its appearance and ensure the longevity of your fireplace. However, the cleaning process may vary depending on
Read More »
Looking to add a touch of elegance and warmth to your living space? Discover why a stone fireplace mantel is the perfect choice. Explore the
Read More »