A gas fireplace is the centerpiece of any room you put it in. If you want your house to look modern and stylish, you absolutely need to get your fireplace right. While a fireplace is a fairly simple concept, there are a huge number of design options available to you.
This means getting a fireplace is the perfect opportunity to come up with a custom design. So what should your custom gas fireplace look like? This article offers 5 great tips for your consideration.
1. Use a Brick Mantel and Surround
Your fireplace will be full of wood, smoke, and ashes. This means you'll need to select a good material for your mantel and surround. if you pick the wrong kind of material for this, you may end up with damage over time. Smoke and ash will get into a lot of materials and they will quickly become very difficult to clean.
This is why brick is the perfect choice of building material. When gas fireplaces burn, they can leave behind a lot of messy residues.
Using a brick fireplace is a great way to burn gas while still keeping your fireplace clean. Brick also allows for a lot of customization. You can choose different styles of bricks as well as different colors.
You can mix and match colors and styles to come up with something that is unique to your home. If you're looking for a custom gas fireplace material that will hide smoke damage and look great, you can't go wrong with choosing brick.
2. Use Dark Colors
Whatever material you decide to go with, there's always going to be smoke damage and soot around your fireplace. Of course, you can combat this with regular cleaning, but you'll also find that certain colors look dirty much quicker.
A darker tone is the perfect choice if you want to cover up the ashes and smoke that will quickly accumulate around your fireplace. When using dark colors, you have a wide variety of materials available to you. For example, you can get dark-colored marble, stone, and brick.
Not only do these dark materials serve a useful purpose, but they can also make your fireplace look stunning. The contrast between the bright flames and the dark fireplace can leave quite a lasting impression, particularly in a low-light setting.
If you're looking for a dramatic aesthetic combined with low maintenance, you should consider using dark colors in your fireplace design.
3. Discard the Mantel
When it comes to the traditional perception of what a fireplace looks like, you always have a mantel. If you're someone who likes to mix things up, you might consider going for a less traditional design when you customize your gas fireplace.
If you discount the traditional design rules, you're totally free to get rid of the mantel entirely. This creates a modern, elegant look that's sure to turn heads. If you don't have a mantel, you could even just have smooth walls around your fireplace. You could also have a fireplace that's surrounded by glass.
One thing to bear in mind if you choose to go down this route is that it's quite difficult to design a fireplace without a mantel. Unless you have a lot of design experience, you should probably consult with a professional.
4. Decorate For the Holidays
When you think of Christmas, the first image that comes to mind is often a warm fireplace with a mantel decorated with Christmas stockings, this kind of decoration is a tried and tested way to spread some holiday cheer to your friends and family.
Decorating your fireplace can make just as much of a statement as the design itself. Despite the impact that decoration can have, most families only ever decorate their fireplace for the Christmas season.
There's no reason why you can't decorate your fireplace for other seasons as well. For example, in the fall, you might decorate your fireplace with Halloween decorations. In the winter, you could use the mantel to showcase your snowglobe collection.
When the warmer months roll around, you might consider decorating your fireplace with greenery and fresh flowers. Of course, you'll need to decorate your fireplace with caution. Always make sure that none of the decorations are at risk of setting alight.
You should also never leave your gas fireplaces lit unattended. There should always be someone around to make sure the fire is burning safely.
5. Work With A Designer
When it comes to a custom gas fireplace, there's a lot to consider. There is a huge range of different design choices you could make, and you might feel overwhelmed by the possibility.
You might also not have a very creative mind. In these situations, it makes a lot of sense to work with a professional designer. Interior designers will be able to come up with a huge range of possibilities that you probably never would have imagined.
Working with a designer is particularly great if you want to have something that looks modern. Not only can a designer help you out by showing you all the latest design trends, they can also help you to choose one that fits the look and atmosphere of your home.
A fireplace is a serious investment that could last for generations, so it makes a lot of sense to get the design right.

Get a Great Custom Gas Fireplace
As you can see, there are a lot of things to consider when designing a custom gas fireplace. You'll need to think about functionality as well as aesthetics, given that the fire can cause a lot of wear and tear over time.
If you want to get the best fireplace design for your money, it makes sense to work with a professional company. Contact us today, and we can help you install the gas fireplace of your dreams.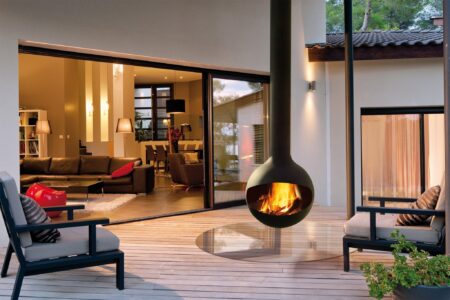 Venting a gas fireplace is crucial for proper air circulation and the removal of harmful combustion byproducts. However, not all homes are equipped with a
Read More »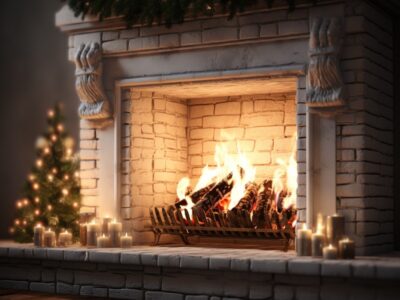 Cleaning white fireplace brick is essential to maintain its appearance and ensure the longevity of your fireplace. However, the cleaning process may vary depending on
Read More »
Looking to add a touch of elegance and warmth to your living space? Discover why a stone fireplace mantel is the perfect choice. Explore the
Read More »