Winter is set to be colder than normal this year in Pennsylvania, and you know what that means. You have a few autumn months left to enjoy the mild (if chilly) weather before it's time to stay cozy indoors.
Why not get an outdoor fireplace to make the most of the season?
Outdoor fireplaces make great additions to any patio or garden room. We're here to talk about a few ways you can use yours as well as how to stay safe and cozy all autumn long. Read on to learn more.
1. Create a Cozy Sitting Area
When you get your new outdoor fireplace, consider setting up a cozy sitting area around it. Sure, you could stick with your standard plastic garden furniture, but why not improve your outdoor space with an upgrade?
Many people only use stereotypical "outdoor furniture" outside, but this limits you. Any furniture can go outside as long as you choose the right materials, especially if your outdoor area has a roof that will protect it from bad weather.
When you're trying to make your outdoor space cozy, mimic what you've done with your indoor space. There's no reason that you can't have an outdoor living room that's just as comfortable as your indoor one.
Look for armchairs and couches that you'd be just as happy to have indoors. While you don't have to use uncomfortable "typical outdoor" fabric, we recommend something that will hold up well to cold weather and moisture in the event that they get rained on. It's also a good idea to have a tarp available if there's any chance of that happening.
Set up a coffee table, and you'll have a lovely sitting area where you can hang out with your friends and family after work, read a book, or just have a warm cup of coffee on a chilly morning.
2. Keep a Bar Cart Nearby
There's nothing worse than sitting down all cozy with your outdoor fireplace and then having to get up every time you want a snack or refreshment. We love having bar carts in our outdoor sitting areas, and they make a great addition to any outdoor fireplace.
Put all of your snacks and drinks on your bar cart and roll it outside when you're ready to enjoy your outdoor fireplace so you don't have to get up to get refreshments.
In the morning, your bar cart can be a coffee and hot cocoa cart. At night, you can make mulled wine and hot cider. Pile it high with marshmallows, graham crackers, and chocolate for s'mores.
Even if you don't have room for a full dining area, a bar cart will provide everything you need. You can even pile it high with candy and wait for trick-or-treaters by your cozy fireplace this Halloween!
3. Set Up an Entertainment Garden Room
Garden rooms can be a bit expensive for the average outdoor renovation, but they're totally worth it for anyone who enjoys the outdoors or entertains often (or both). Your garden room is like a small oasis in your backyard. Instead of putting your outdoor fireplace on the patio, it can go in a semi-enclosed space just a short walk away from your door.
Garden rooms are perfect for both getting some alone time and entertaining. They're quiet because they're away from the main home, so you can have more privacy. If you have a home with children, this also allows you to entertain guests while the children are sleeping without waking them up.
An outdoor fireplace is perfect for a garden room. It will warm the semi-enclosed space right up, so you'll feel just as cozy as if you were indoors.
Set it up with a full dining area and a small sitting area so you can celebrate the holidays or just throw a small gathering. You can be more flexible with furniture in a garden room because it's protected from the elements, so get creative.
4. Stay Weather-Ready
Your outdoor fireplace is sturdy, but you should still try to protect it from bad weather. During early autumn, it's possible for hurricanes and tropical storms to hit. During the later autumn months, snow is a very real possibility.
Make sure you have a cover for your outdoor gas fireplace (or any outdoor fireplace, for that matter). Many covers are made from steel or glass, but there are also vinyl options.
While you can use your fireplace when it snows, clear out the area around the fireplace before lighting it. While it is cozy, avoid using it during storms unless you're in a completely enclosed patio or garden room.
5. Keep Your Fireplace Well-Maintained
If you want to enjoy your fireplace all autumn long, you have to keep it in good condition.
Make sure you keep the fireplace clean. Remove any residual ash or unused fuel from the fireplace before you use it again. Your outdoor fireplace kit should include a small broom for this purpose, but a handheld vacuum is also effective.
You should also be keeping up with chimney maintenance. It's best to have a professional do this for you.
If it's a gas fireplace, clean the burners with a cloth and a small brush.
6. Stay Safe
Safety is key when you're enjoying your outdoor fireplace.
If you have small children at home, keep them a safe distance away from the fireplace and educate them on basic fireplace safety. Keep a fireplace safety kit nearby with everything you need for the fire. You should also have a fire extinguisher either right inside or tucked away somewhere outside.
Don't use outdoor fireplaces during a serious tropical storm or hurricane. Even if it seems mild when you start your fire, things can change quickly.
Enjoy Your Outdoor Fireplace This Fall
Use these tips and outdoor fireplace ideas to stay safe and cozy around your outside fireplace this autumn. Don't let the chilly weather stop you from enjoying your outdoor space! Whether you're relaxing alone or entertaining guests, your outdoor fireplace will be a hit.
Are you ready to install an outdoor fireplace? At Dreifuss Fireplaces, we've got you covered. Contact us to learn more about getting your new fireplace in time for the chilly autumn weather.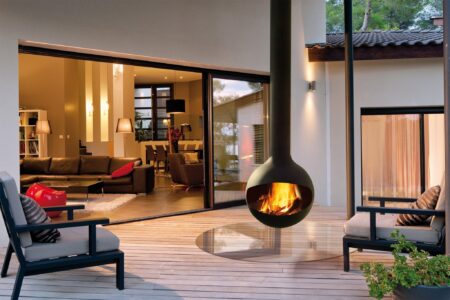 Venting a gas fireplace is crucial for proper air circulation and the removal of harmful combustion byproducts. However, not all homes are equipped with a
Read More »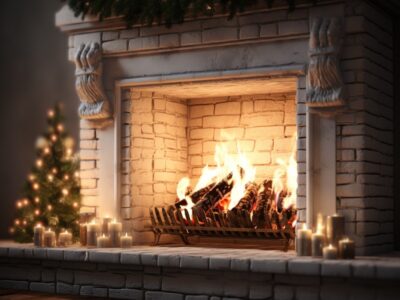 Cleaning white fireplace brick is essential to maintain its appearance and ensure the longevity of your fireplace. However, the cleaning process may vary depending on
Read More »
Looking to add a touch of elegance and warmth to your living space? Discover why a stone fireplace mantel is the perfect choice. Explore the
Read More »