Having a fireplace in your home or commercial setting adds value to the building and brings about nostalgic memories all in one. For many reasons, adding a fireplace to your home or business is beneficial. These days, there are so many interesting and creative designs to choose from when it comes to fireplace ideas. No matter what the decor of the room is, there is a fireplace design that will fit in perfectly.
At Dreifuss Fireplaces, we have been the top high-quality fireplace provider in the Pennsylvania area since 1876. We're passionate about working with you to create the perfect ambiance in your space.
If you're considering modern fireplace ideas but you're not sure what direction to go in, read on for some of our best ideas.
1. Classic Style
This classic fireplace idea never goes out of style, and for good reason. When people imagine a fireplace, chances are they're thinking of a cozy, brick setting. Somewhere where they can snuggle up with a blanket, sip on warm drinks, and enjoy some company or alone time.
The standard brick-style fireplace will always be beloved. It looks good in both a home and a commercial setting.
The traditional stone details work wonderfully as the centerpiece in a living room or cabin. It brings a homey feeling to hotel lobbies and encourages guests to spend time outside their rooms.
2. Sleek and Modern
When it comes to hospitality fireplace ideas, a modern, clean, and simple look has risen in popularity.
A simple, square design and glass doors work wonders for any space. It's an understated design that both shows off the luxurious fireplace and plays up the other features of the room.
The best thing about a sleek and modern design is that it will look good in any room and go with any colors or decorations.
3. Mosaic Tiles
Most people don't think of mosaic tiles when they think of fireplaces, but these small, decorative tiles give an instant lift to any space.
To blend in with any room, use tiles in natural or neutral tones, like tan, brown, or beige. Using differing variations of the same color tile will also give the space a luxe, custom look that is hard to find.
For instance, using different grey-colored tiles will give your fireplace a modern, clean look. Blue tiles in differing colors would look right at home in a beach-themed setting or a home near the ocean.
You can also go for bold colors or designs to make the fireplace stand out and become the room's centerpiece. Tiles come in colorful or bold patterns that you can use to accent the rest of your room.
4. Electric Fireplace
Of all the fireplace decor ideas you can choose from, opting for an electric fireplace will be the one that simplifies your life!
If you want a fireplace without having to deal with some of the side effects of having one, this is the best choice.
This kind of fireplace will feel like a real fireplace but does not come with the hassles of one. This will allow you to enjoy the warmth you crave without having to set it up, maintain it, or clean it.
These kinds of fireplaces look perfect in commercial or modern settings and match well with a sleek and modern design.
Because of the unique way they work, electric fireplaces can be installed into a wall as a stand-alone feature, with no chimney or airway required.
As you can see in some of our photos, these kinds of fireplaces offer an opportunity to add a chic, classy touch to any room.
5. Outdoor Fireplace
An indoor fireplace is what people expect to see, but nothing says luxurious like a fireplace under the stars. An outdoor fireplace can turn a small get-together into an event.
For homes, an outdoor fireplace is ideal for entertaining and celebrating or just making memories with loved ones. Make it the centerpiece of your backyard by surrounding it with cozy chairs and small end tables where you can place food and drinks.
In commercial settings, an outdoor fireplace will make any business stand out to customers. Guests will likely always remember spending nights stargazing and chatting around the fireside before retiring to their rooms.
An outdoor fireplace can bring plenty of class, fun, and memories to residential and business settings.
6. Standalone Fireplace
Standalone fireplaces stray from the traditional look that most fireplaces bring to a room. Traditional fireplaces are often built into the wall of a room, but standalone fireplaces are designed to be the star of the show.
These designs are contemporary and look impressive in any setting. Their versatility makes them ideal for rooms or areas designed for relaxing and entertaining.
Standalone fireplaces look wonderful in an outdoor setting or as an unexpected feature in a home. These fireplaces can be painted or created to perfectly match the ambiance of any area.
7. Marble Fireplace
If you love the idea of traditional fireplaces but would like to add a dash of modern style to your room, opt for a marble slab fireplace.
Marble is a bold styling option that will add flair to a room without being too over-the-top or overshadowing the room's decor.
Grey or white marble will give any room a regal-looking but minimalist lift. The natural markings and color patterns in marble are beautiful enough decorations on your fireplace that you may not need to add anything else.
Explore More Fireplace Ideas Today
Now you know some of the best fireplace ideas that will add unique style to any residential or commercial space. Whether you're looking for bold and bright or understated and chic, Dreifuss Fireplaces has the perfect fireplace for you.
Contact us today to find out more about your fireplace options and how we can work with you to create the perfect design.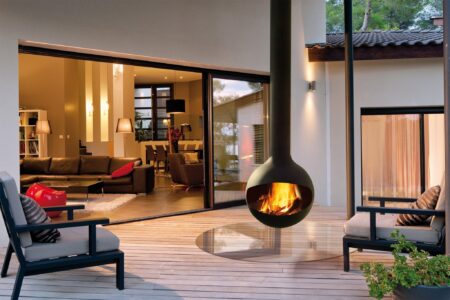 Venting a gas fireplace is crucial for proper air circulation and the removal of harmful combustion byproducts. However, not all homes are equipped with a
Read More »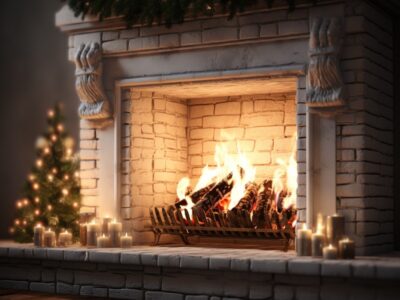 Cleaning white fireplace brick is essential to maintain its appearance and ensure the longevity of your fireplace. However, the cleaning process may vary depending on
Read More »
Looking to add a touch of elegance and warmth to your living space? Discover why a stone fireplace mantel is the perfect choice. Explore the
Read More »