Many people love the feeling of cozying up next to a crackling fireplace on a cold winter night, but fireplaces are becoming rarer. Many new homes aren't built with the capabilities to house a wood-burning fireplace.
An electric fireplace is an ideal solution for those who aren't equipped to build a traditional fireplace but still want the warmth, and ambiance one provides.
They come in all sorts of different colors and configurations, but a black electric fireplace is a top choice. It lends a stately elegance to your home.
Read on to learn all about choosing your ideal electric fireplace.
How Electric Fireplaces Work
Before you browse the various electric fireplace options, you should understand how they work. It will inform your buying decision and help you determine its placement in your home.
Electric fireplaces look similar to traditional fireplaces but are significantly easier to install. You won't have to deal with ventilation of any kind because there are no flames or smoke.
However, you will need to plug it into a wall outlet.
They use a heating coil and a fan to generate warmth. The fireplace takes in air, the coil heats it, and the fan spreads it around the room.
Most electric fireplaces can easily heat a 400-square-foot room. Larger kinds of electric fireplaces have a greater heating capacity.
You can also enjoy the atmosphere of an electric fireplace in the warmer months. Most allow you to turn the heating element off.
These types of fireplaces simulate flames with a combination of led lights and a refractor. Some brands also use water vapor to imitate smoke.
The Kinds of Electric Fireplaces
There are four main kinds of electric fireplaces. Some are simple to install, while others might require professional help.
All of these fireplaces come in black. It's the perfect color to compliment your interior design, whether you have a classical, contemporary, or modern aesthetic. The color also provides a stark contrast to the artificial flames.
Wall Mount Electric Fireplaces
Wall mount electric fireplaces are quite easy to set up. You'll just attach the included mounting brackets to the wall and hang the fireplace unit on them.
These come in a wide range of sizes. Smaller units are perfect for bedrooms or studies, while larger ones are great for family rooms.
Many wall mount fireplaces are low-profile, so they won't protrude too far out from the wall. Some units even feature curved glass, which provides a streamlined appearance when you view it from the side.
Many also boast additional features like LED lighting to provide an improved glow and atmosphere.
Built-in Electric Fireplaces
A built-in electric is perfect for someone who wants the look of a traditional fireplace but can't build the ventilation system. To install one of these fireplaces, you'll need to build a frame and insert the fireplace unit inside of it.
When you do, the unit will be almost completely flush with the frame. This makes them a very popular option. Condo dwellers especially love these, as they bring the character of a traditional fireplace to their units.
Electric Fireplace Inserts
Wood and gas-burning fireplaces need a lot of upkeep. As a result, many homeowners have a fireplace that sits around unused.
If you're looking to upgrade your existing fireplace to an easier-to-use and more environmentally friendly option, electric fireplace inserts are for you. Your new fireplace sits directly in your old fireplace's opening.
There are two main kinds of fireplace inserts.
The first is a firebox insert. This kind of electric fireplace is a bit larger than the others to fill out the fireplace opening.
Once installed, it sits flush with the opening. Some also come with trim to add a finishing touch.
The other kind is an electric log insert. This electric fireplace uses artificial logs to replicate the look of a traditional fireplace. Many even come with a grate to complete the effect.
Mantle Electric Fireplaces
A mantle is the classical fireplace housing. Few things can elevate your interior design more than a beautiful mantle. They also serve a functional purpose and can be used as a shelf or media stand.
A mantle electric fireplace comes with everything you need to achieve this timeless look. You'll first construct the standalone mantle and then house the fireplace unit inside of it.
Choosing Your Black Electric Fireplace
Now that you've learned about the different kinds of black electric fireplaces, you're ready to start narrowing down your choices. You'll need to keep a few key things in mind while you do.
Proximity to an Outlet
Most electric fireplaces need to be plugged into a standard 110-volt outlet. You should never plug one into an extension cord.
This might limit where you can install your fireplace in your home.
Heat Disbursement
If you plan on using your electric fireplace as a source of heat, you'll need to be mindful of where the heat comes out of the fireplace.
You'll want to keep heat away from sensitive items like electronics. This is especially true if you plan to install a mantle fireplace and use it as a media center.
Heat comes out of the bottom of most electric fireplaces so you can safely install your TV above it, but you need to check your particular model to be sure.
Permanence
Consider how permanent you'd like your fireplace installation to be. Wall-mounted ones can easily be repositioned, but built-ins and mantles aren't as easily moved.
Get Your Electic Fireplace
A black electric fireplace is a perfect way to add character to a home. Whether you're looking to replace your outdated fireplace or are seeking a wall-mounted option you can easily hang in any space, there's an electric fireplace for you.
Ready to get yours? Dreifuss Fireplaces has been in the fireplace business for over 140 years and carries all kinds of electric fireplaces. We offer only top-of-the-line brands and are ready to put our expertise to work by assisting in your installation efforts.
Take a look at our electric fireplace options today.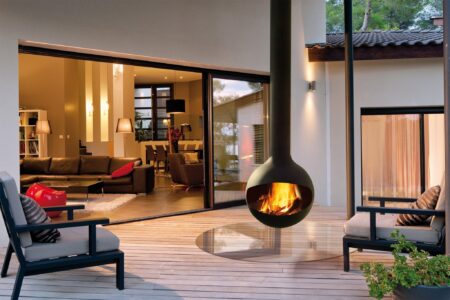 Venting a gas fireplace is crucial for proper air circulation and the removal of harmful combustion byproducts. However, not all homes are equipped with a
Read More »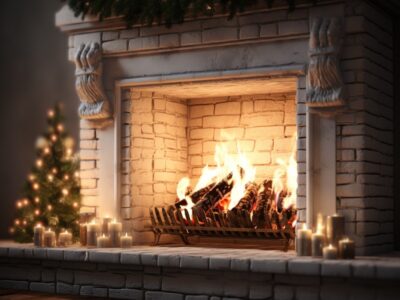 Cleaning white fireplace brick is essential to maintain its appearance and ensure the longevity of your fireplace. However, the cleaning process may vary depending on
Read More »
Looking to add a touch of elegance and warmth to your living space? Discover why a stone fireplace mantel is the perfect choice. Explore the
Read More »