Are you looking for unique ways to design and decorate your home? Do you like interior design that is both beautiful and functional?
Adding a fireplace to your home adds interest and beauty to an otherwise common space. It also offers extra light and heat!
If you're on the path to building a fireplace but are unsure where you should put it or what design you should choose, you've come to the right article! These design choices affect the home's resale value and guests' appreciation.
Below are some different fireplace styles below to help you figure out what fits best in your home. Let's take a look!
Brick
One of the most classic and long-standing fireplace styles is brick. It can be manipulated to fit a variety of interior design themes.
German schmear has become a popular choice to convert traditional-style brick fireplaces to a more modern rustic look. Others paint their brick fireplace to either blend better into the walls or stand out as a statement piece. Think all black or all white.
Bricks come in many sizes and can be laid in patterns. Certain fireplaces have bricks randomly placed, while others have them lined up perfectly next to each other.
Both have their place. It just depends on which home style you're trying to achieve!
Stone
Similar to brick, stone floats throughout various design styles. It comes in many different colors, sizes, and shapes.
Those who prefer a cottage or bohemian look may lean towards smaller stones. Those wanting to stay on trend can select larger stones that they over-grout or lime wash.
Stone is an organic element that brings an outdoorsy, natural feel to your home. It feels homey and quaint.
Tiles
Fireplaces make wonderful statement pieces if you allow them, and tile is a great way to do that. A bold, patterned tile spruces up any room of the house.
Tiles come in materials such as…
Ceramic
Porcelain
Terra-cotta
Glass
Granite
Marble
The patterns and color choices are endless. There are florals, shapes, and designs on the tiles. Arrange simple ones to form your own unique pattern.
For a minimalist or mid-century style, buy thin tiles of one solid color. Side-by-side placement of these tiles makes the mid-century look.
Double-Sided
Double-sided fireplaces divide rooms while still providing light and warmth. These work well between living and dining rooms.
Imagine a fireplace between your office and your home's entryway. It's enjoyable on both sides and a type of decoration on your wall.
If you have an existing wall already dividing a room, a double-sided gas or electric fireplace would work well for you. It would be a topic of conversation for you and your guests!

Storage
If you have the wall space, consider built-in bookshelves around your fireplace. They offer extra storage and add a luxurious feel to the home.
Built-ins work with any interior design style depending on color choice and design. However, these are especially popular with modern farmhouse design lovers.
Customize built-ins further by placing a design or wallpaper at the back of the cubbies. Wood slats, for instance, pull out a mid-century design. A floral wallpaper lends itself to a French country-inspired style.
Corner
Corner fireplaces can be made out of any material. They also save space!
These are great for bedrooms since they don't take up central wall space. They also work well in living rooms that need more wall space for furniture.
Many fireplaces go directly in the center of the wall. But, corner fireplaces help free up that main wall for furniture or a TV.
Marble
Marble offers a sleek and sophisticated fireplace design that fits well within the art deco and transitional interior design styles. However, as with most materials, it can fit many styles.
Marble can be used as the face of the fireplace with a surrounding mantel for a smaller fireplace. For a larger space, make the entire wall marble with a gas fireplace insert.
Contemporary
Venture outside the bounds of normal with a contemporary design. This design utilizes materials like concrete or wallpaper.
Choose an electric fireplace inside your wall with an upper and lower marble mantel as an idea for this style. You may like a herringbone pattern inside of an open, black fireplace surround instead.
Metallic
If you're looking for an edgy, modern vibe, look no further than metal. Whether you choose metal sheets or metallic bricks, your fireplace is sure to stand out.
Embrace the natural color and shine of aluminum by using it to frame your fireplace. Take it a step further by lining your fireplace with chrome instead.
Glass-Enclosed
For a fireplace that makes it look like you drip money, put your fire in a box. A glass-enclosed fireplace is viewable from every side when placed in the center of a room.
This kind of fireplace is perfect for hotels and restaurants as well as residential homes. Build it from floor-to-ceiling glass for a wow factor.
Place it at the end of a half-wall so that it's viewable from multiple rooms. Why stop with a box? Envision your fireplace in other shapes as well!
Try Out One of These Fireplace Styles!
There are endless fireplace styles out there from which you can choose! Your options are only as limited as your creativity and your wallet.
Make all of your fireplace dreams come true with our help. Take a peek at our residential fireplace options today!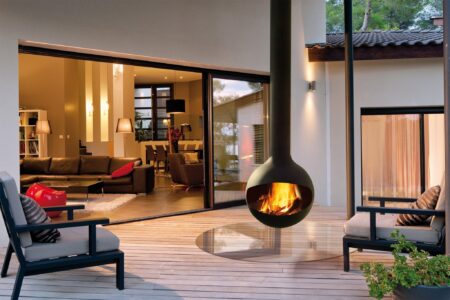 Venting a gas fireplace is crucial for proper air circulation and the removal of harmful combustion byproducts. However, not all homes are equipped with a
Read More »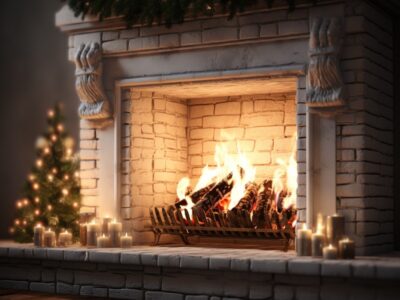 Cleaning white fireplace brick is essential to maintain its appearance and ensure the longevity of your fireplace. However, the cleaning process may vary depending on
Read More »
Looking to add a touch of elegance and warmth to your living space? Discover why a stone fireplace mantel is the perfect choice. Explore the
Read More »