Fireplaces are becoming more and more of a luxury these days. Between 2005 and 2017 alone, the number of new builds with fireplaces declined by nearly 61%, or from 818,000 to only 320,000 houses.
What these stats do not even consider is the number of fireplace hearths. If fireplaces are a rarity, then hearths are nearly extinct! Yet, a hearth may be just what you need to add some elegance to your beautiful fireplace.
Hearths have been a staple component of fireplaces for thousands of years. While people used to use hearths for cooking or as a place to sit and warm themselves before the fire, the purpose of a hearth has changed.
What are the reasons you might want to consider adding a hearth to your fireplace, aside from aesthetics? And what types of hearths are available? We'll answer these questions below, so keep reading!
What Is a Fireplace Hearth?
The hearth is the part of the fireplace that extends from the wall into the room. Manufacturers make them elevated or flush with your flooring. Hearths usually consist of non-combustible materials like brick, stone, tile, or concrete.
Historically, the hearth has been the gathering place for families. But today, they serve a much more practical use. The most common reasons for building a hearth around your fireplace include the following:
Meeting local fire ordinances
Protecting combustible floor materials
Holding fireplace tools and decor
Of course, you do not even have to have a reason to build a hearth around your fireplace. You can choose to add on a fireplace hearth just because you like the way they look.
Types of Fireplace Hearths
Many fireplaces do not have hearths at all. These fireplaces are also known as hole-in-the-wall fireplaces. That is because these fireplaces simply feature a firebox built into the wall, with no hearth in front of or below it.
There are three main types of fireplace hearths: raised firebox hearths, flush hearths, and raised hearths. We will talk about each of them next.
Raised Firebox Hearths
Raised firebox hearths commonly come with raised fireboxes. In this case, the firebox is not flush with the floor but raised a few feet up the wall. The hearth sits below the firebox without even touching the bottom of its hole.
Flush Hearths
Flushed hearths are flush with the firebox. These types of hearths often come with regular fireboxes that are flush with the floor. Then, the hearth may only come a few centimeters or inches off the floor.
In other cases, the firebox may be raised. But its hearth will still sit flush with the bottom of the firebox, unlike with a raised firebox hearth.
Raised Hearths
Raised hearths extend above the bottom of the firebox. The firebox itself can either be raised or flush with the floor. A raised hearth can make your firebox look smaller than it really is.
Fireplace Safety Regulations and Hearth Requirements
There are some safety measures to consider before choosing a new hearth for your fireplace.
First of all, the materials of your fireplace and hearth determine the amount of space you need to install a hearth. The materials of your floor also change the requirements for hearths.
Secondly, the size of your firebox's opening changes the requirements for hearth size.
Hearth Materials
Prefabricated fireplaces and hearths have looser regulations when it comes to clearance. You do not need much space between the hearth and the firebox opening.
Masonry fireplaces and hearths, on the other hand, typically have stricter safety regulations because they burn hotter.
Floor Materials
Masonry fireplaces have strict requirements when it comes to floor materials. Fireplaces surrounded by combustible floor materials (e.g., wood or vinyl) must feature hearths that are at least 9.8 inches thick.
Fireplaces surrounded by non-combustible floor materials (e.g., masonry or concrete) are different. The floor and the hearth together must be at least 9.8 inches thick, meaning the hearth can be smaller.
Firebox Opening
The size of your firebox opening also helps to determine how large your hearth needs to be.
For fireboxes measuring 6 square feet or less, the hearth should extend at least 1 foot 4 inches in front and at least 8 inches on each side.
Fireboxes that have openings larger than 6 square feet should have a hearth measuring 1 foot 8 inches in front and 1 foot on each side.
How to Accessorize Your Hearth
One of the best things about getting a new hearth for your fireplace is the decor opportunities! Here are our top hearth design ideas to add some extra luxuriousness to your fireplace:
Use your hearth to showcase seasonal decor, including pumpkins for the fall and dried flowers in spring
Add a mirror to reflect light and make your space look larger
Showcase a pretty basket filled with extra pillows and blankets for your guests
Light a few candles to create a romantic ambiance, whether your fire is lit or not
Show off your vintage fireplace toolset, hearth rugs, and log holders
Love these hearth design tips? Then check out more inspiration for your new fireplace hearth in our photo gallery!
Looking for Custom Hearth Designs?
Fireplace hearths come in many shapes, sizes, and materials. As long as you follow your local fire safety ordinance, your hearth can be a beautiful and functional addition to your living room.
Are you searching for custom hearth and fireplace design and construction services in Philadelphia? Contact us to learn how we can help design a new hearth you will love. Or stop by our Philly showroom to meet us in person!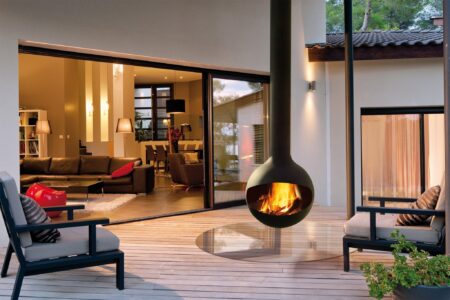 Venting a gas fireplace is crucial for proper air circulation and the removal of harmful combustion byproducts. However, not all homes are equipped with a
Read More »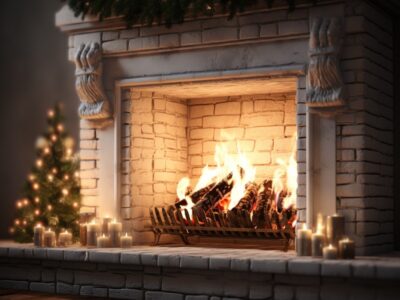 Cleaning white fireplace brick is essential to maintain its appearance and ensure the longevity of your fireplace. However, the cleaning process may vary depending on
Read More »
Looking to add a touch of elegance and warmth to your living space? Discover why a stone fireplace mantel is the perfect choice. Explore the
Read More »