There are over 12 million fireplaces and 12 million wood stoves in use across the USA, according to the most recent statistics released by the EPA. The majority of these are old and poorly maintained, which contributes to noxious emissions and fire risks.
So, if you've recently moved into a home, now is a good time to purchase a fireplace that's more efficient and safer for your family. Freestanding fireplaces are one of the top choices for modern homeowners and new constructions.
Keep reading to find out more about these fireplaces and our top picks for 2023.
Types of Freestanding Fireplaces
Freestanding fireplaces are an excellent addition to any living space. Not only do they offer warmth and a cozy ambiance, but they create an excellent focal point, too.
These fireplaces don't require extensive construction, making them a cheaper and faster alternative to conventional fireplaces.
There are four main types of freestanding fireplaces you can choose from:
Freestanding Wood Fireplaces
Wood stoves are highly efficient, attractive, and designed to meet stringent safety standards regarding emissions. They're a safe and affordable alternative to a traditional hearth.
The latest wood-burning stoves are up to 50% more efficient than their predecessors.
Freestanding Gas Fireplaces
There are two types of freestanding gas fireplaces – vented and unvented. The unvented variety is a supremely convenient plug-and-play option, but it can pose some safety risks.
Newer model gas fireplaces offer as much as 85% efficiency.
Freestanding Pellet Stoves
Freestanding pellet stoves attempt to duplicate the high efficiency of wood with the convenience of gas. Instead of using wood in the heating chamber, you use small hardwood pellets.
A blower draws air to keep the fire going and expels it via the stove's venting system. All you need is an electrical outlet and a simple venting system to operate one of these fireplaces.
Electric Freestanding Fireplaces
Electric freestanding fireplaces offer the ultimate convenience. You simply attach them to an electrical outlet and they're good to go.
You don't need any venting system for these fireplaces. Electric fireplaces create a wonderfully cozy ambiance in any room, although they don't produce as much heat as wood fireplaces.

2023's Top Freestanding Fireplace Picks
With hundreds of options to choose from, it's no mean feat to find the best fireplace for your home. It's a good idea to start your search here:
Juno Electric Fireplace
Reviewers rate this as the best fireplace overall in 2023. It has a classic design, small dimensions that don't intrude on your living space, and a simple electric operation.
The Juno is a low-maintenance option that recreates the cozy ambiance of a wood fireplace without the mess and harmful emissions.
Duraflame Infrared Quartz Fireplace Stove
According to reviewers, this model stands out for its stylish, compact design, and effective heat settings. The Duraflame also delivers quiet operation, without the irritating buzzing common to other electric fireplaces.
It's easy to move around, thanks to a low weight of just 28.6 lbs., and the heat and flame features operate independently of one another. This means you can enjoy the peaceful ambiance of flames without the heat.
You can choose from a range of colors when you buy this freestanding fireplace, namely French gray, bronze, and classic black.
ProCom Ventless Dual Fuel Gas Stove
This 25,000 BTU stove uses both propane gas and natural gas to create two rows of realistic flames that can heat up to 1,100 sq. ft. The large viewing area allows you to maximize the ambiance created by the flames.
You can cycle the stove heater on and off using the built-in thermostat to keep your room at the desired temperature. Alternatively, the programmable thermostatic LCD remote control offers precise temperature adjustments.
Vent-free heating technology helps lower heating costs while maximizing comfort.
Napoleon Arlington GDS20 Direct Vent Gas Stove
This small gas stove offers a big impact in any room thanks to its realistic flickering flame and realistic ember bed. It has a slender, cast iron design and a 45° venting system.
The lifelike log insert, adds a rustic feel and natural wood-burning look to this classic metallic black stove.
Pleasant Hearth Medium Wood Burning Stove
The Pleasant Hearth non-catalytic wood-burning stove is the ideal cozy fireplace for spaces of up to 1,800 sq. ft. The stove has EPA certification for low emissions, i.e. 2.18 grams per hour.
It's easy to install and has a charming aesthetic featuring a brick-line firebox, chrome handles, and cast iron outer surfaces. The built-in air wash system keeps the glass window clean for unobstructed viewing through the glass.
Mr. Heater by Cleveland Iron Works
These heaters come in small, medium, and large varieties, with the largest boasting enough firepower to warm 2,500 sq. ft with ease.
They operate at 85% efficiency and boast EPA approval, remote control, and Wi-Fi capabilities for ease of use. You can view the stove settings hassle-free thanks to the digital control panel.
Mr. Heater stoves are easy to maintain and have a 5-year warranty.
Summers Heat Cast Iron Pellet Stoves
The Summers Heat pellet stove has a hopper capacity of 120 lbs, so it burns all night long without needing a refill. It's a reasonably priced option for spaces up to 2,200 sq. ft. and has a Smartstove™ Control System and a glass front.
The Summers Heat stove has a classic look, a five-year warranty, and a free fresh air intake kit.
Warm Up Your Winter With a New Fireplace
Is your old wood-burning fireplace letting you down lately? If your fireplace can't deliver a cozy ambiance and is costing you a lot of time and money to maintain, it's time for you to buy a fireplace that better suits your needs.
Modern freestanding fireplaces and custom classic designs offer endless ways to warm up your spaces affordably, safely, and aesthetically.
We can assist you with a wide range of freestanding fireplaces to suit your preferences and your home's design. Get in touch for assistance or visit our Philadelphia showroom for inspiration.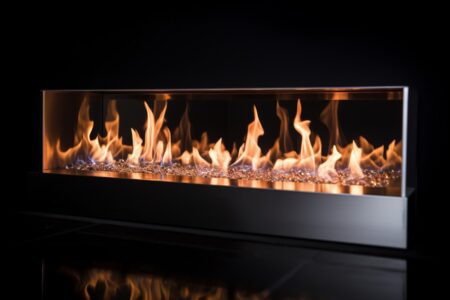 Gas fireplaces are a popular and convenient way to enjoy the warmth and coziness of a fire in your home. However, it is important to
Read More »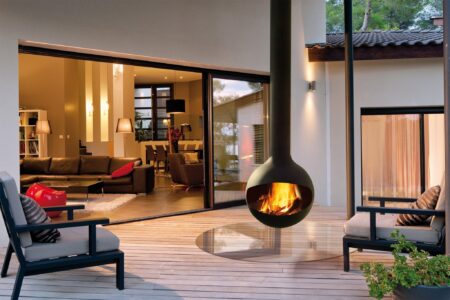 Venting a gas fireplace is crucial for proper air circulation and the removal of harmful combustion byproducts. However, not all homes are equipped with a
Read More »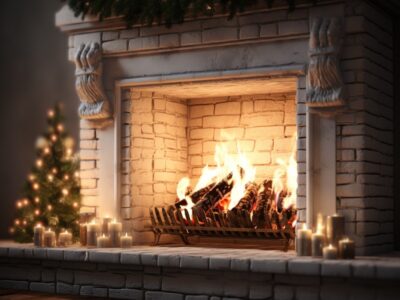 Cleaning white fireplace brick is essential to maintain its appearance and ensure the longevity of your fireplace. However, the cleaning process may vary depending on
Read More »