There is nothing better to set the mood or unwind after a long day than relaxing by the fireplace at great restaurant or watering hole. 
Whether you're in the mood for a hot toddy, a glass of wine, or your favorite cocktail, we've compiled a comprehensive list of the best establishments in Philadelphia that offer both a toasty fire and a delightful dining experience.
Bloomsday Cafe: Cozy Lounge and Double-Sided Fireplace in Society Hill
For a truly intimate and cozy experience, head to Bloomsday Cafe in Society Hill. Their cozy lounge area by the front window provides the perfect spot to relax and unwind while enjoying a glass of wine, cheese, and snacks. The highlight is their beautiful double-sided fireplace in the dining room, creating a warm and inviting ambiance that enhances your dining experience.
Location: Society Hill | 414 S. 2nd St. | (267) 319-8018
Brauhaus Schmitz: A Taste of Germany in South Street District
Transport yourself to Germany at Brauhaus Schmitz, a German Beer Hall located in the South Street District. As you enter, you'll find a welcoming dining area with many seats, followed by a nice long bar. Venture further to discover the Brauer Bund room, a large back room with many tables and a second bar featuring a wood stove that will keep you warm and cozy. Indulge in traditional German fare and raise a glass of beer in celebration.
Location: South Street District | 718 South Street | (267) 909-8814
Bridgid's: European-Style Charm and a Cozy Fireplace in Fairmount
Experience the charm of a cozy European-style bar and restaurant at Bridgid's in Fairmount. With a small fireplace in the back, this establishment offers a warm and intimate setting for enjoying their fantastic Italian-inspired menu. The combination of delicious food and the crackling fireplace creates a delightful dining experience you won't forget.
Location: Fairmount | 726 N. 24th St. | (215) 232-3232
Condesa: Modern Elegance and a Fireplace in Rittenhouse
Step into the modern elegance of Condesa, located in the Pod Philly hotel in Rittenhouse. This establishment offers a contemporary fireplace behind the large bar, creating a cozy and inviting atmosphere. Enjoy their delectable Mexican dishes alongside a wide variety of tequilas and mezcals, adding a touch of warmth and flavor to your dining experience.
Location: Rittenhouse | 1830 Ludlow St. | (267) 930-5600
Continental Midtown: Innovative Cuisine and Rooftop Heaters in Rittenhouse
Indulge in an upscale dining experience at Continental Midtown, a Stephen Starr restaurant located in Rittenhouse. Known for its innovative menu items, Continental Midtown also boasts a rooftop area with heaters throughout, ensuring a cozy and comfortable environment even on colder days. Treat yourself to a memorable dining experience while enjoying the warm ambiance.
Location: Rittenhouse | 1801 Chestnut St. | (215) 567-1800
Devil's Alley: Urban Decor and Cozy Fireplace in Rittenhouse
Devil's Alley, a cozy bi-level restaurant and bar in Rittenhouse, offers an urban decor and a cool ambiance that sets the perfect mood for a relaxing evening. Venture upstairs to the back where you'll find a fireplace waiting to keep you warm and toasty. Choose from a selection of good beers or cocktails from their drink menu and unwind in this inviting setting.
Location: Rittenhouse | 1907 Chestnut St. | (215) 751-0707
Devil's Den: Seasonal Beer and Fireplace Lighting Event in South Philadelphia
Devil's Den in South Philadelphia is a delightful bar/restaurant that hosts an annual Fireplace Lighting Event, making it a must-visit during the colder months. Indulge in their seasonal beer selection and tasty food while enjoying the cozy ambiance of their fireplace. It's the perfect spot to relax and savor the flavors of the season.
Location: South Philadelphia | 1148-1150 S. 11th St. | (215) 339-0855
Fadó Irish Pub: Nooks and Crannies in Rittenhouse
Immerse yourself in the unique atmosphere of Fadó Irish Pub, where you'll discover a maze of nooks and crannies crafted from dark wood. This authentic Irish pub offers seating options ranging from cozy corners for two to larger spaces for groups of twelve. Savor good beers, excellent pub food, and the quaint and romantic fireplace tucked away in the far back of the establishment.
Location: Rittenhouse | 1500 Locust St. | (215) 893-9700
Frankford Hall: Philadelphia's Largest Beer Garden in Fishtown
Experience the vibrant energy of Frankford Hall, one of Philadelphia's largest beer gardens located in Fishtown. Created by Stephen Starr, this expansive venue features 29 picnic-style benches and several fire pits and heat lamps within the courtyard. Enjoy the lively atmosphere, gather with friends, and keep warm as you indulge in delicious food and a wide selection of beverages.
Location: Fishtown | 1210 Frankford Ave | (215) 634-3338
Hawthornes: Scratch-Made Meals and Over 1,000 Beers in Bella Vista
Hawthornes in Bella Vista offers a cozy atmosphere and scratch-made meals served throughout the day. Whether you're stopping by for breakfast, lunch, or dinner, you'll find a delightful range of options prepared from scratch. With over 1,000 single bottles of beer and 11 rotating drafts, you can enjoy a delicious meal while staying warm near their inviting fireplace.
Location: Bella Vista | 738 S. 11th St | (215) 627-3012
La Calaca Feliz: Mexican Cuisine and a Relaxing Fireplace in Fairmount
Indulge in the vibrant flavors of Mexico at La Calaca Feliz in Fairmount. This Mexican restaurant offers a diverse menu of delicious food and boasts a strong array of over 50 types of blancos, reposados, and anejos tequilas. As you dine, enjoy the warmth of their relaxing fireplace located in the main part of the dining area, creating a cozy and inviting atmosphere.
Location: Fairmount | 2321 Fairmount Avenue | (215) 787-9930
Liberté Lounge: French-Inspired Food and Cozy Fireplace in Rittenhouse
Experience the sophisticated ambiance of Liberté Lounge, an upscale lounge located in the Sofitel Hotel in Rittenhouse. This elegant establishment features a very cozy fireplace where you can enjoy French-inspired food and sip on sophisticated hand-crafted cocktails. Immerse yourself in the warm and urban setting, indulging in both culinary delights and a cozy atmosphere.
Location: Rittenhouse | 120 S. 17th St. | (215) 569-8300
Manayunk Brewing Company: Fireplace Dining in Manayunk
Manayunk Brewing Company offers a unique dining experience with a fireplace to keep you warm. This large restaurant/bar allows you to enjoy fresh-brewed beer and a wide range of food options, from sushi to pizza. With multiple dining areas, decks, and a tiki bar, you can find your cozy spot near the fireplace and enjoy a delicious meal.
Location: Manayunk | 4120 Main St. | (215) 482-8220
Marigold Kitchen: Gas Fireplace in a Traditional Victorian Home in University City
Experience the culinary creations of chefs Andrew Kochan and Tim Lanza at Marigold Kitchen. Housed in a traditional Victorian home, this restaurant offers masterfully created dishes. The dining room is heated by a gas fireplace, providing a warm and inviting atmosphere that complements the exquisite food. Indulge in a unique dining experience surrounded by the cozy ambiance of the fireplace.
Location: University City | 501 South 45th Street | (215) 222-3699
Martha: Heat-Blasting Fireplace in Kensington
Martha is a hidden gem in Kensington that offers a heat-blasting fireplace to keep you cozy during your visit. Alongside their menu of hoagies, house-made pickles, vegetable plates, and more, Martha provides craft beer, cocktails, wine, and kombucha. Relax by the fireplace and savor the flavors of their carefully curated menu.
Location: Kensington | 2113 East York Street | (215) 867-8881
McCrossen's Tavern: Fireplace Ambiance in Art Museum District/Fairmount/Spring Garden
McCrossen's Tavern is a neighborhood establishment that offers a wonderful ambiance, good food, and drinks. Located in the Art Museum District, this cozy tavern features a fireplace in the dining area. Whether you're gathering with friends or enjoying a meal with your loved ones, the warm glow of the fireplace adds to the inviting atmosphere of the tavern.
Location: Art Museum District/Fairmount/Spring Garden | 529 N 20th St | (215) 854-0923
McGillin's Olde Ale House: Historic Pub with Fireplace in Midtown Village
Step into history at McGillin's Olde Ale House, the oldest pub in Philadelphia. This two-story pub is filled with character and charm, featuring over 30 drafts, 8 televisions, a jukebox, and a fireplace. Immerse yourself in the cozy atmosphere, enjoy a pint, and bask in the warmth of the fireplace as you revel in the rich history of this iconic Philadelphia establishment.
Location: Midtown Village | 1310 Drury St | (215) 735-5562
Misconduct Tavern: Underrated Happy Hour and Fireplace in Rittenhouse
Misconduct Tavern is a hidden gem in Rittenhouse that offers an underrated happy hour experience. With 12 rotating beers on tap, 50+ bottled beers, and 20+ wines, it's a paradise for beer and wine enthusiasts. The addition of a beautiful fireplace adds to the charm of the bar, extending the cozy atmosphere for a more relaxed and enjoyable time.
Location: Rittenhouse | 1511 Locust Street | (215) 732-5797
Nineteen XIX: Sophisticated Decor and Fireplace Seating in Hyatt at the Bellevue
Indulge in a sophisticated dining experience at Nineteen XIX, located in the Hyatt at the Bellevue on the Avenue of the Arts. This swanky cafe, restaurant, and bar features a refined decor and serves elegant foods. You can also enjoy seating near the fireplace, creating a warm and cozy atmosphere while you savor your meal and take in the breathtaking views of the city skyline.
Location: Hyatt at the Bellevue on the Avenue of the Arts | 200 S. Broad St. 19th Floor | (215) 790-1919
Race Street Cafe: Stylish Bar with Wood and Brick Decor in Old City
Race Street Cafe, situated in Old City, is a stylish bar adorned with a decor of wood and bricks. Alongside their rotating specials that include 15 beers on tap and a tempting food menu, you'll find a cozy fireplace adding to the warm and inviting ambiance. Whether you're stopping by for a drink or a meal, Race Street Cafe offers a delightful setting to enjoy the company of friends and loved ones.
Location: Old City | 208 Race St. | (215) 627-6181
Standard Tap: Cozy American Pub with Fireplace in Northern Liberties
Standard Tap is a cozy American pub located in Northern Liberties, known for its great draft list and excellent gourmet pub fare. The fireplace, located upstairs in another section of the bar, adds a touch of warmth and charm to the ambiance. Unwind, enjoy a local microbrew, and savor the delectable menu items while basking in the cozy glow of the fireplace.
Location: Northern Liberties | 901 N 2nd St. | (215) 238-0630
The Plough & The Stars: Irish Pub with Traditional Atmosphere in Old City
The Plough & The Stars is a popular destination for those seeking an authentic Irish pub experience. This charming establishment rotates eleven different types of draft beers from various countries and serves good food. One of the highlights is the fireplace area with small tables set away from the bar and dining area, creating a cozy and intimate space to relax and enjoy your drinks and conversation.
Location: 123 Chestnut St, Philadelphia | (215) 733-0300
The Rittenhouse Hotel Library Bar: Elegant Bar with Fireplace in Rittenhouse
Located inside The Rittenhouse Hotel, the Library Bar offers a refined setting for enjoying fine wines, fancy drinks, and complimentary snacks. In addition to the main bar, there's a separate room with a fireplace and cozy couch where you can unwind and indulge in a sophisticated drink. The combination of the elegant atmosphere and the warm fireplace creates a tranquil ambiance for relaxation and conversation.
Location: 210 W. Rittenhouse Square, Philadelphia | (215) 790-2533
Twisted Tail: Southern-Inspired Bourbon House in Society Hill
Twisted Tail is a Southern-inspired bourbon house located in Society Hill. Indulge in their range of fresh foods and a selection of whiskeys, bourbons, and scotches. Upstairs, you'll find two fireplaces with furnished bourbon-barrel chairs, couches, TVs, and a shuffleboard table. Relax in this cozy setting, enjoy the crackling fire, and savor the flavors of the South.
Location: 509 S. 2nd St., Philadelphia | (215) 558-2471
Vedge: Vegetable-Focused Vegan Restaurant in Washington Square West
Vedge is a renowned vegan restaurant with a focus on vegetables and a bold approach to cooking. Located in Washington Square West, this culinary gem offers a range of specialty cocktails, draft and bottled beers, and an extensive wine list. The dining room is complemented by a warm and inviting gas fireplace, creating an intimate and cozy atmosphere to enjoy your plant-based meal.
Location: 1221 Locust St., Philadelphia | (215) 320-7500
Wm. Mulherin's Sons: Dining Room with Central Fireplace in Fishtown
Wm. Mulherin's Sons is a destination for culinary excellence in Fishtown. The main dining room features a central poured-concrete fireplace, logs ready to be burned, and a skylight for watching the snowfall. Immerse yourself in the rustic charm of this establishment while indulging in their delectable menu offerings and enjoying the warmth and crackle of the fireplace.
Location: 1355 N. Front St., Philadelphia | (215) 291-1355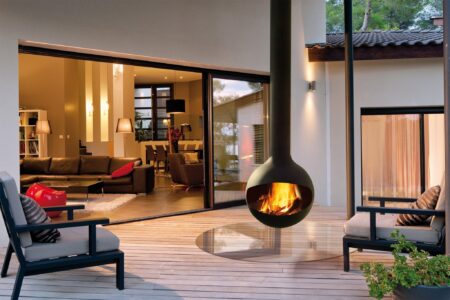 Venting a gas fireplace is crucial for proper air circulation and the removal of harmful combustion byproducts. However, not all homes are equipped with a
Read More »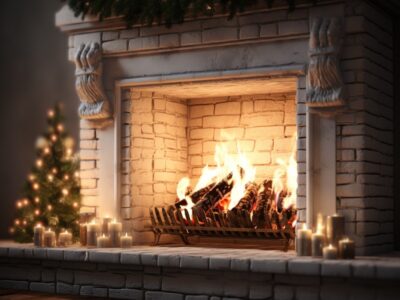 Cleaning white fireplace brick is essential to maintain its appearance and ensure the longevity of your fireplace. However, the cleaning process may vary depending on
Read More »
Looking to add a touch of elegance and warmth to your living space? Discover why a stone fireplace mantel is the perfect choice. Explore the
Read More »