It is estimated that a fireplace can add as much as $12,000 in value to your home. This is due to the fact that many buyers find fireplaces to be desirable home features.
If you want to add a fireplace to your home, you need to choose a fireplace surround. This is the part of the fireplace that helps to give it character so that it blends in with the rest of your home.
There are many fireplace materials that you can choose to work with. This is a decision that you want to carefully consider so that you choose the best option for your home.
Keep reading to find out more about fireplace materials and surround options.
What Is a Fireplace Surround?
A fireplace surround is the part of the fireplace that protrudes from the wall, surrounding the fireplace itself. This is also called a mantle since there is a ledge on top where things can sit.
That being said, not every fireplace surround includes a mantle piece. Some surround options simply border the fireplace, giving it somewhere to sit.
Best Materials for a Fireplace Surround
When you look at the types of fireplaces available, you need to consider the surround. This should be a personal decision based on the fireplace you choose and the look of your home.
Certain surrounds are going to be ideal for different environments or different fireplace needs. This is often going to determine how the fireplace looks and how safe it is going to be.
Steel
For a modern fireplace, steel makes a very professional and industrial luck. You can find steel in different finishes, and it is considered to be very easy to clean and maintain.
The steel itself is not usually left bare, and enamel paint is added so that it has a color. This also helps to make it more durable and more customizable.
Keep in mind that the metal will heat up, so it could become hot to the touch if the fireplace is going.
Wood
Another beautiful option is a wood fireplace surround. This makes a statement and can create a beautiful rustic look that you won't be able to achieve any other way.
It is important to make sure you check with local building codes to see if this is permitted. Wood is not one of the non-combustible fireplace materials, so it may not be allowed.
You should also make sure that there is no chance of it catching fire, depending on the type of fireplace you choose. A wood surround is durable, and different woods can be used to create different styles.
Brick
A classy option that many choose is a brick fireplace surround. This provides a warm and classic look that many people want for a cozy space.
Bricks have a warm and earthy color and help to warm up the space and make it cozy. It also adds texture and helps the fireplace to pop so that it becomes a key feature of the room.
Brick is not extremely easy to clean, but it is very durable and does not require much maintenance. You have the option of natural bricks or artificial bricks, both have pros and cons that you should consider.
Natural bricks are more prone to cracking, but artificial bricks can often cost more.
Tile
Another interesting fireplace surround option is to use tiles. One of the key benefits of tiles is that they are very customizable to create the exact look you want.
The material, size, texture, and color options are vast, making it easy to find the right style. It is also easier to find options that are going to be within your budget.
Depending on the type of tile you get, they can be very easy to clean and maintain. You will want to be careful with them as they can potentially crack and shatter.
Concrete
If you are looking for a unique fireplace surround, concrete can be just the right option. Concrete retains heat and will help to keep the room warmer for a longer period
Concrete is also very durable and can be designed to fit the vibe of your space. Concrete can look rustic and inviting, or you can make it look more minimal and modern.
It is also considered to be a very affordable option since concrete is widely available.
Stone
One of these fireplace materials to consider is a stone fireplace surround. Stone is another very common option since it gives a more traditional feel to your fireplace.
The nice thing about stone is that there are many kinds of stone to choose from. You can go with a more rustic stone for a warmer look or marble for a modern and minimal look.
The options are endless, and the stone creates a timeless centerpiece. Most types of stone are also easy to care for and will not damage easily.
Stone surrounds also tend to absorb more heat and keep the room warmer for longer.
Choosing a Fireplace Surround for Your Home
If you are going to be installing a fireplace in your home, you need to consider the fireplace materials. There are many surround options made of different materials to provide different effects.
You should make this decision based on how you want the fireplace to look and how the room is already arranged.
Are you interested in buying a fireplace for your home? Contact us today at Dreifuss Fireplaces for fireplace options and a free estimate for your home.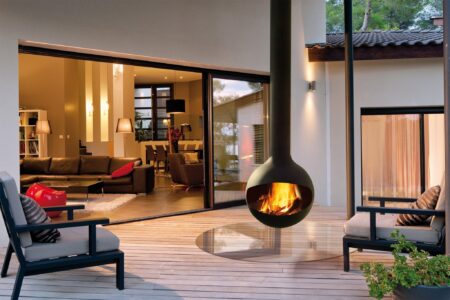 Venting a gas fireplace is crucial for proper air circulation and the removal of harmful combustion byproducts. However, not all homes are equipped with a
Read More »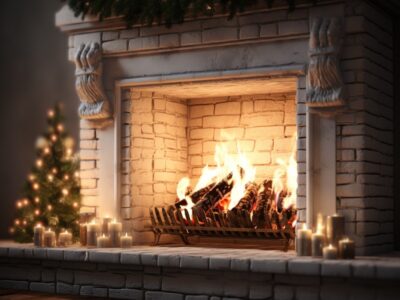 Cleaning white fireplace brick is essential to maintain its appearance and ensure the longevity of your fireplace. However, the cleaning process may vary depending on
Read More »
Looking to add a touch of elegance and warmth to your living space? Discover why a stone fireplace mantel is the perfect choice. Explore the
Read More »