While fireplaces have been used for centuries for heating, cooking, and comfort within American homes, it's only recently that fireplaces have also become decorative pieces.
There are many types of fireplaces available on the market today, but if you want a sleek fireplace that fits with modern design sensibilities, you can't go wrong with a linear fireplace.
But what exactly is a linear fireplace, how does it work, and what makes it a desirable fireplace to have in your home? Keep reading for the answers to all these questions and more.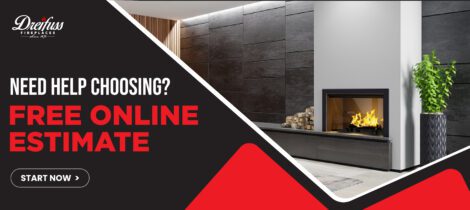 What is a Linear Fireplace?
Linear fireplaces got their name from their shape: these fireplaces are long and rectangular. They typically come in a 4:1 ratio of width to height, but you can also find many custom shapes and sizes. You can even get a linear fireplace that is taller than it is wide!
In general, linear fireplaces are only a foot or two tall, but they can run many feet in length.
These kinds of fireplaces are often recessed into the wall so that the front of the fireplace is flush with the rest of the wall surrounding it. If you want, you can also have the fireplace visible from both sides of the wall that it's set into.
This is great if you want the same fireplace to be visible from two adjacent rooms or if you want one fireplace to be visible both inside and outside of your home.
Often, linear fireplaces are gas-powered, but they also come in electric and wood-burning varieties.
How Linear Fireplaces Work
For gas-powered linear fireplaces, most use a direct vent system. The combustion gas used for powering the fireplaces is vented out of the fireplace using a wall-mounted vent. Usually, it's sent away from your home through your roof.
A direct vent system is ideal because by sending the gas away from the air in your home, it allows you to run your fireplace for as long as you want. There are also vent-free options, but these don't send the gas away from the air in your home. Therefore, you'll need to limit how often and how long you run your fireplace.
With both versions of gas-powered fireplaces, you'll need to run a gas line to the location where you're placing the fireplace.
There are also several electric linear fireplace models on the market. These are ideal if you're unable to run a gas line where you want the fireplace to be, and they're easier to install and operate than gas fireplaces.
Electric fireplaces don't have quite as much heating power as gas fireplaces. If you're planning on using the fireplace as a primary source of ambient heat in your home, it's better to go with a gas model. However, if you want to be able to use the fireplace year-round, electric may be the way to go.
Wood-burning linear fireplaces are also great, especially if you love the crackling sounds of wood and the fragrance of burning wood. Just keep in mind that wood-burning fireplaces require a little more upkeep than gas and electric fireplaces.
Benefits of Linear Fireplaces
As we mentioned above, linear fireplaces are very sleek and modern. They allow you to create a cozy, intimate ambiance basically anywhere in your home without having to sacrifice any of your design sensibilities.
Another huge benefit to linear fireplaces in particular is that they can be installed in walls made of basically any building material. All the heat generated by the fireplace is well-contained within the unit, meaning that you run very little risk of other materials in its vicinity catching on fire.
The glass front of these fireplaces is very often touch-safe, creating less risk of burns and accidents than traditional fireplaces.
Linear fireplaces can be operated remotely, and they turn on and off instantly. Having exact control over the fireplace's heat output gives you the option to use the piece to heat one part of your home at a time.
If you go with a gas or electric fireplace, you won't have the maintenance that comes with a wood-burning fireplace. All you need to do is clean the glass regularly and, for gas-powered fireplaces, have the gas line inspected once a year.
Linear Fireplace Design Options
Depending on the size of the room and how much uninterrupted wall space you have, the fireplace could be anywhere from a few feet to several yards in length. This makes them great for both large entertaining spaces and for more cozy, personal-use rooms.
You also have choices for the interior look of your fireplace. The flames can appear to come from logs, stones, glass, and more.
Linear fireplaces don't need much vertical clearance. They're great for adding to half-walls or other untraditional spaces that require some extra visual interest. You can also use them to balance a wall that has a mounted TV or artwork.
Choose Your Dream Fireplace Today
Linear fireplaces have many benefits, including their safety, ease of use, and modern design options. No matter the size of space you have, you're sure to be able to find a linear fireplace that meets your needs.
Dreifuss Fireplaces understands the unique needs of modern interior design. Boasting more than 150 years of experience designing and installing linear fireplaces for both residential and commercial projects, our team is equipped to help you find the elegant, minimalist fireplace of your dreams.
Ready to choose your fireplace? Get your free estimate from our website today, or visit our 5,000-foot showroom in Philadelphia to view our newest designs!