A recent study found that 41% of single-family homes have a fireplace. Traditional fireplaces often are expensive and hard to install.
Instead, purchase an electric fireplace that can be easily put in place and is more cost-efficient. However, what is the best electric fireplace?
Don't worry; with this guide, you can find out! We've investigated all you need to know about the best electric fireplace models.
Now, are you ready to get started? Here's an in-depth look at the top electric fireplaces:
1. NetZero Fire
The NetZero Fire company has rolled out two of the most realistic electric fireplaces on the market. The E-One is fully electric and designed to be energy efficient in every way. The E-One stands in a class of its own for thermal production and cost savings.
The second on the list (and tied for first place in our opinion) is the luxury water vapor king, The Waterplace by NetZero. This is a one of a kind water vapor fireplaces with a truly unique style and design.
2. Real Flame Ashley
The Real Flame Ashley creates a classic fireplace design with its traditional pillars and ornamental molding. You can even put decorations, candles, and flowers on its mantle; however, the mantle is not sturdy enough to place heavier items like a T.V.
The fireplace comes in three colors: black, white, and mahogany. The flames aren't as realistic as our number one pick, but you can adjust the brightness of the flames. It also has three dimension embers to increase the illusion of logs burning.
As for the heat generation, it's pretty good and even has an adjustable thermostat which makes turning to a specific temperature easy and convenient. Overall, if you're looking for a small and classic fireplace, buy this one. It only costs about $600, making it affordable for any budget.
3. Dimplex Opti-Myst
Unlike most electric fireplaces, the flames aren't coming from light but from water vapor. Its flames are so realistic you'll want to reach out and touch them due to its modern technology. The open concept of this fireplace is a nice upgrade from the traditional style of electric fireplaces.
Plus, you can adjust the color of the flames as well as the volume of their sounds. The fireplace comes with a remote to adjust settings to your preferences. Due to the open concept, this fireplace tends to be costly; it typically averages around $4,000.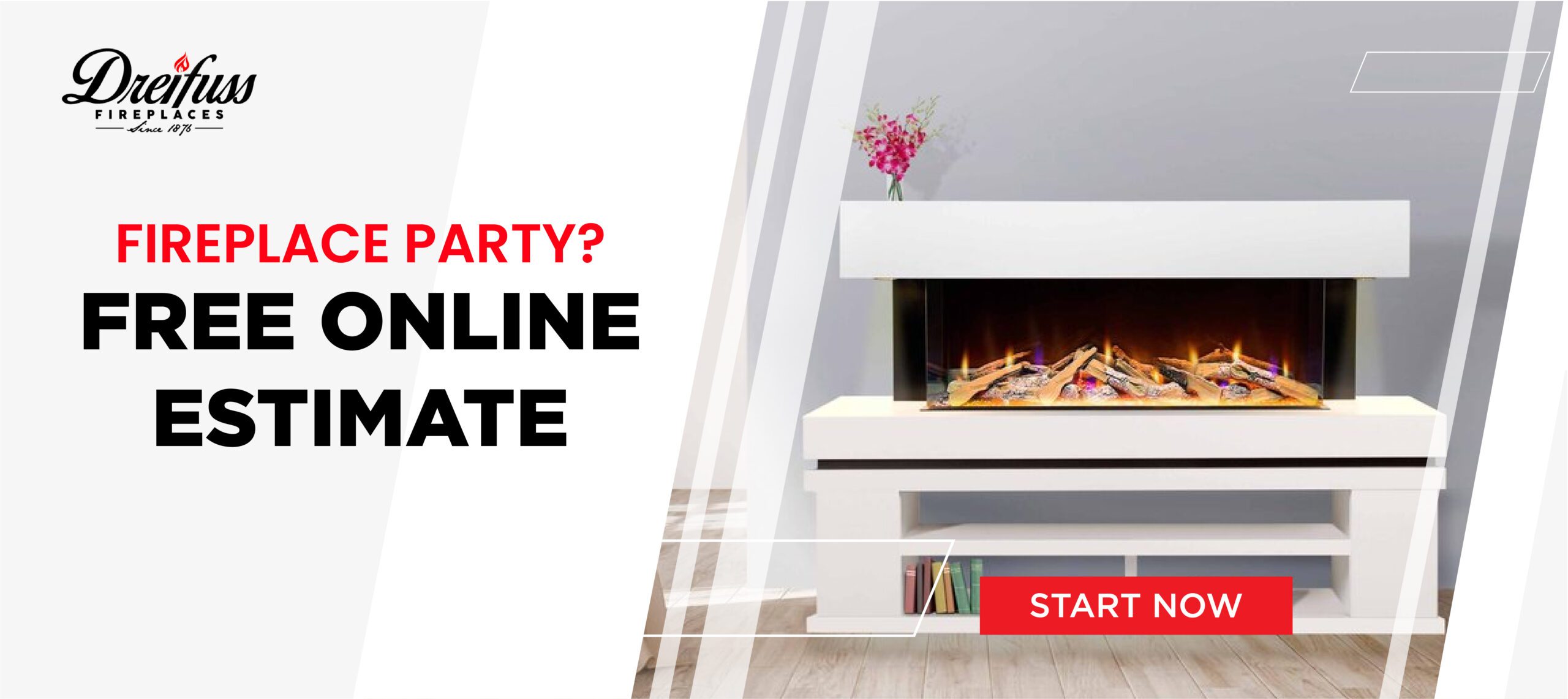 4. Dimplex Opti-V Solo
This wall-mounted 30-inch fireplace will impress anyone. It has an H.D. T.V. and LED screen, which make the 3d flames look realistic. The fireplace also has H.D. audio, which ensures a full sensory experience from each crackle and pop.
Now, rather than an app, it comes with a multi-function remote that allows you to adjust the settings with a press of a button. However, this fireplace does not emit heat through its glass screen or the flames themselves. Instead, this fireplace provides a stunning visual that anyone would love.
Due to its advanced graphics and LED screen, it can be pretty expensive. Typically, it's priced at about $3,000, but sometimes you can find it at a low price of $2,000
5. Amantii Tru-View Three Sided
If you want a bit more glitz and glamor from a fireplace, the Amantii Tru-View Three-Sided fireplace is for you. Its unique feature is its three-sided ability, measuring a whopping 74 inches. Its size allows you to have more customization in how the fire looks than most fireplaces.
It comes with three LED light strips which enable you to change the color of the flames. It has an impressive heat output of 4,800. The fireplace also works with or without heat, making it convenient in both the summer and winter months.
It comes with a remote, so you can adjust the settings when you want to. Typically this fireplace costs about $3,000, but you can find it at some places as low as $2,500.
6. Touchstone Sideline
The Touchstone fireplace is known for its idyllic appearance. Unlike other fireplaces, you can change the flames to be any color you want. The fireplace also has five brightness levels for you to choose from.
As for heat output, the Touchstone Sideline has two temperature settings, giving you the flexibility to change the temperature to suit your preferences. The fireplace even has a sleep timer, which will help you save on electricity costs.
However, the Touchstone fireplace does not come with an app; instead, it comes with a muti-functioning remote. Typically it's priced at around $500, making it affordable for those on a budget.
7. MagikFlame Electric Fireplaces
If you want a hyper-realistic fireplace, buy the Magikflame. It comes with realistic flames thanks to its innovative Holo Flame technology. What's unique about this fireplace is that it can replicate and project up to thirty different flame styles along with their distinctive sounds. So you'll hear every crack and pop, whether it be a classic wood-burning fireplace or simple campfire flames.
But that's not all; you can even control the volume as well as play other relaxing nature sounds. For optimal confidence, Magikflame has an app you can download which allows you to adjust the fireplace settings anywhere in the Bluetooth range. As for heat generation, it certainly can heat a room, but with its advanced technology, it does so without drying out the air.
Now, you'll have to pay a pretty penny to get all these features. A Mafikflame fireplace usually is priced as high as $8,000, but you can find some as low as $7,000 if you check other sites.
Buy Electric Fireplaces Today
If you are looking to buy an electric fireplace, choose the Magikflame. While expensive, it's one of the best at replicating a real fireplace in both sight and sound. If you want something a bit less expensive, purchase the Real Flame Ashely; it shares some of the features as the Magikflame, except that it's $7,400 cheaper.
Always shop around to find the best electric fireplace for you and your home. There are tons with different settings and a plethora of features; the above is our pick for the best of the best.
Contact us today for more information about types of electric fireplaces.