Fall is finally upon us, which is great news for most of us. 33% of Americans call fall their favorite season, with the changing of the leaves, the introduction of sweater weather, and of course, sitting by a cozy fireplace.
However, some of us run into problems with our fireplaces from time to time, and it's best to address these issues as soon as possible before winter comes. Most often, the fireplace blower is the culprit, so let's talk about some tips on fixing your electric fireplace blower before it gets too cold!
Troubleshooting Electric Fireplace Blower Issues
Fireplace blowers don't switch on and off like lightbulbs. They take about 10 minutes to switch on or off fully, so if your blower does automatically shut off or if it won't turn back on, here are a few potential issues to look for.
Check the Connection
We know this sounds silly at first, but make sure that the system is plugged in and that the circuit is on. If that's all it needs, then this is an easy fix!
It's not unheard of for an electric fireplace blower to blow a circuit. This could be a result of increased energy demand from buildup in the blower, so give that a check if it continues to happen.
Restart the Switch
If you have a pilot switch or a button, flip it on and off. Sometimes, fireplace blowers have automatic shutoff switches after a certain period. If you use your fireplace as a primary heating source, then this is a common issue.
It may automatically shut off after 12, 24, or even 48 hours. In that case, you may have to manually flip the switch to get it running again. Again, simple fix!
Check the Settings
If you notice that your blower isn't turning on automatically, and if your blower has a control panel, check the settings. Also, check the back of the panel for any corrosion or buildup that may cause it to not start.
Afterward, if the issue persists, it's likely a problem with the motor. This is less common for newer models, but it may be covered by a warranty if you've only had the system for a couple of years.
Clean It Out
Regular maintenance of your fan and blower is the best way to avoid problems in the first place, but it may also fix your current issues. Take out the blower (instructions vary by model) and look for any buildup in the blower itself. If you haven't maintained your blower since you've owned it, then this is one of the most likely solutions on the list!
As time passes, we recommend cleaning your blower regularly. If you use it every day, aim for every month at the least during your fire season, and at least twice a season with moderate use. A little work goes a long way toward protecting your system!
What If It's Not Blowing Enough?
If you notice a decrease in airflow, check the inside of the blower. This is usually caused by a buildup of dust, ash, or debris in the blower itself, and it may just need a quick cleaning.
This is also important for house fire prevention. Fortunately, you can easily suck out the buildup with a vacuum hose.
How Long Do Electric Fireplace Blowers Last?
Are you worried that your blower has reached the end of its lifespan? It's quite possible. Some of the cheaper fireplace blowers may only last for a couple of seasons of constant use, especially for stovetop convection fans.
For older models, you can typically get 10 years out of them with moderate use during the colder months. It widely depends on the model, but you should expect at least a few years out of your system.
However, newer models can last for much longer, as the technology for convection fans has dramatically improved recently. If there are problems early on, you should definitely look into your manufacturer's warranty!
Possible Alternatives
Nobody said you have to rely on your convection blower if you're having problems with it. For example, if you have a normal fireplace insert or woodstove, a convection blower isn't your only solution. You can also use fireplace fans that don't rely on electricity at all, as they operate from the heat of your fire.
Again, this only works if they can be positioned above the heat source. They aren't the most effective option in the world, but they can make a difference in heat dispersion, even during an outage.
Alternatively, you can simply position a fan on the mantle above your fireplace. However, if your fireplace is positioned in a way that does not allow for these, you will need your convection blower to work. It is the most effective method by far, as it blows air directly from the heat source.
Still, if you have problems with it, it may be nice to have a backup, especially while you repair or replace your convection blower. If it's reached the end of its life, it's probably best to shop for a new, more modern electric fireplace that can last longer!

Enjoy a Cozy Winter
Now that you know how to troubleshoot and fix some common issues with your electric fireplace blower, try these tips for yourself and enjoy a warm and comfortable winter this year!
Stay up to date with our latest fireplace tips, and check out our selection of residential fireplaces to learn more about your options!
Related Articles:
How to Style Your Interior to Match Your Electric Linear Fireplace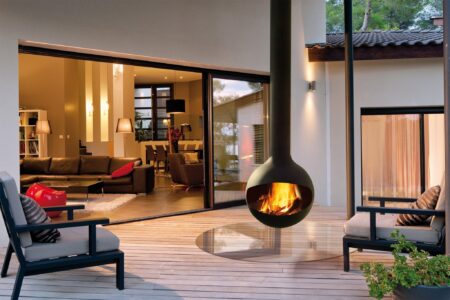 Venting a gas fireplace is crucial for proper air circulation and the removal of harmful combustion byproducts. However, not all homes are equipped with a
Read More »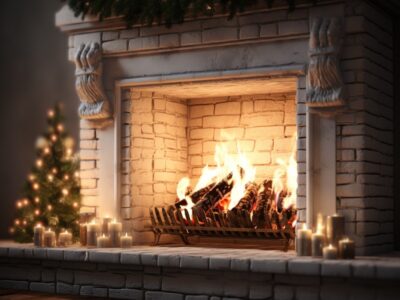 Cleaning white fireplace brick is essential to maintain its appearance and ensure the longevity of your fireplace. However, the cleaning process may vary depending on
Read More »
Looking to add a touch of elegance and warmth to your living space? Discover why a stone fireplace mantel is the perfect choice. Explore the
Read More »