A recent survey found that an updated outdoor living space can add as much as $20,000 in value to a home. It seems Americans in droves are prioritizing and seeking outdoor living spaces to expand their homes, entertain, and even work. 
This desire might be part a consequence of the pandemic when everyone spent their time at home. But the desire for these outdoor living spaces hasn't diminished as the world has returned to more normalcy. 
In fact, 61% of Americans say outdoor kitchens are a priority, while 59% are seeking outdoor fireplaces or firepits. 
If you're hoping to expand your living space to the outdoors, you might be wondering what you should consider as part of your outdoor area plans. Let's take a closer look at the trends for outdoor living spaces and what you might consider for your home. Read on to learn more about the trends in outdoor living decor.
Indoor Living Outdoors
While outdoor living is a priority, it's interesting that one of the significant trends in outdoor spaces is to bring indoor-like spaces to the outdoors. 
In outdoor living spaces, the goal is to create the feel of rooms you might have inside as part of your outdoor living. 
For example, part of your outdoor area might include a specific dining area, like an indoor dining room. You might have an outdoor living room with comfortable furniture and the ability to watch movies or sports. 
Comfortable Furniture
As homeowners spend more time living outside, it makes sense that one trend is comfortable outdoor furniture. 
Gone are the days of grabbing a folding chair from the garage to sit on the patio. 
Now outdoor furniture is designed with comfort and durability in mind. You can find whole outdoor rooms worth of furniture, including comfortable cushions and pillows as part of the design. 
Outdoor furniture fabric is made to withstand any elements, so it resists stains, mold, mildew, and water.  
Fireplace or Firepit
Whether it invokes childhood camp memories or is a carryover from evenings outside during the pandemic, sitting around a fire is a big draw for outdoor spaces. 
Trends in outdoor spaces might include the idea to install a fire pit or even a more permanent outdoor fireplace.     
Fireplaces are now the focal point of outdoor living spaces. They are the feature that provides a gathering spot in your outdoor spaces and offers warmth while outside.
An outdoor firepit or fireplace is a priority in current outdoor living spaces. 
Outdoor Kitchen
Another feature of bringing indoor features to your outdoor living areas includes outdoor kitchens. 
It seems having a cooler is a thing of the past. Now, outdoor kitchen spaces have all the amenities of indoor kitchens. 
Outdoor kitchens often include built-in grilling areas and stovetops. The kitchens have mini refrigerators for food and drinks.
Many homeowners appreciate the outdoor kitchens with running water which allows them to keep all the mess outside and eliminates the need to drag dirty dishes in and out of the house.
Pizza Ovens
Another trend in outdoor living spaces is specialty areas in built-in kitchens. This includes features like pizza ovens.
Who needs a pizza delivery guy when you can make gourmet pizzas in your own backyard?
Specialty pizza ovens can be built-in features of an outdoor kitchen. You can also add a high-end countertop pizza oven to your outdoor space. 
Imagine hanging out with family and friends all night, making custom pizzas, and sitting by the fire. It will be an instant memory maker and feature of your outdoor space.
Outdoor Bars
Even if you don't want to add a full-blown outdoor kitchen, your outdoor space will be enhanced with an outdoor bar area. 
Include a drink fridge for all of your favorite beverages. 
If you're a big fan of wine, consider adding a wine cooler to hold your favorite bottles for easy pouring when you're friends are gathered. 
Into more specialty cocktails like bourbon, you could even set up a tasting bar as part of your outdoor space. 
Outdoor Workout Spaces and Home Offices
The pandemic left people looking for all kinds of ways to meet their needs at home. It's not surprising then that both outdoor gyms and home office spaces are a part of outdoor living trends. 
The truth is that many people left the office at the beginning of the pandemic and never returned. 
Outdoor workout areas, including small workout sheds and places to play basketball or do yoga, are a priority for homeowners now. 
While you might not have to work from the office anymore, you still appreciate the chance to get outside. Outdoor living spaces include table tops where homeowners can sit comfortably with a laptop computer to work or be on a Zoom call.
Modular Furniture
Look at any big furniture maker or retailer, and you'll quickly see that outdoor furniture is a consumer focus. 
Outdoor furniture is no longer just some patio chairs that fold up and can be tucked away when not used. Instead, more oversized furniture with comfort in mind is the trend. 
This includes modular furniture. The nice feature of outdoor modular furniture is its flexibility to move around and rearrange depending on the homeowner's needs. 
Don't assume that the modular furniture looks modular. These are often high-end furniture pieces made to be both flexible and comfortable simultaneously. 
Water Features
Another priority for outdoor living spaces includes water features. 
This can include everything from a luxurious saltwater pool to a water fountain for sound and aesthetics. 
Adding a pool, dunk pool, or hot tub gives friends and family a reason to gather together. With modern outdoor living spaces, water features like this are a part of the overall outdoor design and have become a focal point. 
If you're not ready to invest in a pool, consider adding water to your landscaping. This can include a small pond or fountain. 
Year-Around Use
Not all climates can accommodate outdoor living year-round. Yet, a priority for outdoor additions is finding ways to extend how long you can use the outdoor space. 
In some cases, this means adding outdoor heat lamps or lights in addition to the fireplace for warmth. 
Covered and enclosed porches also allow homeowners to use the outdoor living space even when the weather creates a challenge. 
Some homeowners even appreciate transitioning their indoor and outdoor spaces with screened porches for added seasonal use. 
Organic and Modern
Another trend in outdoor living spaces is using organic materials while still presenting them as modern. 
Earthy elements in furniture and design continue to make the outdoor space feel like you're outside while adding the comforts of the inside. 
Including landscaping as part of your outdoor living plans is important for including organic substances as part of your design.
Priorities for Outdoor Living
While there is a long list of trends in outdoor living spaces, as homeowners add these to their homes, they also have some priorities for how to execute adding those trends. 
Let's take a closer look at the priorities for outdoor living planning. 
Eco-Friendly
A focus on eco-friendly design is important for many homeowners. 
In some cases, this means using eco-friendly materials as part of the construction or design elements. In other cases, it's planning spaces that are kind to the environment and feature eco-friendly landscape elements.
Family and Pet Friendly
Since the focus is on staying home and living the best life possible in our own homes, children and pets are a focus in outdoor spaces. 
Outdoor living spaces include areas for the pet to get to the yard and have room to run and play. Likewise, outdoor living areas are kid friendly and intended so the kids want to entertain their friends and hang out with the family.
Privacy
Privacy is another important feature for homeowners in outdoor spaces. Since they know they'll spend so much time in the outdoor space, they also want to ensure privacy. 
This might include building privacy fences or using landscaping to help offer privacy in those outdoor living areas. 
Comfort
As homeowners plan outdoor spaces, making them comfortable and inviting is a priority. It's the idea of bringing the indoors to the outside. 
People want to have many of the same comforts in the outdoor living spaces that they have in their indoor ones. 
Shade
While we want to enjoy the outdoors, we also want to be protected from the elements. If you live in a climate with hot sun, you want to include ways to seek shade while outside. 
Many outdoor living areas include covered porches or pergolas to protect from the elements. 
Adding Outdoor Living Spaces for Your Home
Outdoor living spaces are a big priority for homeowners. Look for these trends to continue to become a priority for home design. 
If you're hoping to add an outdoor fireplace to your home, we can help. Contact us so we can help design a showstopper outdoor fireplace for your outdoor living spaces.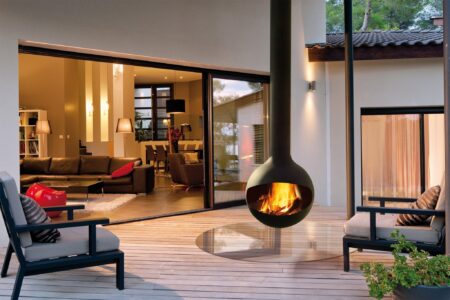 Venting a gas fireplace is crucial for proper air circulation and the removal of harmful combustion byproducts. However, not all homes are equipped with a
Read More »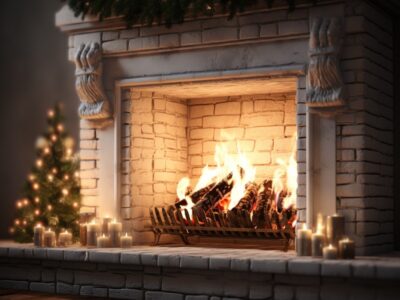 Cleaning white fireplace brick is essential to maintain its appearance and ensure the longevity of your fireplace. However, the cleaning process may vary depending on
Read More »
Looking to add a touch of elegance and warmth to your living space? Discover why a stone fireplace mantel is the perfect choice. Explore the
Read More »