A lot of people are shocked when they find out that the fireplace services market in the United States makes over $500 million in revenue every year. In recent years, energy costs have been going up at rapid rates. More and more people are wondering if a fireplace might be the right way to keep their homes warm and cut their costs at the same time. A wood burning fireplace can be beautiful and cozy so we're outlining the pros and cons of a wood burning fireplace to help you decide.
Many people are firing up their old wood-burning fireplaces to help keep their homes warm through the winter. However, a lot of people are only familiar with wood-burning fireplaces and do not know much about the other options on the market.
Without a point of comparison, many people do not notice the disadvantages that come along with using a wood fireplace. On the other hand, being unfamiliar with other options can also make it harder for people to appreciate what is special and advantageous about wood fireplace options. So what are the pros and cons of choosing a wood fireplace for your own home?
Read on to learn all about the most vital things to understand about wood-burning fireplaces and the other options on the market!
Choosing the Best Fireplace for You
You might only want to know whether wood-burning fireplaces are the best option or not. However, whether a wood fireplace is the best option or not is largely a matter of opinion and personal preference.
Some people value what only a wood fireplace can provide over everything else. Other people are more interested in the advantages of alternative fireplace designs.
As we discuss the pros and cons of wood-burning fireplaces think about how much you care about each of these factors. That way, you can better decide if a wood fireplace is the best possible design for your unique preferences or not.
Pros and Cons of a Wood-Burning Fireplace
One thing to keep in mind as we discuss the pros and cons of wood-burning fireplaces is that they are the oldest kind of fireplace there is. As a result, the advantages they provide can be somewhat subtler. Many people perceive a certain value in traditional styles that is not about their capabilities on paper.
On the other hand, some people only use wood fireplaces because that is what they know. So what exactly are the advantages of wood fireplace options?
Benefits of a Wood-Burning Fireplace
The thing that people love about wood fireplaces more than almost anything else is their aesthetic. Modern fireplaces try to compete with traditional wood styles with differences in convenience and functionality. However, many of them also make a concerted effort to imitate the beauty that a wood-burning fireplace can provide.
It should come as no surprise that modern imitations struggle to match the natural beauty of a wood fireplace.
Wood fireplaces create a unique sound that people love to listen to. Many people even say that it helps them relax.
You can find videos of traditional fireplaces on the internet with millions of views. That is a powerful indicator of how much people value even a rough imitation of the beauty of a wood fireplace.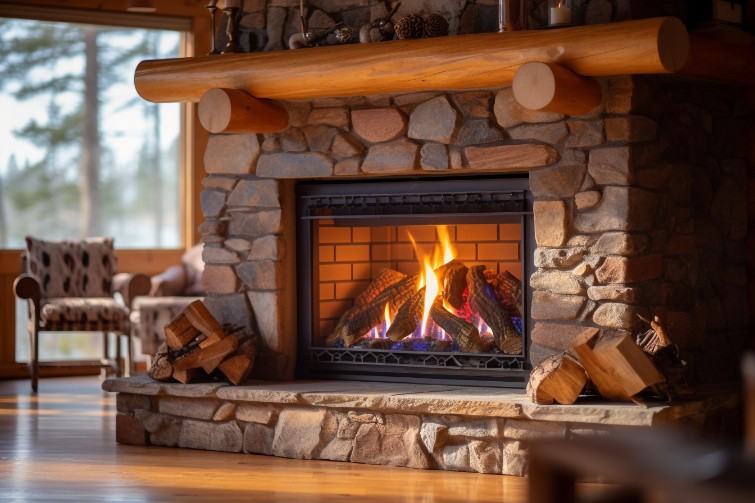 Many people also love the distinct smell that a wood fireplace can provide. No other fireplace comes even close to matching it. Lots of candles and other scents imitate this smell because of how much people love it.
The last and perhaps the most important part of the wood fireplace aesthetic is its appearance. The dancing flames of burning wood have fascinated people for thousands of years. Once again, modern fireplace styles try to imitate this but never quite achieve it.
Another great advantage of wood fireplaces is that they are reliable. In theory, all modern fireplaces are reliable as well. However, modern fireplaces rely on fuel sources like electricity, gas, and ethanol.
If your power goes out, then you will not be able to turn on your electric fireplace. The same applies to the other fuel sources for modern fireplaces.
In an emergency situation, nothing is as certain to keep working as a wood fireplace. With a source of wood and flame, you can get your wood fireplace going no matter what!
Disadvantages of a Wood-Burning Fireplace
Wood fireplaces produce much more smoke than more modern options. That means that they are only an option for people who have chimneys in their homes.
The smoke from burning wood also leads to soot around the chimney. That means that you have to clean wood fireplaces every so often.
Most people do not have access to an infinite supply of wood. Using a wood fireplace requires you to constantly restock your store of firewood. On top of that, you will need to have a sizable location where you can store firewood in your home.
Of course, you will also need to monitor your wood fireplace whenever there is a fire in it. Wood fireplaces also provide lower efficiency unless they are combined with a fireplace insert.
When you look at wood-burning vs gas fireplace options, wood fireplaces are less convenient in multiple ways.
Understand the Pros and Cons of a Wood-Burning Fireplace
We hope that learning about the pros and cons of getting a wood-burning fireplace for your home will help you decide which kind of fireplace is right for you. If you are going for that traditional rustic look, then nothing but a wood fireplace may suffice. On the other hand, more modern fireplace options might be the right choice depending on the kind of functionality you are looking for.
To learn more about where you can find the best fireplace designs and installation services for you, reach out and get in touch with us here at any time!
Related Articles: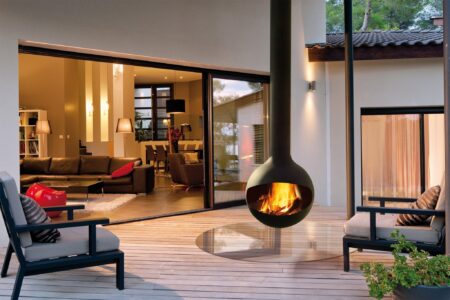 Venting a gas fireplace is crucial for proper air circulation and the removal of harmful combustion byproducts. However, not all homes are equipped with a
Read More »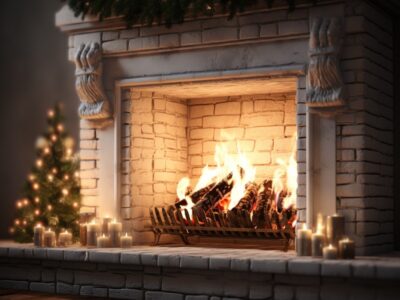 Cleaning white fireplace brick is essential to maintain its appearance and ensure the longevity of your fireplace. However, the cleaning process may vary depending on
Read More »
Looking to add a touch of elegance and warmth to your living space? Discover why a stone fireplace mantel is the perfect choice. Explore the
Read More »