The fireplace is the heart of any home. It is the focal point of a room and can be used to bring an old-world charm to your interior design. If you are looking for traditional fireplace ideas, there are plenty from which to choose.
Since old, fireplaces have been used to warm homes and create a cozy atmosphere. For those wishing to continue this tradition in their home, you can start with the type of fireplace you choose. These features instantly add character to your home, whether a stone surround or an ornate wooden mantelpiece.
This blog will share national fireplace ideas to help make your home look and feel like a place of timeless beauty. From classic painted surrounds to unique tiled designs, we have something for everyone.
Please keep reading to discover some of our favorite traditional fireplace ideas and how to incorporate them into your home.
The Advantage of Having a Traditional Fireplace
There are several benefits to having a traditional home design fireplace. The most obvious benefit is a fireplace's warm and inviting atmosphere, which many people look for when decorating their homes.
Fireplaces also provide an additional source of heat, saving money on electricity bills. This is done while providing extra warmth during cold winter.
The traditional aesthetic of a fireplace is also great for making your home look more inviting and elegant, which can be especially helpful when entertaining guests.
Finally, having a traditional fireplace in your home can add to its resale value by increasing the overall appeal of your property. If you ever decide to move, the fireplace can be easily removed and installed in a new home.
Here are some of the most popular and timeless traditional fireplace ideas.
Classic Painted Fireplace Surrounds
A classic painted surround is one of the most famous traditional fireplace ideas for any home. In fact, it's a historical statement about the importance of fire.
This type of surround can be customized to fit any décor style or fireplace ideas. It is particularly effective when paired with a bold-colored mantelpiece or ornate wood detailing.
You may consider a stone surround instead for an even more timeless feel. The natural charm of a stone fireplace is sure to bring an air of sophistication to your home. It does so without any compromise, which is the best part.
Unique Tiled Fireplace Surrounds
Tiles are also great for creating traditional fireplaces that will stand the test of time. A tiled surround can be customized with various designs, colors, and shapes to add a unique touch of character to your home.
From classic geometrical shapes such as hexagons or triangular tiles to organic designs featuring floral motifs, tiled surrounds can easily be tailored to any décor style. Not only will they look beautiful, but they are also easy to clean and maintain.
Wooden Mantels
No traditional fireplace is complete without a beautiful wooden mantelpiece. Whether you choose an ornate and detailed design or a simpler one-piece mantel, it will add the perfect finishing touch to your fireplace.
A painted surround can perfectly complement the classic look of a wooden mantel for an extra dose of charm and elegance. Consider installing a metal mantel for an understated yet stylish effect.
By incorporating these traditional fireplace ideas into your home, you can make it feel like the timeless and inviting place of your dreams.
Metal Firebacks
Finally, why not consider adding a metal fireback to your traditional fireplace? This decorative iron plate sits behind the flames, radiating heat back into the room and protecting your walls from damage.
Not only does it serve an essential purpose, but it can also add charm and sophistication to your home. There are many designs to choose from, ranging from classic geometrical shapes to intricate carvings.
Interior Design Ideas for Creating a Charming Fireplace Experience
Once you've got the proper fireplace and surround, it's time to move on to other design elements. You can add charm with simple decorations,, such as scented candles or potted plants. This is also a great way to make your home look inviting and cozy while adding warmth.
When it comes to furniture, choose a piece that will help to create the perfect atmosphere and make your fireplace the focal point of the room. A comfortable armchair or chaise lounge nearby is a great way to relax and enjoy your new space.
Finally, consider adding extra lighting around your fireplace for a soft and gentle glow. This will help complete the ambiance and make your fireplace space memorable. Moreover, adding a layer of colorful paint or wallpaper to the walls will enhance the overall look and feel.
With these traditional fireplace ideas, you can easily add character and sophistication to your home. With a few simple changes, you'll enjoy a timeless cozy look that will surely last for years.
A Fireplace Made Right
Adding a traditional fireplace to your home is an excellent way to bring warmth, charm, and sophistication into your living space. You can create a timeless aesthetic that will stand the test of time with just a few simple touches.
Whether you choose classic painted surrounds or unique tiled designs, there are plenty of options for creating the perfect traditional fireplace for your home.
So don't wait any longer – start designing the fireplace of your dreams today. Get in touch with us if you need assistance regarding fireplaces and how to implement them in a building.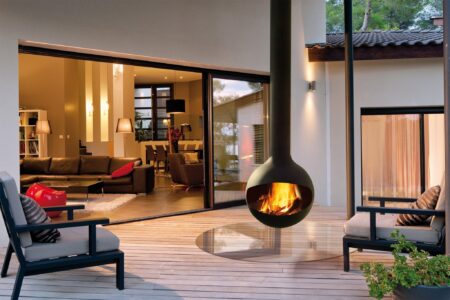 Venting a gas fireplace is crucial for proper air circulation and the removal of harmful combustion byproducts. However, not all homes are equipped with a
Read More »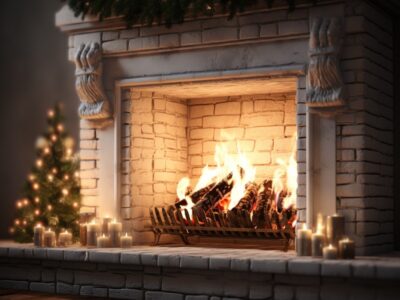 Cleaning white fireplace brick is essential to maintain its appearance and ensure the longevity of your fireplace. However, the cleaning process may vary depending on
Read More »
Looking to add a touch of elegance and warmth to your living space? Discover why a stone fireplace mantel is the perfect choice. Explore the
Read More »