The global electric fireplace market is currently worth more than $2.18 billion and it isn't hard to see why. These amazing additions to your home can transform a space and will stand the test of time.
Now there are even more electric fireplace designs than ever before. If you are thinking of installing an electric fireplace in your home, you really are spoilt for choice!
So how do you pick between recessed electric fireplaces and other designs? Well, there are a lot of things you need to consider, from the aesthetic of a fireplace to its installation process.
If you're trying to choose between recessed electric fireplaces and wall-mounted fireplaces you're in the right place. Read on to find out the pros and cons of these different designs.
Benefits of Electric Fireplaces
Fireplaces have been featured in home designs around the world for hundreds of years. While their original use was a practical one, nowadays they are a stylish feature that can really pull a room together.
Different types of electric fireplaces:
Create a focal point within a room
Heat your room
Are much cheaper to run than wood-burning fireplaces
Are safer than traditional or gas fireplaces
Stand the test of time and don't require huge amounts of maintenance
However, the designs of electric fireplaces can vary a lot so it is important to think about what you want for your home. This will help you find the perfect fireplace.
So how do recessed electric fireplaces compare to wall-mounted fireplaces? Let's take a closer look.
What is a Recessed Electric Fireplace?
Recessed fireplaces are units that you insert into the wall so that the front is flush with it. Often these fireplaces come with a mount or frame that you can use to surround and present them neatly.
You can also use existing recesses in your home to install your fireplace. For example, you could replace an old gas or wood-burning fire in your home with a recessed electric fireplace.
Benefits of a Recessed Electric Fireplace
Recessed fireplaces are incredibly versatile and help you make the most of the space in your home. They won't take up any extra room, so they're the perfect feature for large or small spaces.
You can switch up the appearance of your recessed fireplace to suit your home's aesthetic. For example, sleek, simple surrounds are ideal for modern spaces. If you want to make more of a statement or create a rustic fireplace then use a natural, chunkier surround for your fireplace.
What is a Wall-Mounted Electric Fireplace?
You can secure wall-mounted fireplaces onto the walls around your home, rather than creating recesses into the walls.
These sit on mounting brackets like TVs or picture frames and mirrors around your home. They tend to be very slim so that they don't stand too far out from the wall.
Benefits of a Wall-Mounted Fireplace
Wall-mounted fireplaces are incredibly quick and easy to install, which makes them very popular.
They don't require permanent changes to your walls, so you can remove or replace them easily. This is ideal if you like to switch up the design of your home every couple of years.
They also tend to be cheaper than other electric fireplaces, making them perfect for anyone on a budget.
Because of their design, these fireplaces stick out from the wall a little. So they work best in larger spaces.
You can make the most of their surrounds by treating them like a traditional fireplace mantel. Why not put some lightweight candles on the surround and hang a mirror above your fireplace? This will really tie the whole look together.
Recessed vs. Wall-Mounted Fireplaces
Choosing which fireplace you want for your home depends on a couple of things:
The space you are working with
Your budget
How much you want to spend installing your fireplace
The aesthetic you are looking for
Wall-mounted fireplaces tend to be cheaper to buy and install than recessed fireplaces. However, they do take up much more space in your room. So if you are working with a small space, a recessed fireplace is a better option.
Recessed fireplaces can also be deeper than wall-mounted ones and offer a range of different design options. So if you want to create a statement in your room, you'll have more freedom to do this with a recessed fireplace.
When it comes to installation, wall-mounted fireplaces offer an easier option.
Recessed electric fireplace installation often requires you to remove a section of your wall and create a support frame. This takes longer and can cost between $200 and $1,500.
In comparison, wall-mounted fireplaces attach directly to the wall itself. This is relatively straightforward and makes it easier to move your fireplace if you are moving home.
So if you are looking for a low-cost, low-effort option then wall-mountain fireplaces are a great choice for you. If you have a bigger budget and want to create a stunning interior design feature then a recessed fireplace is well worth it.
Find the Perfect Electric Fireplace For Your Home Today
Choosing the right electric fireplace design for your home depends a lot on what you want from your fireplace.
Recessed electric fireplaces can look really unique and create an amazing feature in your home. However, if you are looking for a cheaper option that is simple to install, a wall-mounted fireplace is a great option.
Are you looking for the perfect electric fireplace for your home? Dreifuss offers bespoke designs and installation support for electric, gas, and wood-burning fireplaces. Get in touch for help finding your dream fireplace today.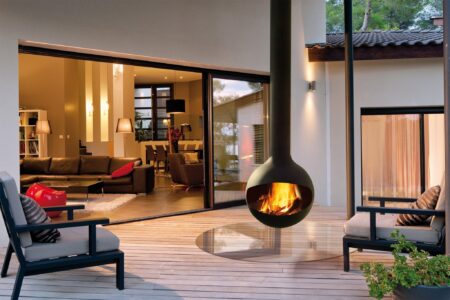 Venting a gas fireplace is crucial for proper air circulation and the removal of harmful combustion byproducts. However, not all homes are equipped with a
Read More »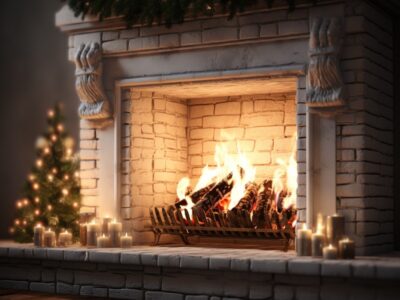 Cleaning white fireplace brick is essential to maintain its appearance and ensure the longevity of your fireplace. However, the cleaning process may vary depending on
Read More »
Looking to add a touch of elegance and warmth to your living space? Discover why a stone fireplace mantel is the perfect choice. Explore the
Read More »