When you're in the market for a new-build home, you may discover that your options aren't often equipped with fireplaces. If you're buying an old property, you may not feel certain that you can safely use the existing fireplace.
In either case, you can install a new fireplace that is updated and ready to use. The question is, do you opt for a standard model or design a custom fireplace?
Today, we're going to talk about the signs that you should consider a custom fireplace over a standard, pre-fab fireplace. We'll cover factors like property value, sustainability, bespoke design, and more.
Read on to find out if you should skip traditional fireplaces and go straight for a custom fireplace design.
Increasing Property Value
As we mentioned earlier, new-build residential properties often lack fireplaces. This can lead some homeowners to the conclusion that fireplaces don't have an impact on property value or that buyers aren't looking for fireplaces anymore.
The truth is that properties with fireplaces are listed for 13% more than the national median. Though central heating may reduce the inherent need for a fireplace, it doesn't replace the ambiance and coziness a fireplace can provide. Plus, many homeowners want a fireplace that can supplement the need for central heating throughout the moderately chilly months.
That said, adding a fireplace to a home that has never had one can come with some important considerations. For example, a traditional fireplace may look out of place in a modern home. By installing a custom fireplace, you can ensure that the fireplace is a cohesive addition.
Reducing Renovation Expenses
When you're considering fireplace installation, it's important to account for existing structures. If you're upgrading an old fireplace with a new insert, you'll have more options, even on a limited budget. Because your home already has a chimney, you can choose a wood-burning fireplace or a natural vent gas fireplace without undergoing major renovations.
Many homeowners believe that without a chimney, they can't have a fireplace at all. The good news is that there are a few options that don't need a chimney. These include electric fireplaces and ventless gas fireplaces.
In other words, "custom" doesn't always mean "more expensive." Work with your contractor to design a chimney-free fireplace to reduce renovation costs.
Meeting Your City Regulations
You may have noticed the gas debate in recent months. Some homeowners worry about the impact that appliances like gas stoves are having on their indoor air quality.
A properly installed gas fireplace should have minimal impact on your indoor air quality. However, some cities are responding to the concern by banning all new gas appliances, and this would include gas fireplaces. While the bans aren't wide-reaching at the moment, they may spread in the coming years.
If your city is soon to ban gas appliances, don't sweat it. When you go custom, it's easy to design a beautiful electric fireplace that is just as easy to use and pleasant to look at. You'll still enjoy that extra heat and the flickering flame effect all at the touch of a button.
Reducing Environmental Impact
It's no secret that homeowners today are looking for ways to reduce their environmental impact. Sustainable appliances aren't just better for the planet. They're also better for your utility bills.
There is a common misconception that traditional wood-burning fireplaces are the best option. After all, you're only burning logs, not using gas or electricity. The reality is that burning wood in a fireplace produces emissions at a high rate, making wood-burning fireplaces one of the worst choices from an environmental standpoint.
Are electric fireplaces the best for the environment? When you choose the right model, they can be. However, custom gas fireplaces are typically the leaders when it comes to low environmental impact.
Taking Control of Design
So far, we've talked about many of the practical elements of choosing a custom fireplace rather than a traditional fireplace. Customization can allow you to work within your budget, meet city regulations, reduce your environmental impact, and more. Even if you're not concerned about these practical elements, a custom fireplace will still give you the most control over design.
Say you want something entirely unique, sleek, and modern. By going custom, you can create something like a suspended fireplace that looks like a work of art even when it's off. There are also two-sided and three-sided options that allow you to enjoy the glow and warmth of the fire from multiple rooms.
Maybe you want that traditional look without the expense or hassle of building a chimney and installing a wood-burning fireplace. You can design a custom fireplace that has that classic look and feel. You can even make a new fireplace look beautifully aged.
You get to decide if you want a mantle, a hearth, a hearth extension—no matter your vision, there's a way to make it come to life with a custom fireplace.
Come to Dreifuss for Your Custom Fireplace
There are many types of fireplaces that homeowners can choose from, even if their new-build home is lacking an original fireplace. While traditional fireplaces have their appeal, you may find more to love about a custom fireplace. As you can see, a custom fireplace gives you the control you need to meet your budget, your functional goals, and your creative vision.
Are you ready to learn more about your custom fireplace design options? Contact us today so we can get started on a design and talk pricing and scheduling.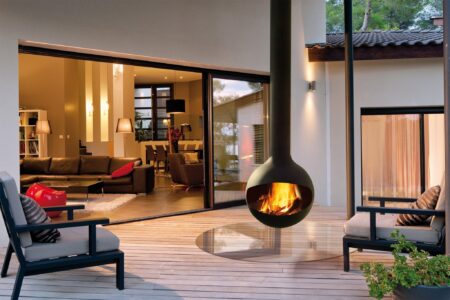 Venting a gas fireplace is crucial for proper air circulation and the removal of harmful combustion byproducts. However, not all homes are equipped with a
Read More »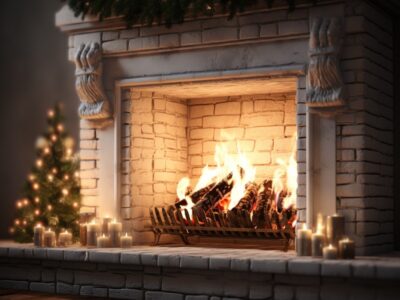 Cleaning white fireplace brick is essential to maintain its appearance and ensure the longevity of your fireplace. However, the cleaning process may vary depending on
Read More »
Looking to add a touch of elegance and warmth to your living space? Discover why a stone fireplace mantel is the perfect choice. Explore the
Read More »