The east coast is notorious for its frigid winters and chilly springtime weather. These are just two reasons to invest in a fireplace upgrade. Fireplaces also bring family and friends together. They're the perfect spot to tell spooky Halloween stories and read your favorite holiday storybooks. Using a traditional fireplace helps you save money on energy bills. Plus, you can install a gas model to enjoy a clean-burning alternative. Electric fireplaces are another choice for managing indoor air quality, as well. Are you thinking of selling your home in the near future? Installing a fireplace or investing in fireplace upgrades increases home value. Thus, a new fireplace could help you command a higher home price. Whether you're drawn to a modern fireplace or a more traditional look, both add a touch of ambiance to your home. Fireplaces help create a sanctuary, inspiring a sense of calm. Are you thinking about installing your first fireplace or getting a total fireplace makeover? Take your first step with this remodeling guide!
Work With Your Home's Style and Area Size
Your first step is to think about what you already have—your home! Your house already has a distinctive style. Ask yourself:
Do you have a farmhouse home?
Is it built in a colonial style?
Does it have a more Greek revival flair?
Is your home modern and minimalist?
You want your fireplace to accent your home's architectural style, not distract from it. You can still make your fireplace the focal point of your living room without drawing attention away from the interior design. Size is another important factor. Design for space. For example, a small living room can absolutely have a fireplace, but make sure the size dimensions make sense for the space.
Get Creative With Fireplace Walls
A fireplace remodel also gives you a chance to install an impressive (and decorative) fireplace wall. You can really allow your creativity to sore here. For example, you could add recessed spaces to your fireplace wall for decorative art, like sculptures, heirlooms, and vases. Add lighting to these spaces to create even more dimension, illuminating your favorite decor. You should also install a back wall if you want to give your fireplace dramatic appeal. Next, think about the fireplace materials you want for your back wall. Brick is a popular choice for its aesthetic and functional appeal. It also comes in colors other than traditional brick red if you want a fireplace that combines traditional and modern elements. For example, a white brick fireplace would work well for a modern home. Stone tiles are another choice. Think about large, clean marble tiles for a fireplace wall. This is a good choice if you're thinking about adding recessed spaces with lighting. You can always install a fireplace into an existing wall without building out or tiling a new wall. However, a dramatic fireplace wall may add more value to your home.
Building Out a Fireplace
Next, think about the fireplace itself. There are so many ways to approach this project. For example, you could create a recessed modern fireplace within a dramatic stone fireplace wall. You could also enjoy a custom-built "fireplace peninsula" that jets out into the space, encased in glass. You could keep your fireplace traditional by installing a simple model with a traditional brick border. Do you have a summer cabin or want to create a more rustic look? Remodeling your fireplace with rough, uneven natural stone makes a statement while tying your home's rustic theme together. This look is perfect for traditional wood-burning fireplaces, ideal for cabins. You can also recreate it at home with an electric alternative. Gather as much inspiration as possible at this stage of the project. Check out Dreifuss Fireplaces' product page for even more visual inspiration or call a specialist to discuss your vision. If you're remodeling an existing fireplace, think about various upgrades to improve it. For example, you could add glass fireplace doors to add aesthetic value but also protect people from getting too close to the heat. Linear fireplaces work for all types of architectural themes, from rustic farmhouses to modern-minimalist homes. This style features long rectangular-shaped fireplaces that are often recessed into the wall. Linear fireplaces work well with space. You can even install them beneath wall-mounted TV screens!
Do You Want a Mantel for Your Fireplace Upgrade?
Vintage fireplaces traditionally come with mantels. These elements are perfect for showcasing your favorite family photos, artworks, and souvenirs. They're not necessary for fireplace builds; for example, you'll find plenty of modern fireplaces, especially linear styles, that forego the mantel. However, they do add that traditional touch to any design. If you want to include a mantel, think about styles that correspond well with your existing interior design. Like fireplace walls, you can get really creative with your mantel shelving. There is traditional shelving with tiered looks. You could also keep the shelf simple with a single panel detached from the fireplace itself; you would do this with a recessed linear fireplace. Consider installing a clean marble mantel shelf, a log above a rustic natural stone fireplace, or even a recessed alternative built within the wall.
Design Your Fireplace Hearth
There are plenty of ways to approach your fireplace hearth. You don't necessarily need a hearth, either. However, you do need to create enough space around the fireplace for safety and aesthetic reasons. Do you want people to gather around the fireplace for warmth? Consider adding a traditional raised hearth around the fireplace. These hearths have a seating style that invites people to sit and relax. Hearths are typically made from the same materials as the fireplace. For example, you could add a hearth made from brick, clean marble or granite, or rustic wood. You'll need some type of protective element, like screens and glass doors, in front of your fireplace if you plan to install a hearth.
Get Started On Your Remodeling Project
These ideas are just the start of your new fireplace. Consider a wide range of styles, materials, and fireplace types, from wood-burning to electric, when planning your remodel. Don't forget to check out our product pages for more inspiration. Are you ready to get the ball rolling on your fireplace upgrade? Dreifuss Fireplaces wants to help bring your vision to life. Give us a call today to learn more or to book an appointment.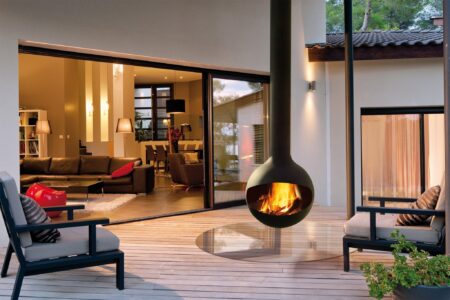 Venting a gas fireplace is crucial for proper air circulation and the removal of harmful combustion byproducts. However, not all homes are equipped with a
Read More »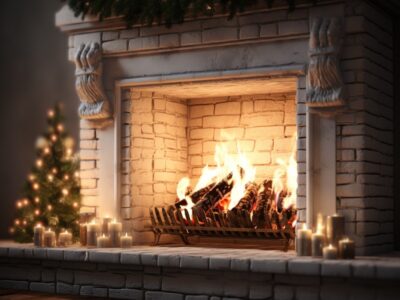 Cleaning white fireplace brick is essential to maintain its appearance and ensure the longevity of your fireplace. However, the cleaning process may vary depending on
Read More »
Looking to add a touch of elegance and warmth to your living space? Discover why a stone fireplace mantel is the perfect choice. Explore the
Read More »