Gone are the days of always using traditional, brick fireplaces. Modern fireplace design is all about making a statement and creating a unique, stylish look that reflects your taste.
From frameless fireplaces to double-sided fireplaces, the options are endless. And if you're a homeowner looking to upgrade your living space or an engineer searching for new ideas, you'll want to learn more.
So, let's look at some of the most popular modern fireplace design trends that will inspire your next renovation project.
Frameless Fireplace
For modern fireplace design, frameless fireplaces, also known as "hole-in-the-wall" fireplaces, are definitely a trend to watch. These fireplaces have a minimalist design and do not have a traditional mantel or surround. This allows them to blend seamlessly into the wall, creating a sleek and contemporary look that is perfect for any room.
Not only are they a hit right now, but they are also set to influence interior decor for years to come. One reason frameless fireplaces are so timeless is that you can customize them to match the aesthetics of any room.
You can finish frameless fireplaces in various materials, such as glass, stone, or tile, to match your room's existing design. Or you can design them to fit seamlessly into any space, making them perfect for any home renovation project.
One of the great things about frameless fireplaces is that there are several styles to choose from. For example, you can opt for a linear or horizontal fireplace installed at eye level. Or, if you're looking for something that can fit in tight spaces, a vertical fireplace might be the perfect option.
Corner fireplaces are also perfect for creating a cozy and warm feel in any room.
Another significant feature of frameless fireplaces is that they come in various sizes. They can be as small as a few inches wide or as large as several feet wide. This allows homeowners to choose the perfect size for their space and design preferences.
The essence of most fireplace designs is to create a focal point. While the clean, modern style blends with your style, it can also be the standout interior design decor to stir conversations about your artistic taste.
Open Fireplace
Frameless fireplaces provide a contemporary look, but if you're looking for a more rustic and natural feel, an open fireplace might be the perfect solution.
An open fireplace is a modern and alluring design trend you'll love. Unlike traditional fireplaces with a glass front or a fireguard, an open fireplace allows the flames to be fully visible, creating a rustic and natural ambiance reminiscent of a campfire.
This design feature is perfect for outdoor spaces, such as patios or decks, where you can enjoy the warmth and ambiance of the fire while surrounded by nature. You can bring the design indoors to create a cozy ambiance in any room, such as a living room or bedroom.
In terms of design, open fireplaces offer a wide range of design possibilities. You can choose from various materials such as stone, brick, or metal and can design it to match any aesthetic, whether a rustic or modern look. You can also customize it to match the existing design of the room.
Fireplace decor also plays a crucial role in the overall design of an open fireplace. You can choose from a wide variety of accessories and decor to complement your open fireplace. This can include anything from candles to artwork to plants to enhance the room's overall design.
You may want to consider elevating the style of an existing open fireplace. This will be time to explore other fireplace designs ideas to completely modernize your home. Something like tile work can complement your aesthetic design to create a beautiful fireplace.
When installing an open fireplace, it's essential to consider the activity level of the area. Given the exposed nature of the flames, it's recommended to place the open fireplace in areas with less activity to prevent accidents. Additionally, it's important to remember that an open fireplace requires more maintenance and cleaning, as ash and debris can easily fall out.
Ventless Gas Fireplace
So you might wonder, what if you love the idea of an open fireplace but don't want to deal with the maintenance and cleaning that comes with it? Well, that's where ventless gas fireplaces come in. They are an alternative that many homeowners are turning to for ease of use and maintenance.
Ventless gas fireplaces are a type of gas fireplace that does not require a chimney or vent to operate. They burn natural gas or propane to produce heat, and you can install them in any room of your home.
The lack of a vent or chimney makes them very easy to install and maintain. No need to worry about cleaning the chimney or dealing with the ash and debris that falls out of an open fireplace.
Efficiency is another benefit of ventless gas fireplaces. They use less fuel and produce fewer emissions than traditional fireplaces. This means that they are both easy to maintain and environmentally friendly.
Ventless gas fireplaces come in different styles and designs, so you can choose the perfect option to complement your existing design aesthetic. We can design them to match any aesthetic, from traditional to modern, and customize them to match the existing design.
Some popular ideas for incorporating a ventless gas fireplace into your home include:
Wall-mounted ventless gas fireplaces: Hang them on the wall like a piece of art to add ambiance to an area
Corner ventless gas fireplaces: An excellent space-saving solution and add a cozy touch to a room
Built-in ventless gas fireplaces: Incorporate them into a wall for a seamless addition to a room
Outdoor ventless gas fireplaces: Add heat and ambiance to outdoor living spaces such as patios or decks
Tabletop ventless gas fireplaces: Place a tabletop ventless gas fireplace on a coffee table or other surface, adding a decorative touch to a living room or dining area
For more ideas on incorporating a ventless gas fireplace into your home, we recommend checking out our guide about top-ventless gas fireplace ideas.
Extravagant Wooden Fireplace
Wooden fireplaces with large views are a trend that homeowners are embracing to create a sense of grandeur and luxury in their living spaces. These fireplaces have large windows or openings that showcase the flames and logs burning inside, providing an unobstructed view.
The wooden fireplace design can be rustic, modern, or contemporary and can comprise materials like reclaimed wood, pine, cedar, etc.
Besides large viewing areas, these modern fireplaces may also feature beautiful, large chimneys that make a bold and striking appearance. The large chimneys allow smoke to escape quickly and safely, making them a practical choice for homeowners.
We can make chimneys of materials like stone or metal, adding character and charm to any room. A huge chimney overlaid with stone offers a wonderfully rustic look for homes with high ceilings. In contrast, you can choose white paint or metal chimney colors for a cleaner look.
The large view windows allow natural light to flow into the room, creating a bright and open atmosphere. The wooden fireplace with large views can complement the modern design, naturally contrasting sleek, contemporary lines.
These bold fireplaces are not limited to residential spaces. They can also impress guests in commercial spaces like hotels, museums, and event spaces. They can be a breathtaking focal point in larger homes, adding value and luxury to living spaces.
Double Sided Fireplace
Suppose you're looking to upgrade to a modern fireplace but still want some functionality in your design. In that case, a double-sided fireplace is an excellent option.
This innovative fireplace is turning heads in the fireplace engineering industry, as it offers a unique and stylish way to add character to your home. It's one of the perfect ideas to make your fireplace a focal point for many exciting reasons.
This double-sided fireplace allows you to enjoy your fireplace from multiple rooms, connecting spaces and providing warmth and ambiance to different areas of your home. Unlike traditional fireplaces, typically on one wall, it's in a central location, allowing it to be visible from multiple angles.
One of the major benefits of double-sided fireplaces is the ability to divide a large room or open floor plan into separate spaces while maintaining an open and connected feel. This type of fireplace can separate a living room from a dining area or kitchen. Or it can divide a large room into a living area and a family room.
Another great advantage of double-sided fireplaces is their ability to save energy. Because these fireplaces serve multiple rooms, they heat a larger area of your home, which can reduce the need for additional heating sources. This can help to lower your energy costs and make your home more energy-efficient.
Transform Your Home With a Modern Fireplace
There's a perfect design for you when you're looking for a sleek and contemporary frameless fireplace, a rustic and natural open fireplace, or a double-sided fireplace that connects multiple rooms.
And let's be real─ who doesn't love a good fire to curl up next to on a chilly night? It's time you bring a stunning and functional modern fireplace to your home. Get a free estimate for upgrading to a modern fireplace from Dreifuss Fireplaces.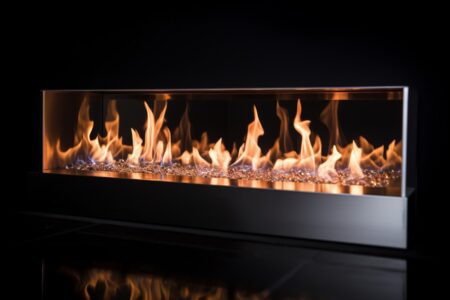 Gas fireplaces are a popular and convenient way to enjoy the warmth and coziness of a fire in your home. However, it is important to
Read More »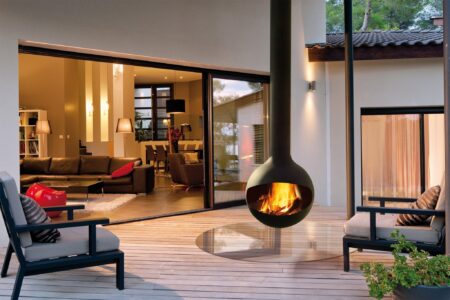 Venting a gas fireplace is crucial for proper air circulation and the removal of harmful combustion byproducts. However, not all homes are equipped with a
Read More »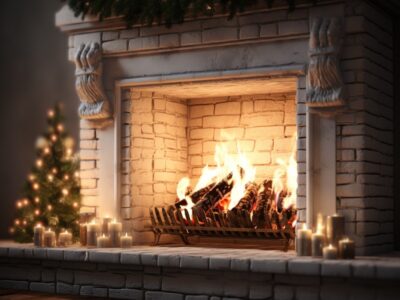 Cleaning white fireplace brick is essential to maintain its appearance and ensure the longevity of your fireplace. However, the cleaning process may vary depending on
Read More »