According to experts, a fireplace could potentially add up to $12,000 to the value of your home. This can also depend on the type of fireplace you have installed. The majority of people like the idea of having a home with a fireplace. Many homes are not being built with fireplaces, but you can have one installed. If you are looking for a fireplace idea, there is plenty of inspiration out there.
There are many fireplace design options that are perfect for different spaces. Keep reading to find out what fireplace idea you should use.
1. Style Fusion
One fireplace trend that is taking over is style fusion. This is a trend that has been growing more and more popular over the past few years.
The most common type of style fusion is vintage and modern design. One example of this is the farmhouse style, which takes inspiration from vintage and modern ideas.
Any home can enjoy style fusion, depending on the style you already have. If your home is modern, try mixing it up with a slightly more rustic fireplace option.
You don't want to create an atmosphere that clashes, but you can get a bit creative. Your fireplace does not need to match your home exactly.
After all, a fireplace is meant to be a key feature that is the center of the room. Having a fireplace that stands out is a great option and only enhances it.
2. Maximalism
If you are looking at innovative fireplaces, you may have heard of Maximalism. This is a trend that is the opposite of minimalism, which limits what you own.
Minimalism usually includes white and other neutral colors with very few design features. Maximalism takes advantage of all of the colors and any design that you like.
This is a great option when it comes to installing a fireplace. You can go all out with a specialty fireplace or a custom fireplace for your living room.
You can build shelves around it to create a wow-worthy centerpiece. Or you can have tiles and a surround so that it is framed in the room.
You can even get more adventurous by getting a different color of fireplace. There are some different colors on the market, and you may even be able to paint it yourself.
A Maximalism-inspired fireplace should also have plenty of decor around it. If you have a mantle, this is a great place to add pictures, decor, or vases.
3. Marble Detailing
One trend that isn't going anywhere anytime soon is marble. Marble has been a trendy item for around a decade and is still popular with fireplace styles.
There is no option that is better if you want to create a modern space in your home. You can choose marble instead of brick for a fireplace.
This will give your fireplace a modern and sophisticated look. Marble also goes with the majority of fireplace models, so you aren't limited in your options.
Marble can be used in a variety of ways if you have a fireplace. This can be used in place of tiles or in place of stones behind the fireplace itself.
You could even have a marble hearth installed for a unique feature. Marble is also easy to dress up and down, depending on the style of the room.
4. Mood Lighting
Something that makes your fireplace even cozier is mood lighting. The majority of people love mood lighting, which is why fairy lights have continued to be so popular.
One way to elevate your fireplace is to create plenty of a moody atmosphere. You can do this with candles, whether they be real candles or automatic candles.
You can also have a lamp nearby with a shade to disperse the light. Creating mood lights will enhance the flames from the fireplace and make the entire room feel cozy.
5. Mirror Details
One fireplace idea that's getting popular is hanging a mirror. Many people instinctively want to have their TV situated above their fireplace.
But this is not an ideal option if you plan on using it. Hanging a large statement mirror over your fireplace is a much more realistic option.
It is also beautiful and helps the room feel more open and spacious. If you are trying to achieve a sophisticated or elegant look, this is the way to do it.
A mirror is much less likely to become damaged by the heat of the fireplace. This is something that would happen if you chose to hang your TV instead.
6. Luxury Fireplaces
A trend that is taking off is having luxury fireplaces installed. More and more people are starting to have fireplaces installed with unique design features.
These fireplaces may have realistic flames, or they may be double-sided. There are a variety of luxury fireplaces on the market for any style of home.
This is a great option if you want to elevate the value of your home if you plan to resell. Luxury fireplaces are also very complementary to more modern styles.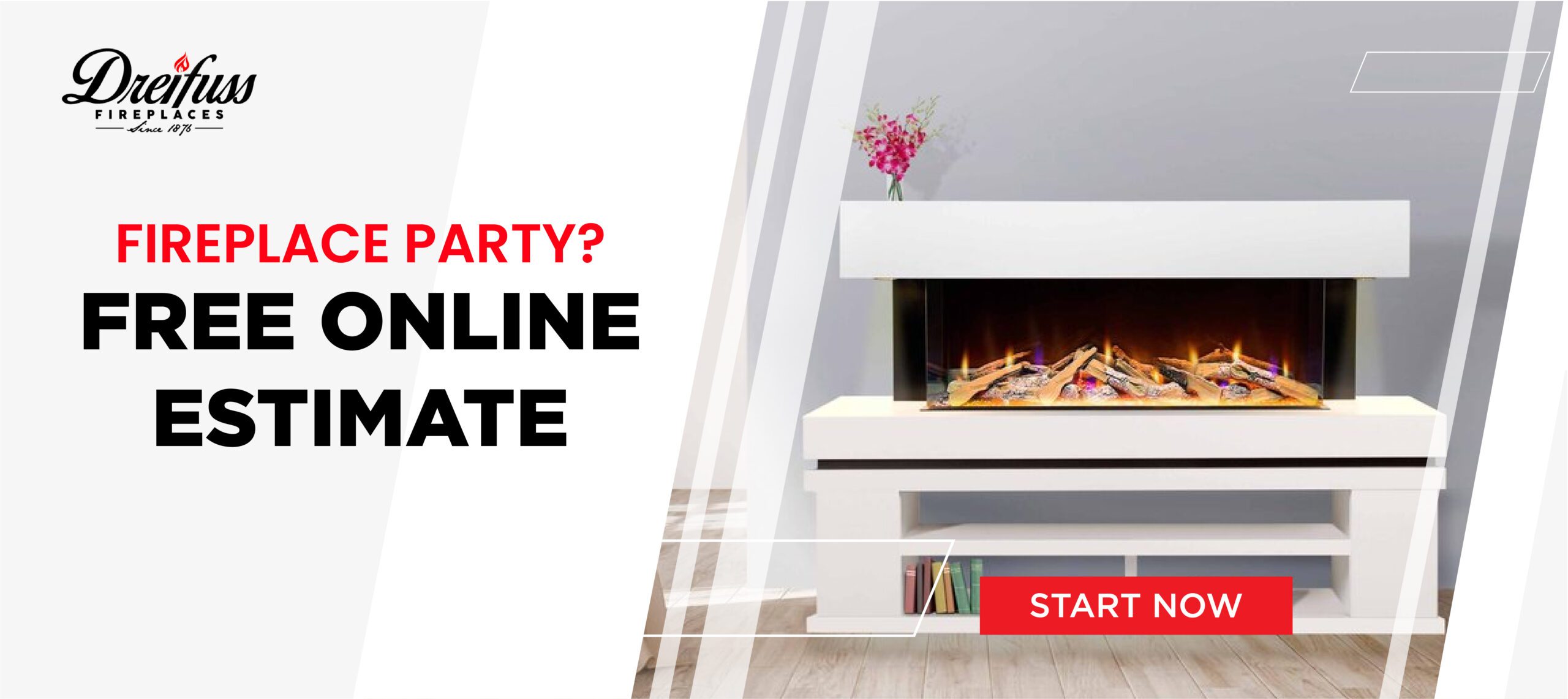 Fireplace Idea: Trendy Designs
If you are getting a fireplace, you may be looking for a fireplace idea for your space. There are so many trends that it can become overwhelming when doing this.
The good news is that there are plenty of ideas that you have to choose from. You can choose a more trendy style or a timeless design.
Are you interested in having a fireplace installed? Contact us today at Dreifuss Fireplaces to look at our best fireplace options.