The market for an outdoor fire pit is expected to rise to $232.57 million by 2028. More people are adding fireplaces to their backyards as it serves multiple purposes and brings them back into nature. 
If you are refurbishing your outdoor eating area, then a fireplace should be at the top of your list as a must-have element. 
Need more convincing? Review this list of 8 reasons why an outdoor fireplace is a perfect addition to your backyard patio. 
1. Extends Outdoor Time
Whether winter comes early or the sun sets in the middle of dinner,  outdoor fireplaces extend the time you get to spend outdoors. It keeps you warm when the weather gets brisk and provides natural light for dusk and beyond. 
You will get more use out of your backyard when you have a fireplace to keep you and your family company. Therefore, the investment that you put into your patio will pay off. 
2. Using a Fireplace to Cook 
You may or may not have an outdoor kitchen on your patio, but regardless, wood fireplaces can also serve as a cooking apparatus. They offer a natural method of cooking your food, so if you have an electric stove inside then outside gives you another cooking option. 
Place a grill on top of your fire pit or use sticks to roast your favorite foods. 
Fireplaces allow you and your guests to interact with their food and take part in its cooking process. This is fun for both kids and adults and may make the food taste even better when they control how they want it cooked. 
3. Creates a Bonding Experience
Everyone gravitates toward the warmth and glow of a fire. That is why fireplaces create bonding experiences with you and your loved ones. 
People avoid looking at their phones, gather close together by the fire, and have conversations with each other. People don't spread out or sit alone when there is a fire. The prime location is always right by the fire, especially when it is cold or dark outside. 
If you want to make your party more intimate then start a fire and watch everyone gather together. 
4. Becomes the Focal Point of Design
If you look at commercial fireplaces you may notice that they have become the centerpiece of the room. The rest of the business' interior is designed around the structure of a fireplace. 
These fireplaces anchor the layout of the outdoor space, directing guests toward an accompanying seating area using a walkway. Your furniture and accessories to all the pieces of your outdoor eating area become accents the focal point of a fireplace. 
You may even use the same materials in your fireplace as the ones on your patio. For example, use the same sandstone to build the fireplace as the one in your walkway. This creates a cozy, cohesive look that welcomes guests to the area. 
5. Increases the Value of Your home
Over 83% of real estate agents say that a fireplace may add between $1,000 to $4,999 to your home's value. This may not appeal to you right now if you aren't selling your home, but in the future, you may see a fireplace as an investment in your property. 
Plus, there is a reason homebuyers want a fireplace. It is an addition that brings both function and design into a home. And having one outdoors creates more living space that extends the square footage of your home, making it feel larger. 
6. Provides Dining Ambiance
Natural gas fireplaces add ambiance to your outdoor dining area.  There is something about eating next to a fire that improves your mood and maybe even enhances how you digest your food. The connection between the cooking ability of fire is heightened when the fire is still next to you as you dine. 
Many fine dining restaurants have candles lit on the table. They create intimacy, whether romantic or not, and make eating more elegant. 
Overall, a fireplace makes dining more interactive, warmer, and enjoyable. 
7. Incorporates into Entertainment
After you and your guests finish their meal, electric fireplaces are a perfect addition to after-dinner entertainment. 
It goes great with music and cocktails or even a dessert. The light of the fire also makes it easy to keep a party going with natural lighting. 
You can even use fire as entertainment by roasting marshmallows or telling ghost stories over the fire. It's like you have your own campground right in your backyard. 
8. Includes Many Styles and Features
Making your outdoor fireplace personal is simple when you choose from the latest trending fireplace colors, styles, and features. 
Materials like stainless steel or black slate create a more modern appeal while stone or wooden exteriors are considered classic or rustic. You can also paint your fireplace's surface metallic, white, or any color you choose to match your design aesthetic. 
Styles come in various sizes and shapes, from grand fireplaces to small conventional ones. Choose a style based on your intended use and the overall design of your patio. You can also pick a fire pit over a fireplace, making it more functional for gathering and cooking. 
Features include a double-sided fireplace, a fireplace with an attached stove or oven, and self-burning natural stone. Choose between a wood, gas, or electric fireplace for individual uses, styles, and features. 
Upgrade Your Outdoor Eating Area
A fireplace is a perfect addition to your outdoor eating area as it brings value in the form of ambiance, friendship, and design. Once you have a patio fireplace you won't be able to go without one again. 
Get started with your upgraded backyard by contacting us to discuss your fireplace preferences.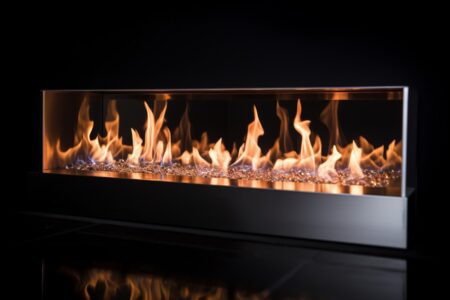 Gas fireplaces are a popular and convenient way to enjoy the warmth and coziness of a fire in your home. However, it is important to
Read More »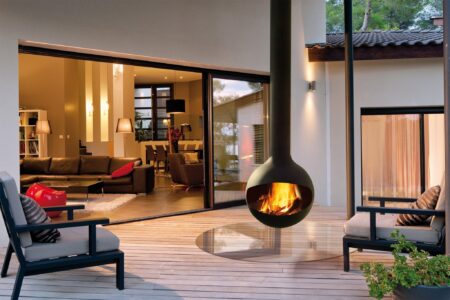 Venting a gas fireplace is crucial for proper air circulation and the removal of harmful combustion byproducts. However, not all homes are equipped with a
Read More »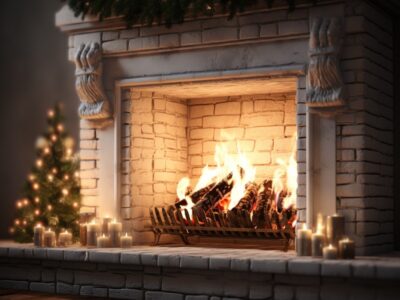 Cleaning white fireplace brick is essential to maintain its appearance and ensure the longevity of your fireplace. However, the cleaning process may vary depending on
Read More »