Stores have begun to push their holiday decorations earlier and earlier. Sometimes the best deals even happen before Thanksgiving Day.
Many are attempting to have their decorations purchased, but aren't sure what the trends and styles are for this winter season. No one wants their home decor to look outdated!
Well, look no further. We know what's currently trending so you can start purchasing your fireplace decoration and holiday home decor.
These key suggestions on how to decorate your fireplace will have guests feeling right at home. Read on to learn the 9 tips that will help you deck the halls!
1. Less is More for Fireplace Decoration
It's easy to go overboard with decorations when in the holiday spirit. Remember that a fireplace mantel isn't usually very spacious.
Minimalist design is currently trending. Even if the minimalist look isn't for you, most designers recommend no more than 3 colors.
It becomes overwhelming to the eye and makes an already small space look cramped. Pick out a few pieces that you love and work with them.
If you're hanging a garland on your mantle, pick 4 to 5 more pieces in complementary colors. For instance, some gold and white trees with a piece of artwork are enough.
2. Use Balance
Similarly to less is more, don't overload one side of your mantel and leave the other side bare. Another important piece of balance is the size of the decorations you choose.
One side shouldn't have all tall pieces or short pieces. Use varying heights and widths of decor to bring balance throughout your mantel.
Each side doesn't have to have the same number of decorations on it. However, one shouldn't have significantly more or less than the other.
3. Go Neutral
Another current trend in home decor is using a neutral color pallet. Think of whites, creams, and light browns.
Christmas comes once a year, and many people want to celebrate with traditional colors. There's nothing wrong with that!
There's a way to use traditional colors and make them more contemporary. However, some view this sort of holiday decor as outdated. If that's you, give neutral a go!
Instead of traditional garland, you can use paper rings, poufs, or wood balls. Try placing light wood accents on the mantel and around the fireplace.
Hang cream-colored stockings and position wooden candle stick holders. Place white angels and snow-covered miniature houses instead of red and green accents.
4. Bring Outdoors In
Using decorations that you find in nature doesn't have to be rustic. If that's the theme you'd like, it can be!
It can also be glam, minimalist, and fit any style if you do it right. A few things inspired by nature to incorporate into your fireplace mantel decoration are…
Pinecones
Branches
Berries
Fruit
Antlers
Flowers
All of your decorations don't have to revolve around the holidays. Stay current by decorating for the winter season instead. Using items that are specific to winter, helps you do that!
5. Make It Sparkle
The holidays are full of cozy, warm moments with soft blankets and hot cocoa. Infuse that cozy feeling into your holiday decor with twinkle lights!
Who doesn't enjoy sitting in their living room that's lit up by a crackling fire, a Christmas tree, and some sparkling twinkle lights? Outline your entire fireplace or intertwine it with the garland on your mantel for a cheerful, peaceful atmosphere.
6. Stick with Your Theme
Choose to stay within the style of your home furnishings when decorating a fireplace. Match your holiday decorations to the theme you already have flowing through your home.
Your home will feel dysfunctional if you have art deco walls, but decide to decorate your fireplace in a rustic style.
There is often crossover in design. However, if only one small piece of your home is decorated entirely in another style, it will look off.
Try not to get overwhelmed when shopping for your decorations. Choose a style and stay within those parameters to have a cohesive look.
7. Add Candles
Adding candles to your mantel is an easy way to dress it up in a neutral way. Candles aren't going to fight your other design pieces.
They stand alone. They also come in many different colors, shapes, and sizes.
Candles also add lighting and warmth to your hearth and mantel. Draw your guests' eyes to your mantel with its flickering flame.
8. Gift Wrap Presents
Who says that presents only go under the tree? Wrap a few boxes in your wrapping paper of choice and place them around your fireplace.
You can even wrap some tiny ones to go on your mantel as decoration. Just remember to bring balance to their height and size.
9. Stack Garland
A fun way to jazz up your mantel is to stack different kinds of garland. Use additional materials and textures to make your garland look full and unique.
If you start with a base of green garland, you're able to add more pieces on top of it. Wood bead garland and felt ball garland, for example, would look good draped over the top.
Work with the garlands to find out what lengths look best. They don't have to be uniform in draping.

Enjoy Your Fireplace!
It's easy to become inundated with different holiday design ideas. Try to keep it simple and pick up the special pieces that catch your eye.
Your personality and style should shine through as you decorate. After all, it's your home, and you have to love it!
Have fun trying out these tips for your fireplace decoration. If you are interested in adding an electric fireplace to your home, view these options here!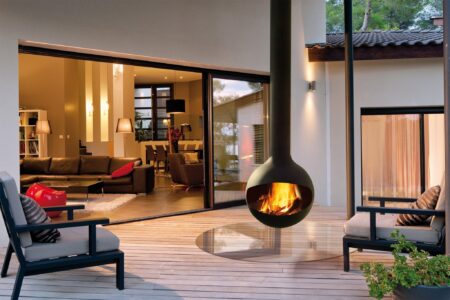 Venting a gas fireplace is crucial for proper air circulation and the removal of harmful combustion byproducts. However, not all homes are equipped with a
Read More »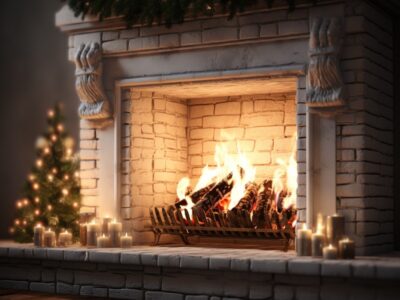 Cleaning white fireplace brick is essential to maintain its appearance and ensure the longevity of your fireplace. However, the cleaning process may vary depending on
Read More »
Looking to add a touch of elegance and warmth to your living space? Discover why a stone fireplace mantel is the perfect choice. Explore the
Read More »