Did you know that the smoke created by wood-burning fireplaces can cause asthma attacks or even increase the likelihood of respiratory illnesses?
That's one of the many reasons gas fireplaces have become so popular in recent years. It provides a cleaner source of heat without all the maintenance and constant upkeep that comes with traditional fireplaces. How can you style one once it's in your home, though?
Luckily, we're here to help. Read on to learn a few of the best ways to style a ventless gas fireplace.
Mantel
The mantel (or mantelpiece) frames the opening of the fireplace and helps enhance its appearance. These pieces can range anywhere from $500 to $5,000, and they can come in a lot of different materials. Whether it's wood or stone, you can find something to suit your preferences.
The biggest factors that are going to influence your choice, though, are your preferences and the existing style of your home. The options truly are limitless, but it's still important to keep your home's design in mind.
A fireplace can serve as the focal point in any room, but it can also serve as an anchor. With such a big statement piece, it's important to place some extra thought into the overall finish, color, material, and design.
Surrounds
Like a mantel, the surround is a decorative piece that's placed in the wall surrounding ventless fireplaces. They can add texture, character, and appeal to a gas fireplace, helping to transform it into the focal point of any room.
There is an extensive range of sizes, styles, and materials that you can choose from — anything from ceramic and porcelain tiles to natural stone like marble, limestone, granite, and even brick if you're looking for something a little more classic. The simplest finish for any surround, however, is paint.
If you choose to paint, though, remember to only consider interior latex paint that's heat resistant. Just like other paint options, you can decide between a flat, semi-gloss, or gloss finish. This option is usually the cheapest as well.
The price of other materials is going to vary, but adding a tile surround is also pretty affordable. To have ceramic tile installed, you can plan to spend anywhere from $20 to $35 per square foot. If you opt for natural stone, it's typically going to range from $25 to $40.
Add a Hearth
A fireplace's hearth is where the fire itself burns. It's found underneath the mantel, and it's typically made from non-combustible materials like stone, bricks, tile, or concrete.
Traditional fireplaces with doors that open must project at least 36 inches in front of the fireplace. Modern gas fireplaces, however, come with sealed or fixed glass fronts and don't require an extension. It can still be dangerous to construct the hearth of a fireplace yourself, though, so you might find that it's best left to professionals.
Don't Neglect Doors, Closures, or Even Screens
Most gas fireplaces come with glass doors that help to give them a more finished look, but they're good for more than aesthetics. When your gas fireplace is enclosed, it helps the fire to burn better and to produce more heat. When you compare this to a gas fireplace with no doors, you're likely to notice a big difference in the heat around the room.
These doors come in a variety of styles and finishes that can be customized to any size. Depending on the size and style, you can usually expect to pay anywhere between $300 to $500. Remember to pick something that's complementary to the hearth, mantel, and surround that you chose for your fireplace.
Add Texture With Lava Rocks
Lava rocks are naturally occurring porous, light, dry rocks that help to absorb heat. They're a great conductor, so it's an efficient medium that helps increase combustion in both indoor and outdoor fireplaces — they're also a great decorative element.
They're practically maintenance-free and come in a lot of different sizes and colors. To make sure they last, however, it's recommended that you remove them from your gas fireplace at least once a year to rinse them off with clean water.
Lava rocks can be added before or after logs are placed, but a depth of at least two to four inches is recommended for most gas fireplaces. They can be used as a base for the fireplace itself, or as a filler around the burner pan.
Other Features to Consider
Not all stylings have to be seen. There are a few other ways you can add luxury to your gas fireplace.
One of the best ways is to connect your ventless gas fireplace to a switch or remote control. Since most come equipped with automatic ignition, including this in your overall design is a lot easier to do than you might think. You're also saving energy by eliminating the need for a pilot light that constantly runs.
There are also options available with a backup battery in case of a power outage. So, if something happens in the middle of a winter storm, you know you're covered. You can also control the size of your flame to help reduce gas usage during these times.
Ready to Style Your Ventless Gas Fireplace?
Now that you know a few of the best ways to style modern fireplaces, are you ready to get started? Having a gas fireplace in your home is a great way to bring in warmth without as many added toxins. Luckily, upgrading your current fireplace (or even having one installed) doesn't have to be a complicated process.
That's where we come in. Contact us today to get started with building the ventless gas fireplace of your dreams.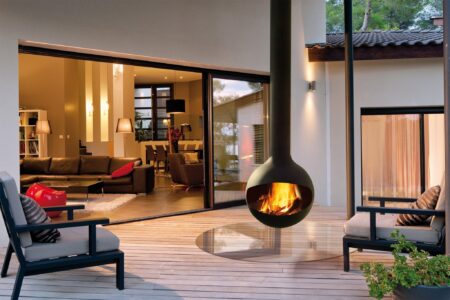 Venting a gas fireplace is crucial for proper air circulation and the removal of harmful combustion byproducts. However, not all homes are equipped with a
Read More »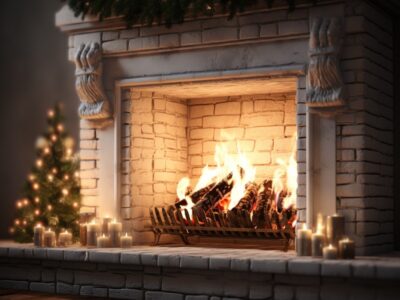 Cleaning white fireplace brick is essential to maintain its appearance and ensure the longevity of your fireplace. However, the cleaning process may vary depending on
Read More »
Looking to add a touch of elegance and warmth to your living space? Discover why a stone fireplace mantel is the perfect choice. Explore the
Read More »