Are you romanticizing the crackle and coziness of a fireplace but want to forego the mess and hassle that comes with it? A ventless gas fireplace may be your answer! Ventless fireplaces are a fantastic choice for homeowners who want to install a fireplace but may not have the space or the desire to build an indoor fireplace.
Because they are clean and easy to use, ventless gas fireplaces are a popular option for many who crave the coziness and ambiance a traditional fireplace offers. They are also more efficient at burning gas than vented models. A ventless gas fireplace gives off far fewer fumes and eliminates the need for a chimney.
Another great thing about these fireplaces is that you can enjoy having a fire without storing wood or cleaning up the ash left behind by traditional fireplaces. There are many designs and options from which you can choose. Read on and discover ventless fireplace ideas that could transform your space into the room of your dreams.
What Is a Ventless Fireplace?
Ventless fireplaces are a type of gas fireplace that feeds propane or natural gas into a component that burns the gas. Gaps in the faux ceramic logs allow the flames to rise. These fireplaces don't need a chimney or a flue because they burn gas at a more efficient rate than their vented counterparts.
Because of this, lighting a fire in a ventless fireplace results in less fume production and may be safer for you and your family. A ventless fireplace draws air from the surrounding space and sends it via the regulator; that is how it creates the flame. The heated air is then sent back into the area through an opening often found above the fireplace.
Due to the lack of venting to the outside, ventless fireplaces can produce more heat because of their u-shaped form. Many ventless gas fireplaces include oxygen and carbon monoxide, monitors.
The device will turn off on its own if oxygen or carbon monoxide levels are too high or too low. Even with all these ingenious features, we advise you to run your unit with the flue (if there is one) or a nearby window slightly open.
Gas Fireplace Ideas
You have a lot to think about when choosing a ventless gas fireplace. But you don't need to worry. Here are several ideas to get you started on the discovery of what styles may be perfect for you and your space:
Three-Sided Ventless Fireplace
Consider installing a 3-sided ventless fireplace on the wall between two rooms to provide a contemporary touch. Your guests can look through the flames from one side of the fireplace into the next room, giving the space a remarkable visual openness. To create a trendy and modern design, match the 3-sided ventless fireplace's finish to the wall's stone or tile.
Four-Sided Ventless Fireplace
A 4-sided ventless fireplace has a honeycomb mesh screen door and three glass panels. This model of a ventless freestanding fireplace is ideal for setting it outside for special events or on an indoor table. By choosing a 4-sided model, you can enjoy the ambiance of a fireplace without having to dedicate a specific location in your home.
Add Natural River Stones and Drift-Wood
The decorative elements of your ventless gas fireplace give your space a more unique and personalized feel. Driftwood lends the flames a more classic appearance while still keeping you safe. River stones are another choice that can give your gas fireplace a more natural appearance.
The Beauty of a Brass Interior
If your decor is light and airy, consider having brass as your custom ventless fireplace's finish. When brass matches other ornamental features, it can give the space a sense of luxury. Place your exquisite ventless fireplace on the room's accent wall to draw the attention of admirers.
The Tradition of Brick Interior 
Your custom ventless fireplace needs attention to the inside as well! Brick is an excellent option for your fireplace's interior finish.
Brick helps to give the unit a traditional, rustic appearance. Black bricks with a glossy or matte finish can make this classic style look more contemporary.
The Class of a Herringbone Interior
In addition to picking tile, you may consider arranging it in a herringbone pattern rather than the more conventional linear brick style. Doing this will create a more eye-catching aesthetic. A glossy or matte black tile, laid out in a herringbone pattern, adds a touch of luxuriousness to your custom design while still paying attention to the finer details.
The Sleekness of a Black Powder-Coated Steel Finish
You may not want all of the attention in your space geared toward your fireplace. If this is the case for you, think about having a powder-coated black steel finish applied to your custom fireplace. This style allows the rest of your decor to stand out while retaining the trendiness of a modern fireplace to complement your area.
Think Outside the Box With a Linear Gas Fireplace 
If you love your contemporary aesthetic, consider a linear fireplace to enhance the splendor of your modern design. You can customize this piece with two glass sides. Adding the glass sides to this fireplace will give your space a more open feel.
Customize Your Fireplace With a Geometric Shape
If you are a modernist at heart, consider asking your gas fireplace provider to modify the form of your fireplace design into a more geometric or sculptural piece. Doing this will draw attention to the artful expression of your fireplace while still maintaining the appeal of the rest of your interior decor.
Consider the Romantic Look of Curves
Want to avoid the limitations of a traditional fireplace design and create incredible visual appeal? Think about curving the interior surface of your ventless fireplace. You can create a space of warmth and intimacy, giving yourself and your guests a cozy respite from the outside world.
Ready for a New Fireplace?
Let Dreifuss Fireplaces assist you in creating the fireplace of your dreams without hassle or unexpected costs. We will design and produce the perfect gas fireplace for your house or place of business.
We provide you with everything you need, including installation instructions, CAD drawings, plans, and ductwork. We can even work with your builder or architect! Contact us or check out our Blog for inspiration and even more ideas.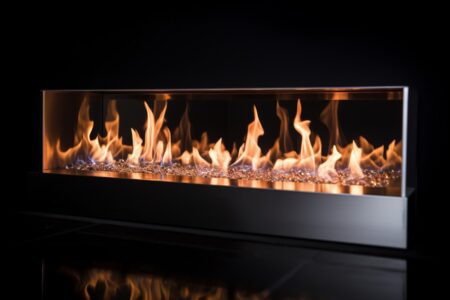 Gas fireplaces are a popular and convenient way to enjoy the warmth and coziness of a fire in your home. However, it is important to
Read More »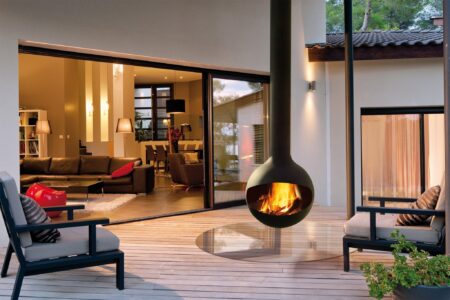 Venting a gas fireplace is crucial for proper air circulation and the removal of harmful combustion byproducts. However, not all homes are equipped with a
Read More »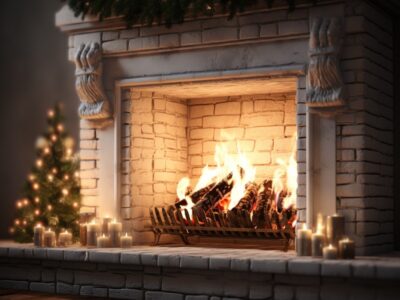 Cleaning white fireplace brick is essential to maintain its appearance and ensure the longevity of your fireplace. However, the cleaning process may vary depending on
Read More »