Did you know that it's possible to increase the value of your home by installing a new fireplace?
Not only will your home be attractive to potential homebuyers if you install a new fireplace. You will also have a wonderful place for spending time with your loved ones.
Whether you're looking to upgrade your existing fireplace or build a new one, there are many options to choose from. But stone fireplaces tend to be the most attractive option.
To make things easier for you, we've written a guide that breaks down the top stone fireplace ideas. Keep reading if you want to find out more.
Fireplace with a Stone Accent Wall
Stone walls are versatile materials that you can use in many different ways to create an eye-catching fireplace design.

This type of fireplace typically features a large stone wall as the backdrop, with the fireplace itself built into the center of the wall. You can make the stone wall from a variety of materials, such as natural stone, manufactured stone, or even brick.
There are also lots of different textures and accent colors you can use to match the décor of your living room.
Choose Herringbone Tile
Herringbone tile is a timeless and elegant choice for your fireplace design.
Its unique pattern will create a mesmerizing visual effect. This will add interest and texture to your space.
The interlocking V-shaped design of the herringbone pattern creates a sense of movement. Herringbone tile is also incredibly versatile. It comes in a variety of materials, such as ceramic, porcelain, stone, and glass.
A Classic Stone Fireplace
Classic stone fireplaces are a classic choice for adding warmth and style to any home.
They are known for their timeless elegance and natural beauty. This is why they are a popular choice for homeowners who want to create a cozy and inviting atmosphere in their living spaces.
Features of traditional stone fireplaces include:
Natural stone materials such as granite, marble, or limestone
Neutral colors and textures that blend seamlessly with any décor
A classic design that never goes out of style
Durability and longevity
Ability to retain heat and distribute it evenly
Versatility in design, allowing for customization to fit any space
Limestone Fireplaces
Limestone is a popular material that homeowners use in fireplace designs due to its durability, versatility, and timeless beauty.
Limestone fireplaces are known for their neutral colors and unique textures. They are a popular choice for homeowners who want to create a warm and inviting atmosphere in their living spaces.
Limestone fireplaces can be designed in a variety of styles, from traditional to modern. And you can cut pieces in limestone to fit any space. Lastly, these types of stone walls are easy to maintain.
Cobblestone Fireplaces
Building a cobblestone fireplace requires careful planning and attention to detail. Start the process by selecting the right materials and preparing a sturdy foundation for the stone walls.
To achieve a professional and polished look, it is a good idea to hire a professional mason with experience in building cobblestone fireplaces.
Building a cobblestone fireplace takes time and effort, but the end result is a stunning and timeless addition to any home.
A Floor-to-Ceiling Stone Fireplace
If you want to create a lodge-like look and feel in your living room, you should consider installing a floor-to-sealing stone fireplace. If you choose to do this, make sure to create a solid stone mantle.
You can use this space to display your favorite objects and valuable items.
On the other hand, if you choose not to install mantle, your fireplace will have a more simple and more rustic feel.
A Contemporary Stone Fireplace
Those who want to create cozy living rooms around their fireplaces should consider adding a contemporary stone fireplace. The best way to give your fireplace a contemporary feel is by using a variety of materials.
Install light dark wood around if you'd like to have colors that contrast with the gray stone. It is also popular for people to add oversized mantles. You can use this space for placing artwork and family photos
A Kitchen Fireplace
If you already have a fireplace in your living room, why not add a second one in your home? The best place to do this is in your kitchen.
This will create a wonderful gathering area. It will also help to keep your kitchen warm during the winter months.
Outdoor Stone Fireplaces
Installing an outdoor stone fireplace requires proper planning and preparation. You should consider the size and location of the fireplace, as well as the type of fuel you plan to use.
You will also need to choose the right type of stone and mortar. You should consider hiring a professional to assist with the installation to ensure that it is properly installed and that you are fully satisfied with the final product.
A Salvaged Wood Mantel Fireplace
Making a salvaged wood mantel fireplace is a great DIY project for those looking to add a touch of rustic charm to their home. Salvaged wood is a great option for creating a mantel that will add character to any room.
The Top Stone Fireplace Ideas
If you're planning on adding a new fireplace to your home, it is a great idea to familiarize yourself with the top stone fireplace ideas.
Consider installing a fireplace that has a stone accent wall, or using choosing a floor-to-ceiling design. If you already have a fireplace in your living room, it might be a good idea to add a second fireplace in your kitchen.
Do you need help with installing your new fireplace? If so, we can help you. Don't hesitate to contact us to get started today!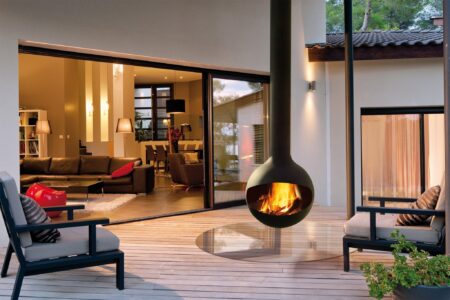 Venting a gas fireplace is crucial for proper air circulation and the removal of harmful combustion byproducts. However, not all homes are equipped with a
Read More »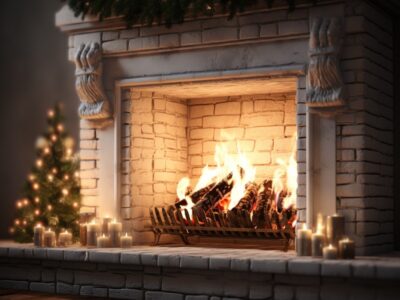 Cleaning white fireplace brick is essential to maintain its appearance and ensure the longevity of your fireplace. However, the cleaning process may vary depending on
Read More »
Looking to add a touch of elegance and warmth to your living space? Discover why a stone fireplace mantel is the perfect choice. Explore the
Read More »