Research shows that living rooms are 75.7% more likely to have a fireplace. Family rooms followed closely behind at 73.94%, with other rooms less likely to have a fireplace.
If you are considering getting a fireplace, you have a lot of fireplace design options. A three sided fireplace, for instance, is becoming a more popular option in modern homes.
If you want a fireplace that is going to catch everyone's attention, this is the one. There are many features that you may like about this fireplace depending on how you want to use it.
Keep reading to find out more about the benefits of a three sided fireplace.
What Is a Three Sided Fireplace?
If you are trying to decide on a fireplace type, you may not know what a 3-sided fireplace is. After all, this seems like a strange design compared to more traditional fireplaces.
A three-side fireplace is a fireplace that is box-shaped. It allows you to see the flames from three different points of the room to open up the space.
This is unlike any other kind of fireplace because it has such a unique look. Many people consider it to be an elegant architectural design element in their home.
This design also means that there will be less metal making the fireplace. The bulk of the fireplace will be glass, creating a beautiful modern looking fireplace.
Types of Three Sided Fireplaces
Now that you know what a three sided fireplace is, you may be wondering about the options. The good news is that you still have plenty of options for the type of fuel used.
Wood-burning, gas, and electric fireplaces are all available in this three sided design. This allows you to choose the type of fireplace that works best for your lifestyle.
Both gas and electric fireplaces are considered to be very convenient. They give you all of the benefits of a traditional fireplace without messiness or fire risks.
With gas and electric fireplaces, you can turn the flame on with the flip of a switch. Although, a wood-burning fireplace is still a favorite among many people.
This allows you to interact directly with the fireplace and use actual wood as fuel. It takes more time to create a fire, but the ambiance cannot be beaten.
When choosing the fireplace type, you want to think about your lifestyle. You may not have the time to start a wood-burning fire as it is not convenient.
Why Choose a Three Sided Fireplace?
If you are considering a 3-sided fireplace, you may not know if it is right for your home. This is a common concern since it is a very unique-looking fireplace.
Fireplace installation is easier than ever before with these convenient options. If your home does not have a fireplace, you can have one installed in less than a few hours.
Every home is going to have a different style and requires a different looking at the fireplace. Here are a few examples of where a three sided fireplace would fit with your home.
Open Floor Plan
Homes with an open floor plan often do very well with a three side fireplace. This is because you can see the flame from several angles within the room.
An open floor plan often allows different rooms to connect to each other. This reduces the amount of separation, making the home feel larger and more inclusive.
With this kind of fireplace, you can enjoy the ambiance whether you are in the kitchen or the living room. It will depend on the layout of your home and what is included in the floor plan.
Connecting Two Rooms
Some homes are designed with a wall that is separating two rooms. This is usually a partial partition that allows people to walk around one or both sides to access the other room.
This is a great place to install a three sided fireplace right into that wall. This creates a small section where both rooms can see the other room and enjoy the flame.
It opens up the space and helps to make it feel like it isn't boxed off. This also creates a unique design element that immediately catches the eye and elevates the space.
Adding a three-side fireplace is a great way to counteract an outdated partition. You may not want to remove the entire wall, but you can make it appear more modern and intentional.
For Modern Homes
If your home is modern and sophisticated, this type of fireplace would be a good fit. This is a very modern fireplace design that doesn't have that traditional appearance.
You may want to add a fireplace but worry about it clashing with your modern decor. You can counteract this with a three sided fireplace that will add to the elegance of your home instead of taking away from it.
These fireplaces are especially beautiful in a kitchen if you have a room. They open up the space and create a cozy yet modern look.
Small Rooms
If you have a small living room or family room, you may not know where to put the fireplace. The good news is that a three-side fireplace gives the appearance of more space in a room.
Because it is made mostly of glass, it helps to make the space around it look larger. It also does not take up much space since it does not have a bulky appearance.
Why You Should Consider a Three Sided Fireplace
If you want to install a fireplace in your home, you may be considering a three sided fireplace. This can be a great option if you are looking for a unique feature that is also functional.
Do you want to have a fireplace installed in your home? Contact us today at Dreifuss Fireplace for high-quality options.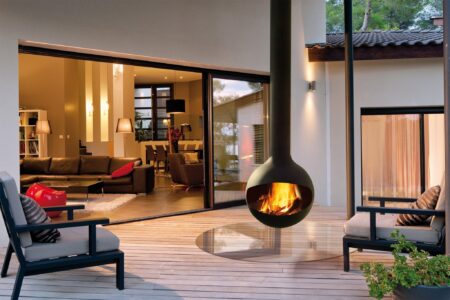 Venting a gas fireplace is crucial for proper air circulation and the removal of harmful combustion byproducts. However, not all homes are equipped with a
Read More »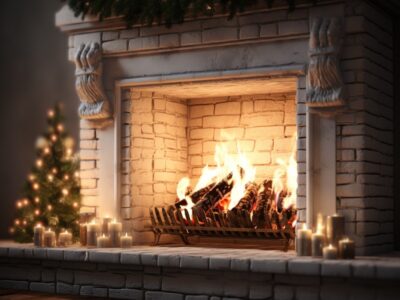 Cleaning white fireplace brick is essential to maintain its appearance and ensure the longevity of your fireplace. However, the cleaning process may vary depending on
Read More »
Looking to add a touch of elegance and warmth to your living space? Discover why a stone fireplace mantel is the perfect choice. Explore the
Read More »