Delaware Valley's Commercial Source for Modern and Traditional Fireplaces
Established in 1876, we are the go-to source in Philadelphia, NJ, PA and the Delaware Valley for commercial grade modern linear and traditional gas, electric, and wood-burning fireplaces. If you are an architect, designer, developer, project manager, general contractor or builder, we will work hand-in-hand with you to select and install the commercial fireplace that will wow your clients.
The key to our success is our involvement in the very early planning stages—from the conceptual fireplace design to brand selection to installation, our experts are there for through the entire process.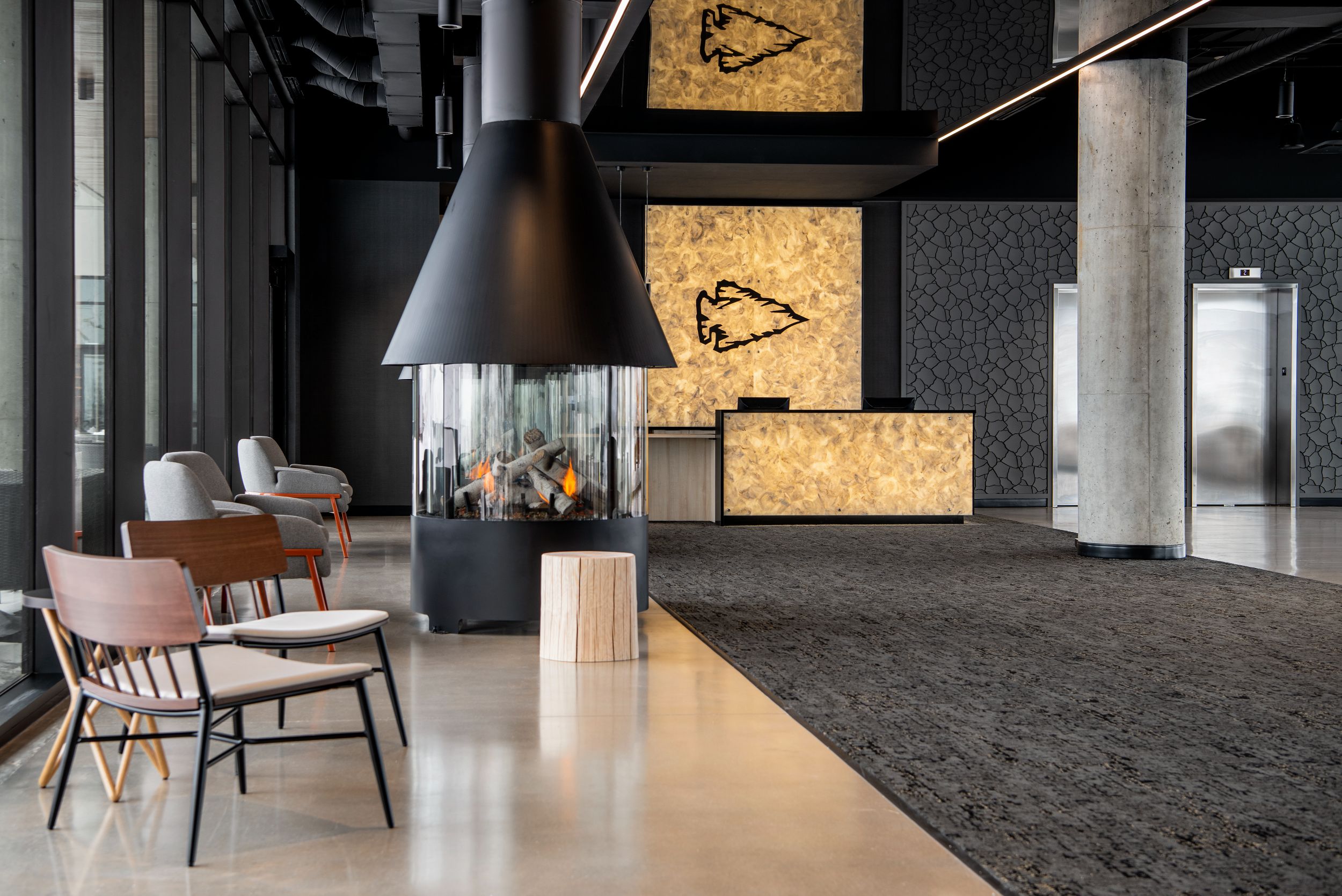 Restaurants
Golf Courses
Bed and Breakfast
Spas
Retreats
Casinos
Resorts
Office Buildings
Wineries
High-end Apartment Buildings (lobby and suites)
Hotels
Housing developments
Shopping malls
University complexes
High-rise building lobbies
Entertainment venues
Recreational facilities (IE pool houses)
Multi-family Homes
Country Clubs
Here at Dreifuss Fireplaces, we offer a wide variety of products from leading fireplace manufacturers.
We can provide you with the products that will satisfy the aesthetic and safety needs of any client.
Dealing with Dreifuss Fireplaces for commercial applications will result in a high-quality fireplace that will be expertly installed.
Provide your client with flexibility, guaranteed product durability and uncompromising safety.
Experience the Dreifuss Fireplaces difference for yourself—call us at 215-924-3500 today!
Commercial Grade Fireplaces
Meeting the highest industry standards we provide UL or CSA approvals that satisfy all local or national building codes.
From traditional gas fireplaces to modern fireplaces, wood or electric fireplaces, contemporary or custom, our inventory line-up of commercial fireplaces is the largest in the Delaware Valley Region.
Commercial Electric Fireplaces
The Commercial Electric Fireplaces of the modern age are a far cry from the wood-burning fireplaces of the past.
Today, Commercial Electric Fireplaces come equipped with WiFi, Bluetooth and Smart Home capabilities.
They give home and business owners more control and convenience, and they can be changed in many ways to fit any interior design.
They can be used in virtually any environment, both indoors and outdoors – offering flexible installation options for all types of spaces.
With sleek designs, these modern fireplaces offer an elegant aesthetic that can transform your home or commercial space into a comfortable and inviting environment.
Explore our wide selection to find the perfect fireplace solution for your needs.
Whether it's ambiance you're after or heat generation for larger spaces, Commercial Electric Fireplaces provide the perfect solution.
Check out all the available options here.
Commercial Gas Fireplaces
Our commercial fireplaces come in a wide range of prices and sizes to fit any budget and need.
The latest generation of Commercial Gas Fireplaces come equipped with WiFi, Bluetooth and Smart Home capabilities bringing a new ease of use like never before to any home or commercial space.
From durable, service-grade components to ultra-reliable equipment for high throughput applications, we have the right product for you.
Our team will help you find the best solution and will be there for you the whole way through the buying process.
We carry all of the major brands to meet your needs – from clean-burning and efficient models to robust and durable units that can handle even the most challenging conditions.
Commercial Wood Fireplaces
Built for long-term durability and efficiency, these wood fireplaces offer an excellent solution for commercial applications.
Choose from a variety of styles, sizes, and designs to find the perfect fit for your space.
Whether you're looking to heat a large area or just need an extra source of warmth, Commercial Wood Fireplaces are the perfect option for any home, business or commercial space.
All of our fireplaces are built with high quality materials and the best installation service in the business.
With our wide selection and expert advice, you can be sure that your fireplace will serve as a focal point for years to come! Shop now and start enjoying the ultra fireplace experience today.
Fire Features
It has been shown over and over again that fire features add a unique atmosphere and sense of attraction to any space they are in.
Whether it's an outdoor fire pit, a decorative fireplace, or a fire bowl that sparks, these things are sure to create a show that will catch your guests' eyes.
Not only do they add an aesthetic element – they can also provide a functional purpose, such as providing warmth and light for outdoor gatherings.
Fire features are now seen in many commercial settings, such as trendy restaurants and luxury hotels, as well as private residences looking to add a focal point or an element of sophistication and class to their backyard, patio areas and public spaces.
Fire features can come in a variety of forms – from traditional fire pits and chimineas to modern fire tables – so they can be tailored to any location by enhancing the atmosphere with an inviting ambiance that encourages people to stay longer.
Fire features have become increasingly popular due to their convenience and low maintenance cost.
With minimal upkeep required, these elements are sure to create a memorable experience that will leave a lasting impression on your guests.
So if you're looking to add an element of sophistication and luxury to your outdoor space, look no further than fire features.
They're sure to make any setting a place to be savored, enjoyed and remembered.
Outdoor Fireplaces
Outdoor fireplaces can be the perfect centerpiece for your outdoor space.
Whether you're looking to create a cozy campfire feel or add a focal point to your backyard, an outdoor modern fireplace will fit right in with your decor.
Outdoor fireplaces come in a variety of designs and styles, allowing you to customize it to fit the look and feel of your space.
From traditional brick-and-mortar models to modern gas-powered fire pits, there's sure to be one that fits your design needs and budget.
Outdoor fireplaces are also easy to install and maintain, making them an ideal choice for anyone who wants to upgrade their outdoor living area.
With proper care and maintenance, an outdoor fireplace can last for many seasons and provide years of enjoyment.
So if you're looking to add some warmth and ambiance to your outdoor space, an outdoor fireplace is an ideal addition.
Check out our selection of Outdoor Fireplaces today and find the perfect one for your space.