In 2018, outdoor fireplaces and firepits were the most popular outdoor design element, according to a survey done by the American Society of Landscape Artists.
If you're interested in a fireplace for your outdoor space, it can be difficult to come up with design ideas. Should you go with wood or would stone be the right choice? Choosing a spot to place it can be even harder to visualize. Luckily, we're here to help you get started.
Read on for 10 of the best outdoor fireplace ideas.
1. Outdoor Fireplace on Your Deck
If you'd like to bring the indoors outside, you can create one right on your deck. Whether you're using the space for dining or lounging around, having a fireplace can serve as a feature wall, a place to cook, a source of warmth, or even the focal point of your outdoor space.
You can even get creative and add a place for firewood storage and a few other decorative pieces around it. There truly isn't a limit to the options you have with your deck.
2. Outdoor Table Fireplace
Table fireplaces are perfect for when you're short on space but still want to make your yard a staple outdoor space. They can be placed virtually anywhere in your yard, and they're easy to gather around whenever you'd like. Essentially, you're creating an elevated firepit for your outdoor area.
That means you get to enjoy all the comforts of an extended outdoor season without all the cleanup that comes with a traditional firepit.
3. Covered on the Patio
The best part about putting a fireplace on your patio is that you can enjoy it even when it's raining. Adding a covered section is also a great way to protect yourself from the sun during the summer months.
Using a finish similar to your home's is a great way to make your spaces feel more cohesive, and they're also perfect for making your patio feel like an extension of your living room.
4. Outdoor Wood Fireplace
If you're going for a modern farmhouse style, adding wood paneling to your outdoor fireplace can bolster that easily. Depending on the color of your space, it can serve as a nice contrast and serve as a focal point. However, you also have the option to paint the wood so it matches your existing style.
Placing a few accessories, like outdoor pillows and even an area rug, are great, simple ways to add color to your space without committing. They can easily be changed depending on the season or holiday.
5. Stone Fireplace
Creating a fireplace that matches the rest of your home is probably the best way you can make use of your home's overall design. You can achieve this by mimicking the shapes and materials around the exterior of your home within certain elements of your fireplace.
The fireplace itself can match the stone of your home. However, if you only have stone on small portions of your exterior, you can tie everything together with your fireplace. The same can be said for stone accents inside your home.
6. Poolside
What better way to dry off and warm up after a swim than with a fire crackling right next to you?
Even if the pool is cold, or the weather is a bit rainy, you can still go swimming and not have to worry about staying warm once you're finished. Grab a big towel and curl up next to the fire to warm up. If you don't feel like swimming, you can still enjoy a fireside view of your yard.
7. Stick With Stucco
If your house is finished with stucco, this next idea is perfect. It's a great way to add texture to your space without overwhelming anything around it. To keep things minimal, you can opt for neutral colors and natural textures around the fireplace. On the opposite side, to make your space stand out, you can decorate it with bright colors and furnishings.
Either way, cozy accessories are a great way to add textures to your outdoor space.
8. Make It a Focal Point
If you really want to make a statement, creating a focal point is the perfect place to start.
This can easily be done with a bright coat of paint in a bold color, or you can add a mantel to your patio fireplace to make space for art. Placing other elements, like plants or vases, around the fireplace is going to help it further catch the eyes of anyone you're backyard entertaining.
9. Double-Sided Fireplace
We've saved the best for last. Double-sided fireplaces are perfect for larger outdoor areas, as you're essentially creating a room divider. Since it's accessible from both sides, you can easily create an outdoor seating area on one side and have a kitchen on the other.
You can place it under the cover of your patio or bring it out by creating a custom fireplace with a chimney. Including elements like brick, stone, and other earthy colors is the perfect way to make a statement while keeping things grounded.
Are These Outdoor Fireplace Ideas for You?
So, did any of the outdoor fireplace ideas on this list catch your attention? If so, it might be easier to incorporate them into your gathering area than you might think. Whether you have a deck to decorate or a gathering area to make cozier, a fireplace can help you accomplish both.
That's where we come in. If you'd like to get started with your outdoor fireplace, contact us today.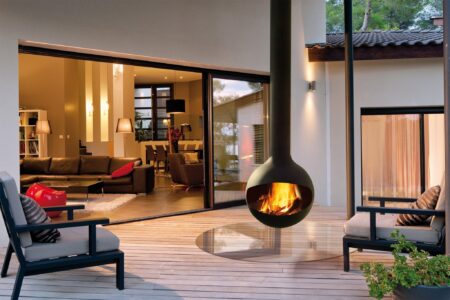 Venting a gas fireplace is crucial for proper air circulation and the removal of harmful combustion byproducts. However, not all homes are equipped with a
Read More »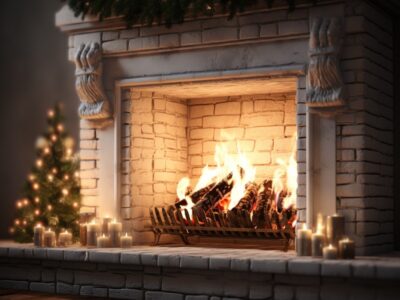 Cleaning white fireplace brick is essential to maintain its appearance and ensure the longevity of your fireplace. However, the cleaning process may vary depending on
Read More »
Looking to add a touch of elegance and warmth to your living space? Discover why a stone fireplace mantel is the perfect choice. Explore the
Read More »