About 358,000 American homes have permanent fireplaces. This makes sense when you consider that they're a cozy feature that lights up and warms a space. They also can save you money on heating bills, which is a huge plus.
If you're looking to install a fireplace in your home, the first thing to determine is its size. Read on to learn some popular fireplace sizes and tips that every homeowner should know.
The Basics of Standard Fireplace Sizes
Your fireplace's dimensions are the exterior dimensions for the fireplace. You will need to figure out how much visible space in the wall you want your new hearth to take up. Experts will determine the size of the inner construction (smoke shelf, flue, firebox, etc) based on your chosen dimensions.
Standard fireplaces are usually between 24-29 inches tall. They also are 24-36 inches wide.
The fireplace surround needs to be larger than the hearth itself. It contains the fireplace and essentially frames it to look nice. This surround can be as large or small as you want.
Some people even add textures and accents to an entire wall to make it the surround. Others just add a few inches of stone-look bricks a few inches around the opening. It really depends on your specific preferences.
The average depth of indoor fireplaces is around 16 inches. This provides enough room for the flame to dance, grow, and sizzle.
Note that this is the depth of an indoor wood-burning or gas fireplace. Electric fireplaces have no depth because they are simply screens that emit sound and heat.
What Determines Fireplace Dimensions?
Of course, these are just standard guidelines. The specific dimensions of your fireplace will depend on your space.
For the perfect fireplace dimensions, start by measuring the width and length of the room where you plan to install your hearth in inches. Write down the dimensions and measure the height of your room in inches.
Multiply these two numbers together to learn the volume of your room. Then multiply the sum by 4. This will tell you the minimum heat output that you need to warm your space.
You can then ask an expert what size fireplace will generate the correct amount of heat.
Your Wall Space vs Your Fireplace
Another practical concern when installing a fireplace is how much space you have. You also should consider whether you want a big fireplace or a small fireplace.
Measure the height and width of the specific wall that you plan to install your fireplace onto in feet. Multiply these two numbers together to get the square footage of your wall.
Many people want their fireplaces in the center of their wall space. It always should touch the floor so that it is accessible.
So, let's say that you want a  square fireplace of 24″x24″. That's 2'x2′.
To determine location, you're only going to consider wall and fireplace length. This is because it will touch the floor. If you have a 12′ wall and want a 2′ fireplace, subtract 12-2 to get 10.
Divide 10 by 2 to get 5. Then start at either edge of the wall and measure 5 feet inward. Mark the location where you stop and repeat the process on the other side of the wall.
You'll be left with a 2 foot opening in the exact middle of your wall.
This is a simple example, but you can perform this task regardless of how large a fireplace you want. Just make sure that you're careful about getting the exact width of your room right. If you're even a centimeter off, your fireplace will be installed in the wrong location.
Luckily, enlisting expert help means that you'll get precise measurements and a perfect outcome.
Linear Fireplace Dimensions
While standard fireplaces tend to be square (or close to it), linear fireplaces offer a deviation from the norm. This is immensely welcome to some people who want to heat a wall with greater length.
These fireplaces are shaped like elongated rectangles. In many cases, they are against the floor. However, they do not need to be.
Many people install linear fireplaces in the middle of an accent wall. They look great with any fireplace surround regardless of their shape or size. Make sure that you can reach them comfortably so that you can easily add wood or flip a gas switch.
Generally, a linear fireplace is only going to be about a foot tall. A couple of inches may be added depending on your specific likes and dislikes. However, the important thing to know is that they have an extremely low height.
However, they make up for this small height in length. Linear fireplaces tend to span most of the width of your wall. They often are around 3-5′ in length.
They can, however, be longer. If your wall is really long, you may have a linear fireplace up to 10′!
Take your wall, measure about 2′ from either side, and mark the locations that you end up with. Enlist an expert for the most precise measurements possible. Your fireplace length will be the middle section between the 2 markings.

Install Living Room Fireplaces and More
There are many different fireplace sizes that homeowners can choose from, especially when they ask for a custom hearth. Now that you know how to figure out the right dimensions for your space, it's time to begin talking to an expert about precise measurements and the installation process.
Dreifuss is committed to helping you create and build the perfect hearth to fit inside any room. Contact us for assistance with installing a living room, dining room, basement, outdoor, or office fireplace.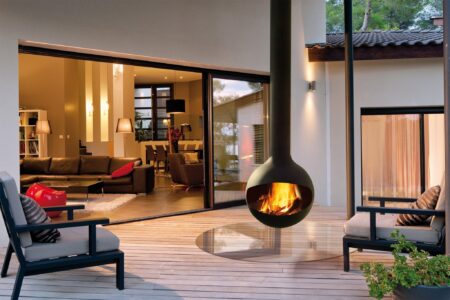 Venting a gas fireplace is crucial for proper air circulation and the removal of harmful combustion byproducts. However, not all homes are equipped with a
Read More »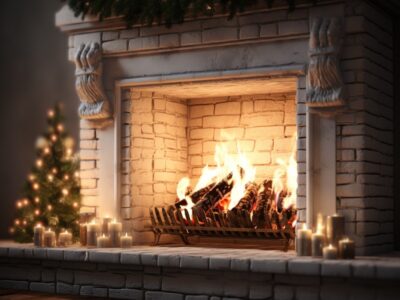 Cleaning white fireplace brick is essential to maintain its appearance and ensure the longevity of your fireplace. However, the cleaning process may vary depending on
Read More »
Looking to add a touch of elegance and warmth to your living space? Discover why a stone fireplace mantel is the perfect choice. Explore the
Read More »