The myNoise app offers natural background sounds like a crackling fireplace, but there are over 200 options available to users. Although, nothing compares to the real feeling of sitting by a living room fireplace…
Picking the perfect fireplace placement means knowing how to incorporate other living features like a TV and leaving enough space so surrounding furniture doesn't catch fire. 
So, here is a guide to choosing the fireplace design that will look great in your space and bring the rest of the room to life. 
Finding the Right Fireplace Design
Fireplace design options will depend on the size of the room and what else is in the space. So, before you brainstorm fireplace ideas, you need to nail down the location. 
First, you must consider the type of fireplace you'll install.
For instance, there is the choice of a gas fireplace, electric fireplace, and wood fireplace. But, the choice will also vary if it's a residential property or a personal home. 
Plus, you want to think about your personal taste and if you want a traditional wooden fireplace like you've seen on pages with cozy fireplace ideas. Or, if you want something with less maintenance, like a gas fireplace. 
To help you find the ideal location, here are some tips for placing your fireplace. 
Make It the Centrepiece
The most traditional choice for fireplace positioning is central, which is why you'll commonly find fireplaces in the middle of a room. The fireplace is often near a TV, creating an inviting atmosphere in the living room. 
If you want to keep it simple and traditional, you can place the fireplace in the center of a wall or mount it so you can decorate the surrounding area with personal items. 
The classic option is to have a fireplace structure that allows you to change a painting above it or place sentimental items across the tops of the fireplace.
Otherwise, you can mount the fireplace on the wall for a more dramatic effect.
Fireplace Divider
Compared to the traditional placement in the center of a room, modern homeowners prefer to place the fireplace as a divider between spaces.
If you want an open-plan interior design, this can make the room appear cozy with fitting doors and blocking off natural light sources. You can also choose a fireplace location to see the flames from both sides.
A double-sided feature is great for making the most of the heat and looks impressive in a home. For example, you can place a double-sided fireplace in a bedroom and bathroom. 
Although you can also place this fireplace in a living room that leads into an entrance or kitchen. The final placement will vary with your interior design. 
Suspended Fireplace
A suspended fireplace is a great choice for people who want to make a statement in their home or office and try something unique.
Instead of putting a fireplace in the center of a room, where it can take up a lot of space, a suspended design leaves more room for decorating. It's a good option for minimal homes and people who like open spaces.
This design tip is also ideal if you want a flexible heat source and want to keep a specific area warm. You can focus the heat in one direction, so it's nice and cozy for a reading nook or movie theater. 
Corner Fireplace
The best way to keep a fireplace out of the way and subtle is to fit in on a corner area of a home. If an empty space in your home needs decoration, why not place a fireplace? 
You can install a fireplace beside a stone wall or an entrance for an eye-catching feature. This is a perfect way to upgrade sections of a property and provide a little more heat during the cold season. 
Plus, the fireplace's appearance and the sound of a crackling fire will instantly relax you when you walk in the door after a long day's work or shopping. 
Outdoor Fireplace
When you think of sitting outdoors, the first thing that comes to mind is probably jumping in the pool and not heating up by the fire. But, during the summer months, an outdoor fireplace is fantastic. 
You can enjoy longer evenings outside under the stars and keep warm next to a fireplace. This is also great for hosting BBQs and parties with family and friends. 
An outdoor fireplace can be installed if you have the proper infrastructure and space. You can ask a professional to suggest what model will look best in the outdoor space, so you have a functional fireplace. 
Whether you're looking for a home fireplace or a commercial product, there's something for everyone on our website. 
An Open Fireplace
The final design idea for a fireplace is placing it in the open. Compared to household fireplaces, usually confined inside, an open fireplace is better for large, commercial properties. 
If you have more flexibility, this placement can offer a great way of bringing people together in a large space and looks great in a business building. You can make a fireplace the primary design feature for a sleek aesthetic. 
You should always check fire regulations and take the correct safety precautions before placing a fireplace in the open. But, if you pass the necessary regulations, this is a super way to enhance a property. 
A Fireplace for Any Space
You can find endless recommendations for fireplace locations, but the right fireplace design will depend on the property, your budget, and your style. So, you want to take your time choosing the suitable model. 
Our team can help you with every step of the fireplace installation, from planning to finalizing the location. We've installed fireplaces in various places, from shopping malls to homes. 
Therefore, we can give you the best option for your space. That way, you can ask questions about infrastructure and design materials, so there's no risk of fire incidents with your fireplace.
Get in touch, learn more about our services, and start planning your new fireplace today!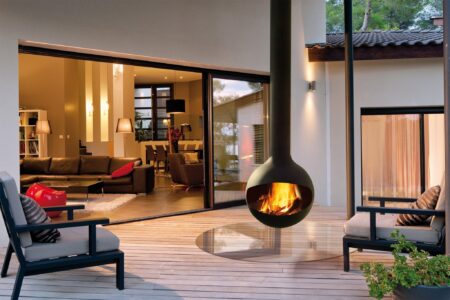 Venting a gas fireplace is crucial for proper air circulation and the removal of harmful combustion byproducts. However, not all homes are equipped with a
Read More »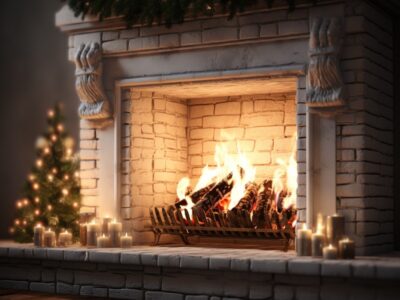 Cleaning white fireplace brick is essential to maintain its appearance and ensure the longevity of your fireplace. However, the cleaning process may vary depending on
Read More »
Looking to add a touch of elegance and warmth to your living space? Discover why a stone fireplace mantel is the perfect choice. Explore the
Read More »