For a long time, fireplaces have been one of the most popular additions to a home. They add value to the property, bring in another element of coziness, help keep your home warm and can make a design statement as well.
The best time to add a fireplace is during the building phase when the construction won't add chaos to your life and you can make sure it feels natural and integrated into the design. When you're doing this kind of project, it's important to work with your builder to come up with the best fireplace dimensions plan for your home.
A stunning fireplace starts with careful consideration and planning. Taking a little extra time with your home builder and asking these questions is a great way to make sure you get exactly what you want!
1. Does a Fireplace Make Sense in this Space?
While technically a fireplace can be added to any room in the house regardless of its purpose, they don't always make a lot of sense. The last thing you want is to spend time, energy, and money adding a fireplace to the floor plans only to realize it just feels awkward and forced.
Your home builders and fireplace experts have the experience and expertise to know if it will work or not. Consider what the room will be used for and if the addition of the fireplace will make it more functional or not as you make your decision.
2. Will the Fireplace Match my Style?
One of the biggest reasons a fireplace can feel out of sync with the rest of the house or room is when it doesn't match the overall style. When the styles are competing a fireplace feels like a last-minute addition or a mistake. It's hard to cover up this kind of issue without completely redoing the whole thing.
Talk to your builder about what style they'll be able to bring to the fireplace and how you can make it feel natural in the room.
It's a good idea to bring inspiration pictures so your builder can know exactly what you're looking for to get the closest match. These are a great jumping-off point for a completely custom look!
3. How Big Can We Build the Fireplace?
Coming up with the fireplace dimensions is the next most important step in the design process. How big the insert is, what space the surround will take up, and the ratio of the fireplace to the room will make a huge impact on the final result of the fireplace. This information is crucial in the decision-making process.
While there are standard sizes for fireplaces, your room may call for more unique dimensions. If possible, it can be helpful to physically map out how large the fireplace will be in the room to get a real sense of its presence.
4. What are the Mechanics Behind the Fireplace?
Often, the size of the fireplace you're able to build will vary greatly depending on the type of fireplace mechanics you choose.
A gas fireplace dimension plan will look a lot different than a wood-burning fireplace would because of all the functional elements needed. Your home builder and fireplace expert will help you look at all of the options and figure out what will work best for your lifestyle and home needs.
This step will also have a huge impact on the look of the fireplace as well.
5. Have You Built Something Like This?
As you're finalizing your home floor plan and fireplace design, it's helpful to see what your builders have done in the past and check out their experience. This will help you get a real sense of the finishing work that you can expect to see and what your fireplace could potentially look like.
Your home builder's project gallery can also serve as a source of inspiration for your final design picks to make the most beautiful fireplace design. And don't be scared if you don't see exactly what you had in mind, you want your fireplace to be unique!
6. What Cost Does a Fireplace Add to the Build?
Obviously, the cost to add this feature is an important factor to consider as you develop your fireplace plans. The last thing you want is to send your budget out the window on one element of your home.
But at the same time, you want to get something you'll be happy with for as long as you live in the house.
This is why having a clear, open conversation about the potential cost upfront is so important. Having an understanding of what the build will cost you (now and in the future) will allow you to make adjustments to your budget and save up enough for the addition.
7. Is There an Additional Warranty?
Fireplaces are a great way to add character and charm to your home. They are much less appealing when they aren't working properly or cause you extra financial stress due to breakdowns. It's a good idea to ask your builder about warranties and ways you can protect your investment for the future.
This way, if there is ever a problem that comes up once the build is done you'll know exactly how to handle it and what you're responsible for.
Creating the Best Fireplace Dimensions Plan
Once you've gathered all of this preliminary information about your potential fireplace, it's time to get to work designing the final product and fireplace dimensions plan. The more intentional you are with the design, the more satisfied you'll be with the result!
The right fireplace can completely transform any room in your home. It can feel like a custom art piece when designed the right way to match your specific space and style. Make sure to take your time and enjoy the process!
Our team has made countless beautiful fireplaces and would love to bring your vision to life! If you're interested in seeing what we can do for you, contact us today!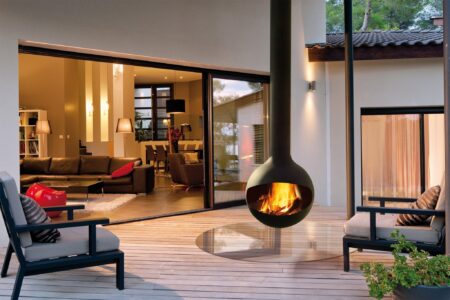 Venting a gas fireplace is crucial for proper air circulation and the removal of harmful combustion byproducts. However, not all homes are equipped with a
Read More »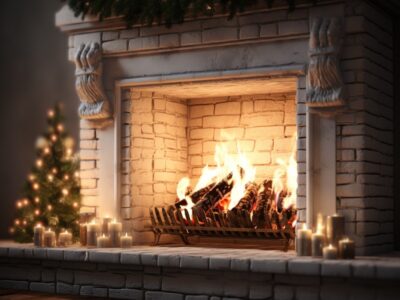 Cleaning white fireplace brick is essential to maintain its appearance and ensure the longevity of your fireplace. However, the cleaning process may vary depending on
Read More »
Looking to add a touch of elegance and warmth to your living space? Discover why a stone fireplace mantel is the perfect choice. Explore the
Read More »