Projections show that the global hearth market will reach a value of $14.8 billion by 2027.
Fireplaces are traditionally built of materials like stone and use wood as fuel. While such options are still available, there are also plenty of other choices in today's world. If you're thinking of making an addition to your home, you might want some inspiration to help you come up with some suitable fireplace ideas.
For a rundown of some of the biggest fireplace trends of 2023, keep reading.
Minimalistic Fireplaces
Almost all elements of home design change with time and a lot of them tend to move in the same direction. One very popular trend that has become incredibly popular lately is minimalism.
Simple shapes and clean lines appeal to a lot of people as they provide a sleek, elegant look. This type of fireplace design favors functionality as things are kept simple and unnecessary embellishments are kept to a minimum.
Smart Fireplaces
In recent years, technology has moved into our lives in a range of new ways. Smart devices have taken the world by storm, and smart fireplaces are one of the latest developments. You can connect a smart fireplace to other devices, allowing for various new functions.
When connected to Alexa, for example, you can simply ask it to switch the fireplace on and off as and when you feel like it. You can also use smartphone apps to control your fireplace from your sofa. These will likely become incredibly popular in the coming years.
Eco-Friendly Fireplaces
Energy prices are a lot higher than anyone would like them to be, and as such, people are trying to save wherever they can. Fireplaces are generally an energy-efficient way to warm your home, but this varies depending on the type.
A gas fireplace can help you use less energy, but a wood fireplace is even better. Reducing your energy usage will help you save money, and is also better for the environment. Lower energy usage means a smaller carbon footprint and reduced fossil fuel usage.
Multi-Functional Fireplaces
A fireplace can be great on its own, but it's even better when it serves multiple purposes. Multifunctional home pieces have become very popular recently, and this will continue throughout 2023.
An example of this could be a fireplace that also serves as a TV stand. Things like this are especially useful in small properties where space is a concern. They can also look great, so you may even want to do this in a larger property.
Large Scale Fireplaces
While multifunctional fireplaces can be very useful, large homes typically offer a lot more freedom. When you have plenty of space, you have more options, and something you could implement is a large-scale fireplace.
You can install a big, bold fireplace that works as a focal point of a room. Using a design that stands out will really make people notice it when they walk into the room. Consider things like elegant scrolls and imposing mantelpieces – you've got the space, so why not use it?
Period Fireplaces
While many of the trends we see in homes are new, there are some that repeat the past. It's not uncommon for people to buy old homes and renovate them to either live in or sell. When doing this, many people like to keep the original aesthetic and simply make it look shiny and new.
Many old properties have fireplaces that include things like ornate designs, striking mantelpieces, intricate tiles, and more. While these can be in a poor state, people often prefer to refresh them rather than replace them. This helps preserve the iconic look of the home while ensuring the fireplace is in a good state.
Wall-Mounted Fireplaces
In 2023, we'll likely see a good mix of traditional fireplaces, along with some very modern ones. Recent years have seen a rise in wall-mounted fireplaces, and these will only grow more popular. A wall-mounted electric fireplace can look incredibly sleek, and they're often used for media walls.
A media wall is a modern home design trend that involves placing a TV within a wall, then installing a fireplace directly below it. Everything can sit flush with the wall, giving it an incredibly modern look.
Even if you don't want to build a media wall, wall-mounted fireplaces can still be a great choice. They're very convenient as you can install them anywhere as long as they can be plugged in. They're also great for smaller properties as they take up very little space.
Built-In Fireplaces
Wall-mounted fireplaces are popular due to the way they sit on a wall, saving space and providing a modern feel. You can go even further than this, however, by installing a built-in fireplace. Rather than simply mounting it, this will sit inside the wall itself.
This is one of the most seamless options available as the fireplace can integrate directly with the architecture you have. There are plenty of style choices, and you can even place them on corners if that's more suitable for your home.
What Fireplace Trends Should You Follow?
With so many fireplace trends in 2023, it can be difficult to decide exactly what to go for. You should consider your wants, your needs, and the architecture of your property to determine what the best type of fireplace would be.
Dreifuss Fireplaces builds custom fireplaces for both residential and commercial properties throughout Pennsylvania. Whatever type and style you're after, we'll be able to design and install it. You can get a free estimate for your fireplace today.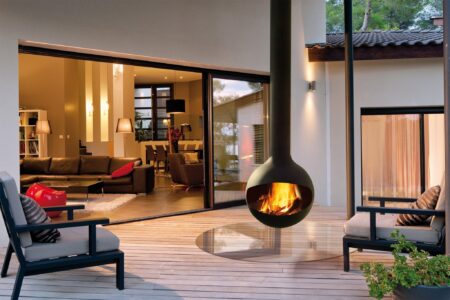 Venting a gas fireplace is crucial for proper air circulation and the removal of harmful combustion byproducts. However, not all homes are equipped with a
Read More »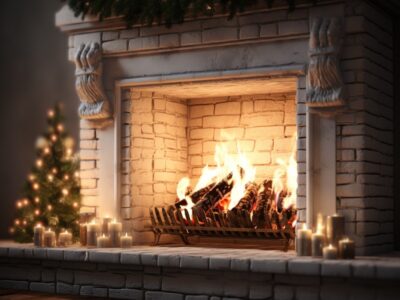 Cleaning white fireplace brick is essential to maintain its appearance and ensure the longevity of your fireplace. However, the cleaning process may vary depending on
Read More »
Looking to add a touch of elegance and warmth to your living space? Discover why a stone fireplace mantel is the perfect choice. Explore the
Read More »