Nowadays, creating environmentally friendly living spaces is a priority for homeowners across the globe. Solar is a fantastic, albeit expensive, option, but there are other things you can do to reduce your carbon footprint.
According to the Green Home Institute, natural gas fireplaces produce up to 99% fewer emissions than traditional wood-burning ones. So, it makes sense that upgrading your fireplace to a modern gas-burning version is a good place to start.
If you decide to go this route, a linear fireplace is a top choice, with many trendy options available. Keep reading to explore more about the latest fireplace trends.
Elongating Your Linear Fireplace
Do you have a large expanse of wall to fill but don't want to splash out on a long fireplace?
Visual tricks to maximize the effect of narrow fireplaces on a long wall are among the hottest fireplace design trends. This method helps the fireplace take up more visual space on the wall.
You can extend the horizontal space your fireplace takes up by incorporating shelving of an equal height alongside it. Use this space for ornaments, plants, or books, or leave it empty to suit a pared-down design style.
This means you can install a smaller model, helping you save on installation and energy costs without detracting from the impact created by your linear fireplace.
Embrace Vertical Space
You can also highlight a small fireplace in a large space by expanding it vertically. This method works well for tall walls in large rooms and helps create a focal point around your fireplace.
Instead of increasing the visual length of your fireplace, create the impression of a central hearth area with a broad, chimney-like structure above your linear fireplace.
This helps make the best use of space and can also serve as a place to hide any necessary venting required for your fireplace. It's also an effective way to introduce a cozy feel in large spaces that can seem bare and unwelcoming.
Add Contrast to Fireplace Design
Placing your linear fireplace on a blank white wall or another uniformly painted area can detract from its appeal. Rather, incorporate striking materials in the fireplace surround.
Some ideas to consider include a section of:
Tile
Stone
Brick
Contrasting paint color
Leather
Wood
Granite
Different textures add interest to your room and help draw the eye toward your gorgeous new fireplace.
Maximizing Minimalism
If you have your heart set on the latest 'White Chocolate Minimalism' trend, you can still opt for a white wall to accommodate your fireplace.
A fireplace with a dark-colored backing is best in this scenario, provided you add a pop of similar color somewhere nearby. For instance, if you opt for a black design, be sure to use a similar color in an adjacent staircase, strategically placed ornaments, or furniture.
TVs and Linear Fireplaces
People naturally gravitate toward a fireplace, so it makes sense to place your television nearby. This can help draw in wayward teenagers who'd rather spend time watching their favorite series than chatting around the hearth.
In this way, installing your TV above a linear fireplace is an excellent idea for bringing the family together in a cozy space.
Installing the television a little to the side of the fireplace also works well. This can help separate those who want to chat around the fire from those watching the latest shows.
A carefully placed television can also help break up a long expanse of wall.
If you don't want the TV to detract from the visual appeal of your fireplace, install a custom cabinet to conceal it when it's not in use. Wooden, bamboo, or fiberboard cabinets work best for this.
Adding Wood Storage
A wood storage area incorporates all the above design trends into one. Although linear fireplaces don't use wood, adding a log pile nearby helps them appear even more authentic.
Wood storage can help break a long vertical or horizontal space and create an interesting textural contrast to the surrounding paint.
Equally-sized logs stacked neatly in an alcove alongside or below the fireplace add a pleasing natural element to the ultra-modern looks of a linear fireplace.
Go Frameless for a Super Contemporary Feel
A recessed, frameless, and glass-fronted linear fireplace has a huge impact on any room. You can use these models to create a seamless transition between rooms or as a stand-alone feature in a grand space.
Seamless fireplaces placed flush with the wall create an extremely sophisticated look, especially when paired with granite or marble surroundings.
Corner fireplaces are another top choice when installing frameless fireplaces. These designs have glass on three sides and fit into the edge of a wall to maximize the impact of the design.
Frameless fireplaces were one of the top trends in fireplace design last year and just as popular in 2023.
Outdoor Linear Fireplaces
Outdoor cooking and dining are all the rage, and an outdoor linear fireplace is an excellent idea for adding ambiance to every evening meal.
Fire and light are an inviting combination in an outdoor setting and help create a cozy feel for al fresco dining. There's no denying the luxurious element that an outdoor linear fireplace brings to the table either.
Add Style and Comfort to Your Home
Upgrading your home with a linear fireplace will help increase its comfort and appeal. You can choose between gas or electric varieties, which are cheaper to install, run, and maintain than a wood-burning fireplace.
A fireplace can also add value to your home if you decide to sell it. It is also a top attraction for home buyers looking to purchase newly built houses.
Whether you're building a new home or upgrading an old one, we can help you introduce luxury and style into the design.
Browse our blog for more ideas, or get in touch for assistance with installing your new fireplace.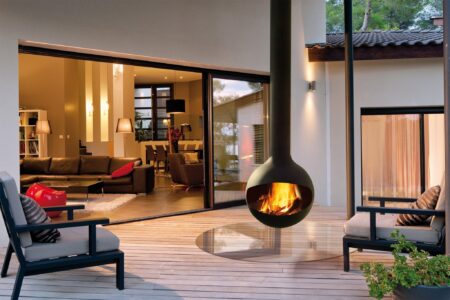 Venting a gas fireplace is crucial for proper air circulation and the removal of harmful combustion byproducts. However, not all homes are equipped with a
Read More »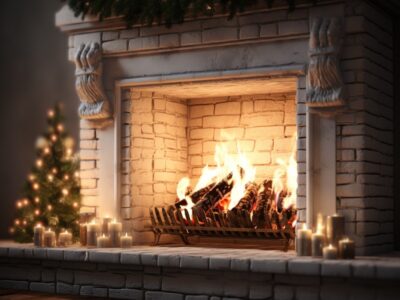 Cleaning white fireplace brick is essential to maintain its appearance and ensure the longevity of your fireplace. However, the cleaning process may vary depending on
Read More »
Looking to add a touch of elegance and warmth to your living space? Discover why a stone fireplace mantel is the perfect choice. Explore the
Read More »