Fireplaces are great for decorating small spaces.
Every home remodel is subject to a few restrictions. Most of the time, it has to do with space. Coziness is an important word when you're dealing with small rooms, which is exactly what a new fireplace provides in spades.
Doing a room makeover to a small room, although theoretically simpler, can be much trickier in various ways. We're going to give you a few fireplace ideas for your small room to use as inspiration for your renovation.
Whether you're looking to add a fireplace to your condo or you're redoing a small room in a big home, there are answers. Keep reading and you'll know what steps you need to take to make this renovation a successful one.
Wall Mount Fireplace
When you don't have much space to work with, one of the really good tactics for any type of decor is to build up on the walls. Typically, we think of fireplaces as being ground-level furnishings, but they don't have to be.
A wall-mounted fireplace is a good choice because it takes up no floor space whatsoever. Floor space is always the trickiest thing to manage in smaller rooms.
These electric fireplaces can be placed anywhere in the room, so long as there's a source of electricity nearby. They're also really thin and require no venting, making them a flexible option for your room design.
Media Fireplace
In small rooms, it's best to combine as many practical elements as you can into one. If you have a television and want storage, you can incorporate a media console fireplace into your room makeover.
Of course, this method only works with electric fireplaces, but it can be quite striking in a smaller space. You'll have many design options to choose from, but most give you space on top of the unit to place your television, as well as cabinets to put any other items. It's a real space-saver.
Freestanding Fireplace
A freestanding gas fireplace adds a touch of elegance to any room, but it takes up very little space, making it perfect for small rooms. They require a gas hookup, but beyond that, you're pretty much free to customize them however you like.
Not only do freestanding fireplaces look the part, but they're great for heating up small rooms. The other perks are that they're both low-maintenance and usually quite inexpensive to install. Get in touch with us to discuss the many freestanding fireplace options that we offer.
Corner Fireplace
Fireplaces make for great focal points in any room. Without a good amount of space, however, it's tough to decorate your room around your fireplace.
A corner fireplace allows you to install a fireplace in a smaller room without taking up valuable wall space. Instead, you can fit the fireplace into a 90-degree corner and utilize an area of your room that probably wouldn't have been of much use.
There's more versatility than you might realize with this type of fireplace. In fact, you can even have a wood fireplace set in a corner, so long as there's enough room to add a vent.
Electric Stove
The most compact fireplace option for small spaces is the tiny electric stove. In the past few years, the design of these little heaters has really improved to the point that they can really add a lot to your room renovation.
All you need to do is plug it in and you'll get simulated flames and plenty of heat for a smaller room. You can place it anywhere, turn it on, and enjoy the warmth for a fraction of the price.
Build Into Your Wall
There's the wall-mounted fireplace and then there's taking the next step and building into your wall. One example of this is a glass insert gas fireplace, which adds gravitas to your room without taking up an inch of space aside from the part of your wall it's installed in.
In fact, our linear fireplaces are among the most popular choices for modern home designs. You see this a lot in hotel lobbies and restaurants as well.
Linear fireplaces might seem somewhat limiting in what you can do design-wise, but there's plenty of opportunity. You can implement storage around the fireplace or create a floating fireplace look by matching the style of the fireplace with the rest of the wall decor.
You can even get to install a double-sided fireplace that connects two parts of your room or two different rooms. This gives you a panoramic view of your fire, which turns it into a multi-room design feature.
Suspended Fireplace
Another way to save yourself floor space is by suspending your fireplace from the ceiling. These are also popular with commercial spaces, but can really work wonders in a small-to-medium-sized room.
Suspended fireplaces are often made from metal, but can have a wide variety of finishes depending on your room's vibe. We should say that, if you go with this type of fireplace, it's almost guaranteed to be the focal point of your small room. Be prepared to decorate around a suspended fireplace.
Keep It Classic
Lastly, just because you've got a small space doesn't mean you can't have a classically-styled wood fireplace. With the right designer helping you out, you can shrink down the mantel, hearth, and surround to be spatially efficient yet effective as a room feature.
Don't Let Your Small Space Scare You
Don't be frightened by your small space. You can easily achieve all of your home remodeling goals—complete with a gorgeous fireplace—even in the smallest rooms.
At Dreifuss Fireplaces, we have nearly 150 years of experience in designing and building custom fireplaces for Philly homeowners. If you've got room constraints, we'll happily accept your challenge and deliver the perfect small-room fireplace. Contact us today to discuss your needs and we'll get to work.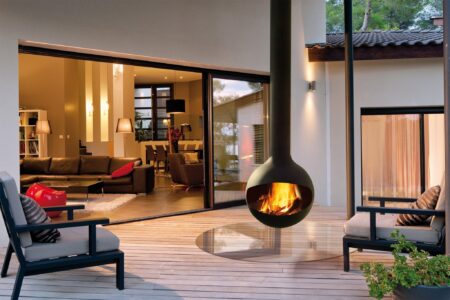 Venting a gas fireplace is crucial for proper air circulation and the removal of harmful combustion byproducts. However, not all homes are equipped with a
Read More »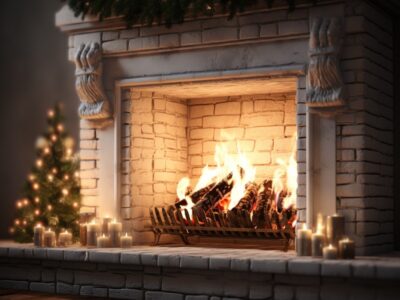 Cleaning white fireplace brick is essential to maintain its appearance and ensure the longevity of your fireplace. However, the cleaning process may vary depending on
Read More »
Looking to add a touch of elegance and warmth to your living space? Discover why a stone fireplace mantel is the perfect choice. Explore the
Read More »