There are 184,596 hotels and motels across the US in 2023. If you're a luxury establishment, you're already standing out from the rest. But even then, competition still grew 13% last year.
Of course, guests will look at reviews and amenities when booking a luxury hotel. But a recent study found that photos were the number one factor in making a good first impression. When you have just a second or two to stand out online, what do you need?
A statement.
Modern fireplace designs are that statement.
They add class. They stand out. They elevate a well-considered lobby into a luxurious experience.
If you're looking to stand out with a lobby fireplace, where should you start? With our modern hotel fireplace guide.
In this brief overview, we'll run you through modern design options. We'll also explain which designs suit different decor styles and spaces. Then, with a clearer picture in mind, you can start the consultation process.
Linear Fireplaces
An online search for "modern fireplace" is always full of linear fireplaces. These modern designs sit flush with a wall or pillar. Their one-sided design is understated yet eye-catching.
If you run a small luxury boutique hotel, this is one of the best options. Linear fireplaces take up minimal space in the room while adding warmth and class.
A larger hotel wouldn't benefit greatly from a linear fireplace tucked into a wall. Rather, if you like this design style, place a large linear fireplace in a central pillar or two. This draws the eye and breaks up a large space with small details.
As for design choices, keep it subtle by painting the wall or pillar the same color. For example, install a black fireplace into a black pillar to achieve the effect that the fire is floating inside.
While you could surround it with artwork for a quirky look, we believe it's better to keep the fire as the feature. So make it stand out by covering the wall in a painted mural or a stand-out material like marble.
Suspended Fireplaces
What if your hotel lobby is too large for a linear fireplace in the wall, but too small for a pillar? Then it's the perfect size for a suspended fireplace.
Suspended fireplaces, often made from metal, add immediate interest to a small space. They hang from the ceiling without touching the floor. Depending on how they're styled, they can look anything from mid-century modern to futuristic in design.
In an uber-modern building, stick with neutral black and white. If your modern lobby is more quirky, choose a bold color like burgundy or emerald to enrich the space.
Two-Sided Fireplaces
Are you looking to add more than décor – an architectural feature? Consider using a commercial fireplace as a room divider.
Two-sided fireplaces are either open or glass-fronted on two sides. When installed into a wall, this creates an attention-grabbing window between the rooms.
In your hotel lobby, use this to divide a waiting area from the check-in desk. Or install it into a pillar to allow more light to pass through.
What if you want to connect two areas, but with a little more privacy?
Install a two-sided fireplace with privacy glass. This allows users on either side to make the glass opaque on demand. For example, keep the lobby side clear to view the fire, but a more private side opaque at all times.
Three-Sided Fireplaces
Nothing catches people's eyes like a fireplace visible from multiple sides. The more sides exposed, the better!
Three-sided fireplaces present many design options.
If you have a spacious lobby, place a large three-sided fireplace on the opposite end of the room from reception. This will balance the space by creating a large visual feature.
Or, place a three-sided fireplace in the middle of the room inside a pillar. Surround the fireplace in stone for an impactful statement.
Wherever you install the fireplace, it can be open-fronted or glass-fronted. Glass-fronted fireplaces may have more ventilation options and less impact on the temperature in the room. But open-fronted designs are even more eye-catching.
If you're not sure which ventilation option is best for you, feel free to ask us.
Four-Sided Fireplaces
For a completely open option, there are four-sided modern fireplaces. As they don't have a back wall, these work best in the middle of a space.
Use them as a design centerpiece, surrounded by inviting furniture. If your lobby is large enough, you could even use several four-sided fireplaces as focal points.
As with all the options, their look and materials are completely customizable. Stone is a popular choice that fits with many luxurious modern interiors. But black metal is also growing in popularity, especially when paired with crittel glazing elsewhere in the space.
Round fireplaces achieve the same effect as four-sided designs, the fire being visible from all sides. And they also have the options of either a glass surround or an open design.
Custom Modern Fireplace Designs
Do you have something else in mind for your hotel lobby?
Perhaps you want a suspended fireplace that's also two-sided. Or a glass fireplace wall between the lobby and the pool area.
Custom is always the best way. So whatever your ideas, no matter how outlandish, we'd love to hear them. Leave it to us to make them happen.
Start Designing Your Lobby Fireplace
Modern fireplace designs are the classiest way to elevate your hotel lobby. Your images online will stand out. And once guests arrive, the fireplace makes your hotel an even more memorable experience.
To harness these benefits, a standard fireplace won't do. Your lobby needs a custom feature specifically designed to complement the space.
That's what we're here for. Whether you want a 4-sided glass feature or a suspended metal dome, we'll create something better than you can imagine.
Start the process today by scheduling a custom modern fireplace consultation. Then leave the rest to us!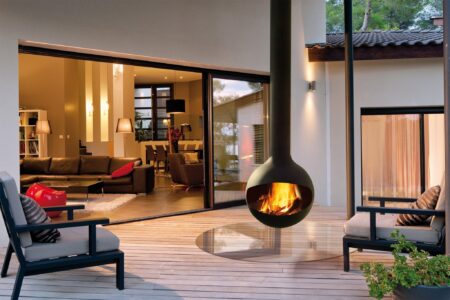 Venting a gas fireplace is crucial for proper air circulation and the removal of harmful combustion byproducts. However, not all homes are equipped with a
Read More »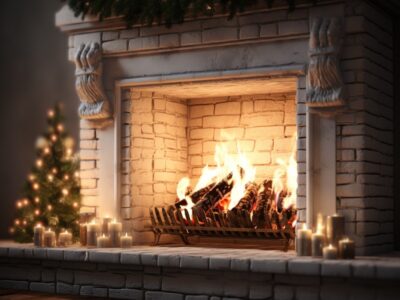 Cleaning white fireplace brick is essential to maintain its appearance and ensure the longevity of your fireplace. However, the cleaning process may vary depending on
Read More »
Looking to add a touch of elegance and warmth to your living space? Discover why a stone fireplace mantel is the perfect choice. Explore the
Read More »