A fireplace used to be a necessity to keep homes warm through the cold months. Now they are more of a special bonus but can still add to the value of a home so are worth the investment for homeowners.
The great thing about adding a fireplace to your space is there are so many options, you can customize every aspect. It can be as traditional or modern as you like making it feel like a special addition that brings the whole space together.
Check out this guide with all of the features you can choose for your luxury fireplace!
Always Ready to Go
One of the best fireplace features to be introduced in recent years is the variety of fuel options. You can choose to have a wood, gas, or even electric in your home. And if you choose gas or electric, it means you can have a fire anytime you want.
Instead of having to spend the time to build your fire and keep maintaining it, you can simply flip a switch and the flames turn on!
This is a huge benefit for those times when you want to warm up for a few moments after being outside. Or if you want to create a cozy atmosphere without all of the extra work. Instant fireplaces are much easier to use, clean, and maintain which are all huge perks of going that route.
Custom Firebox Filler
When fireplaces were first introduced they all were wood burning, so the firebox needed to be empty to hold the wood and fire. Now that there are several different fuel types available, you can customize what's inside your firebox to match whatever aesthetic you're going for.
Some homeowners like a more traditional finish and opt for a realistic-looking set of wood logs. It gives off the impression of a wood-burning fire and feels very sweet and nostalgic.
Others like a more dramatic flair and will choose some kind of rock filler. These come in all different shapes, sizes, and colors to suit your preferences. You can have a sparkly glass bottom or a rugged stone center. And some even choose a more sculptural take with stone spheres as the filler.
Multiple Viewpoints
A true sign of luxury fireplace designs is more glass to see the fire from all different angles. If you really want to make a statement with your fireplace, you'll add a see-through element to enhance the viewing options.
Many homes have double-sided fireplaces where you can see the fire from two different rooms. This is a great way to make a connection while still having two separate spaces.
But you can also make your fireplace three-sided or even completely glass all around. These fireplaces are often placed in the center of a great room or connected to the outdoors so that there is enough open space to make the view available. Going with one of these options makes a traditional home element much more modern and fresh.
High-End Surround Material
There's a lot more that goes into a high-end fireplace than just the firebox itself. If you want, the surround can be a huge moment in your home depending on the materials you choose to incorporate.
For practicality, tile has been the main type of material used around fireplaces for years and years. This is because it can withstand the added heat and is also easy to clean if anything gets on it. But you don't have to focus solely on the function when you're choosing which tile to use.
The tile surround is a fun place to try out new, trendy options that might take you out of your comfort zone. It's generally a smaller space than a backsplash, so it feels like a safer choice!
Complete Integration
On the other hand, it can be just as fresh and unique to make your fireplace more subtle as well. A linear fireplace has a sleek design that integrates right into the wall. There's no hearth, mantle, or surround to make it stand out in the traditional way. Instead, it's a statement because of how unexpected it is.
This kind of fireplace is an especially great fit for those rooms that don't have a ton of extra space available for a large fireplace. You can get all the benefits of a fireplace without taking up precious square footage.
Suspended Options
For those homeowners who are looking to have a truly unique fireplace, there is the suspended fireplace. These fireplaces don't have a base and hang from the ceiling like an art installation. It's a quick way to make your home feel like a five-star hotel with an amazing design style.
You can work with a fireplace professional to create a unique shape specifically designed for your home and the space you have. It will become the centerpiece of your home and a place where you can make tons of special memories with your loved ones.
A suspended fireplace isn't something you see in very many homes, so yours will surely be the talk of the neighborhood when you get it installed!
Features of a Luxury Fireplace to Enjoy
Adding a luxury fireplace to your home is a great way to make your home feel even more like you. It's a great way to display your style and personality while bringing in a cozy element as well. There's nothing like sitting by the fireplace and enjoying your loved ones, the memories will last a lifetime!
The key to really loving your high-end fireplace is to work with the right company for the design and installation. A team of professionals can help you through each step of the process to ensure you get exactly what you're looking for.
Our team has all the knowledge you will need to get a really amazing fireplace in your home. Check out our selection and get an estimate for a custom fireplace today!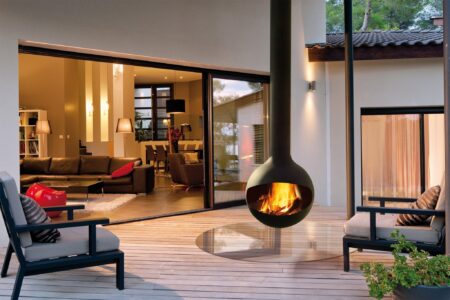 Venting a gas fireplace is crucial for proper air circulation and the removal of harmful combustion byproducts. However, not all homes are equipped with a
Read More »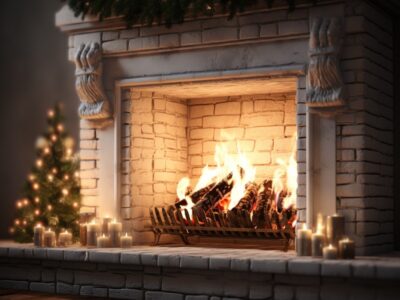 Cleaning white fireplace brick is essential to maintain its appearance and ensure the longevity of your fireplace. However, the cleaning process may vary depending on
Read More »
Looking to add a touch of elegance and warmth to your living space? Discover why a stone fireplace mantel is the perfect choice. Explore the
Read More »