According to the EPA, there are over 17.5 million fireplaces worldwide. That number continues to decrease as more people adopt electric fireplaces. The biggest hurdle people must overcome when opting for an electric fireplace over a traditional one is how realistic it looks.
If you're thinking about buying an electric fireplace, you've probably spent hours looking for a safe, realistic alternative to wood-burning hearths. But did you know that the most realistic electric fireplace actually runs on water? Read on to learn more about the NetZero Waterplace and how it beats out other electric fireplaces on the market in 2022 with its impeccable realism and low environmental impact.
Why Choose an Electric Fireplace?
Traditional fireplaces burn wood for heat. Indoor fireplaces date back to prehistoric times but hearths with chimneys came about in Europe around the 11th or 12th century. With innovations in technology, now homeowners and businesses can choose between using traditional fireplaces and electric ones.
There are many reasons consumers might choose an electric fireplace over a traditional one including ease of use. Electric fireplaces create less mess and require less maintenance than their wood-burning predecessors. Moreover, even with proper care, burning wood indoors generates fire and health hazards according to the EPA.
How to Choose an Electric Fireplace
Though traditional fireplaces provide a cozy hearth that attracts many people, they're difficult to install and maintain. That's why so many people opt to go electric when adding a new fireplace to their homes.
But, not all electric fireplaces will meet all your needs. Here are a few tips to help you choose the best electric fireplace for your home.
Power Sources
Understand the power source you'll need for each option. Some electric fireplaces plug into an outlet. However, others will require professional wiring upon installation.
Dimensions
Pay attention to the fireplace's size. Measure the space you want to put your electric fireplace before you go shopping. Make sure the fireplace dimensions can fit in that space.
Product Reviews
Check reviews. There's nothing like feedback from people who have purchased and used the product. Be sure to check out what other customers have said about shipping times, installation time, warranty length, ease of use, etc.
Shopping Local
If possible, buy from a local store so you can see what it looks like in person. There's nothing quite as bad as receiving a product that looks nothing like its online advertisement.
Safety First
Last but not least don't forget about safety! Before purchasing an electric fireplace make sure it has an Underwriter Laboratories safety certification.
NetZero Waterplace Technical Specifications
Each NetZero Waterplace runs on electricity, using water as fuel to generate a steamy flame illusion. NetZero offers many models that are customizable to whatever room you want your realistic electric fireplace. Here are some basic technical specs for many NetZero Waterplaces:
Over 30 adjustable flame colors
Custom log sets and interior lining
Direct Plumb option for auto-fueling
Remote or smartphone control
Tank capacity is between two and six liters
Minimum opening dimensions range from

20-60″L
12.9″W
8.7-11.3″ D

5 shapes and customizable shape options
They also offer their own patented thermostat. It can turn off automatically once the desired temperature is reached, which can save energy when heating is not needed.

NetZero Waterplace Environmental Impact
Aside from ease of use, many people looking into electric fireplaces care about the environmental impact. NetZero's name itself implies its mission to reduce carbon outputs in fireplaces. The company combines stylish and luxury fireplaces with a carbon-neutral pledge that helps reduce your environmental impact.
The Netzero Waterplace uses about one-third of the energy of a standard fireplace. The only energy the Waterplace uses is to vaporize the water and add lighting. And since it runs on water, you won't have the need to clean any pesky soot or ashes, let alone find a sustainable way to get rid of them.
NetZero Waterplace Realistic Flames
The realism of the NetZero Waterplace is the product of years of technical innovation and engineering. Using both vapor and light, it creates a realistic fire that's beautiful to look at, but also safe for homes with children or pets.
The water vapor dances and rolls like you would expect a real fire to. Moreover, the orange lighting effects make the illusion all the more believable. Only trained eyes would be able to tell the difference between a NetZero Waterplace flame and a real one without close inspection.
You can even customize the size of the flames in your Waterplace up to 20 feet high with some models. Since the light reflects and refracts within the water vapors, the color travels the whole length of even the highest flames.
With its small footprint, lightweight construction, and stylish design, it's perfect for residential installations! That's why we chose it as the most realistic electric fireplace on the market in 2022.
NetZero Waterplace Realistic Burning Wood
The realistic flames of the NetZero Waterplace don't come from some unnatural-looking electric box like its competitors. Those tend to turn off consumers looking for a real-looking electric fireplace. But, the NetZero Waterplace is built differently.
Instead, you have the option of choosing customizable burning wood figures to place at the base of your Waterplace. From birch to white oak and even driftwood, you get to choose a wood that realizes your fireplace aesthetic goals.
Realistic or Unrealistic: It's Up to You!
Sure, you want a realistic fireplace now. But, what if you want to spice up the ambiance in your home with something less traditional? The best part of the NetZero Waterplace is how customizable it is.
You can change the flames to many different, gorgeous colors and even have them on a roving rotation. Moreover, if you're looking for a more elegant look, you even have the option of using pebbles or even choosing a clear, chic, freestanding flame model instead of faux wood.
Get the Most Realistic Electric Fireplace Installed Today
Are you looking for a modern, realistic fireplace installation in Philadelphia? Look no further than Dreifuss Fireplaces.
We've been installing fireplaces of all shapes and sizes in residential and commercial spaces since 1876. So, you should say we're the fireplace experts in Philadelphia. If you're ready to have the most realistic electric fireplace in your own home, contact Driefuss today!
Related Articles: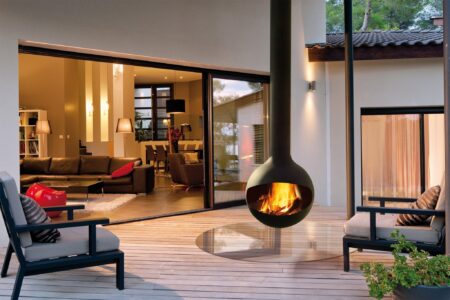 Venting a gas fireplace is crucial for proper air circulation and the removal of harmful combustion byproducts. However, not all homes are equipped with a
Read More »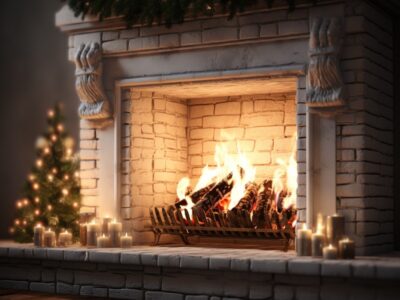 Cleaning white fireplace brick is essential to maintain its appearance and ensure the longevity of your fireplace. However, the cleaning process may vary depending on
Read More »
Looking to add a touch of elegance and warmth to your living space? Discover why a stone fireplace mantel is the perfect choice. Explore the
Read More »