Did you know that adding a fireplace to the average American home can increase its value by at least $12,000? Regardless of the uptick in value, adding a fireplace to your home can add a touch of luxury and comfort to any space.
If you're interested in luxury and comfort then a double-sided fireplace might be just the thing you need. This unique addition not only looks amazing but also adds warmth to any space. This makes these types of fireplaces ideal for dining rooms, living areas, or cozy nooks.
Before making the final decision, however, let's explore the pros and cons of adding such an impressive feature. We'll delve into why these fireplaces are great as well as what some potential drawbacks could be so that you can make an informed decision.
What Is a Double-Sided Fireplace?
A double-sided fireplace is a unique feature that offers added convenience and aesthetic appeal to any home. The central firebox is located between two separate rooms. This allows each side to enjoy the warmth of the flames and provides pathways of light and heat transfer.
By using advanced direct vent technology, double-sided fireplaces can move heat more efficiently. They also provide a convenient source of flames from both sides. This makes them ideal for open-concept spaces or large rooms divided into multiple sections.
All in all, a double-sided fireplace can be a great asset for any home. They add a touch of luxury and a significant boost in energy efficiency. However, as is the case with any type of fireplace, they come with both benefits and drawbacks.

If you're looking for a stunning feature to make two spaces feel even more connected, a double-sided fireplace may be the perfect addition. Not only are they visually beautiful, but they also come with several benefits. Here are just a few.
Improved Safety
Having a double-sided fireplace is a great way to boost your fireplace safety. The double-sided design allows the flames and heat to spread more evenly throughout the room compared to conventional fireplaces. This reduces the risk of hot spots or other risky areas around the fireplace.
Additionally, the added insulation from a double-sided fireplace helps lower the temperature at which combustible elements near your fireplace can ignite. This makes it less likely for sparks or stray embers to start a fire elsewhere in your home.
Heat Two Rooms at Once
Not only does a double-sided fireplace improve both the aesthetic and functional aspects of any living space, but this incredible appliance can also improve your home's heating efficiency.
With their ability to heat two separate rooms simultaneously, these fireplaces keep energy costs low while distributing heat efficiently throughout your home. Sounds like a win-win, right? They are.
A double-sided fireplace also allows you to share warmer air with others in different parts of your home since you can place it between adjacent walls. You can also place it further away as long as there is adequate ventilation.
Just imagine being able to enjoy the roaring fireplace from your living room while your partner enjoys it from their study on the other side of the wall.
Better Heat Distribution
Better heat distribution is an important benefit of a double-sided fireplace. With twice the ventilation and twice the flames, these fireplaces produce more heat without as much effort as some other types of fireplaces. Above is a doubled sided corner fireplace, but that is a bit different.
Traditional doubled-sided fireplaces include the ability to position the flue at different angles on either side to distribute heat throughout the entire room. This means that everyone gets to enjoy equally warm temperatures without wasting energy.
Acts as Artistic Centerpiece
Not only do these two-way fireplaces bring a touch of sophisticated luxury to any home, but they're also incredibly eye-catching and can transform any living space into something truly special.
This statement piece can be used to create a design around it by placing furniture close to and in front of it, with room to appreciate the beauty of the flames and glowing logs on both sides.
With its balanced look, a double-sided fireplace is an innovative concept that lends itself perfectly as the focal point in an artful living room oasis.
Drawbacks of a Double-Sided Fireplace
When versatility and luxury are a priority, a double-sided fireplace may seem like the perfect answer. But while one side of this design gives your space two times the "oomph," there can be some drawbacks that come with it, too.
Requires Wall Support
Installing such a fireplace is not a project to be taken lightly. This is because it requires wall support right in the center of your room.
This means that you will need to make sure there is adequate physical space to accommodate the installation. You'll also need to ensure that you can properly arrange furniture or other items in the area. You don't want to create a foot traffic problem or throw off the feng shui.
What's more, if you are planning on taking down a wall or part of it for the fireplace, make sure you're prepared for potential structural overheads from the construction and installation teams.
More Expensive
Double-sided fireplaces are more complex than traditional fireplaces. They require much more specialized craftsmanship to function correctly. This is also why they're often much more expensive.
Additionally, you'll likely need both a chimney liner and flue that can work separately for each side as well as additional venting or power requirements. These factors all influence cost.
In short, double-sided fireplaces may give off an inviting atmosphere. While that's true, they do come at a higher cost due to the extra level of engineering needed to pull them off successfully.
Contrasting Styles
Finally, some homeowners find it difficult to match styles on both sides of this kind of fireplace. However, there are certain design tips you can utilize to ensure the style on both sides coordinate nicely.
For example, begin by painting the wall behind the fireplace an alluring neutral color that won't overpower either side. Additionally, arrange furniture in a way that creates two cozy living areas without compromising style aesthetics.
There are simple ways to accomplish this, such as using an area rug that unifies both spaces with its décor and colors, or hanging artwork on one side mirroring something from the other side.
By implementing these tips, you can easily create a stylish look for your double-sided fireplace while still keeping things balanced and visually appealing.
Design Your Dream Double-Sided Fireplace
You deserve a fireplace that not only embodies exquisite style but also surpasses your expectations in terms of quality and functionality. With our commitment to co-creating fireplaces with our customers, we ensure that you receive the exact hearth of your dreams.
We are here to guide you every step of the way, ensuring that your fireplace becomes a cherished source of joy and lasting memories. With our lifetime guarantee and world-class service, you can trust in our unwavering dedication to your satisfaction.
Ready to Buy a Fireplace?
Ready to buy a new fireplace? Whether you decide to go with a double-sided fireplace or opt for a more traditional look, we're here to help. At Dreifuss Fireplaces, we have over 100 years of experience with fireplace installation and design.
Get in touch today to chat about your home's style and how we can help you improve it with an elegant fireplace.
Related Article:
All the Ways a Three Sided Fireplace Becomes an Incredible Home Feature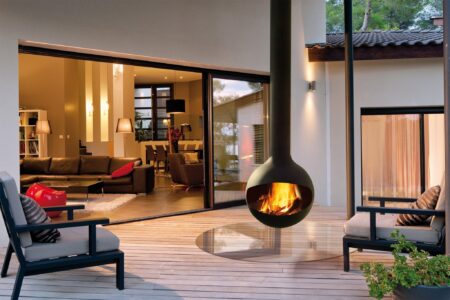 Venting a gas fireplace is crucial for proper air circulation and the removal of harmful combustion byproducts. However, not all homes are equipped with a
Read More »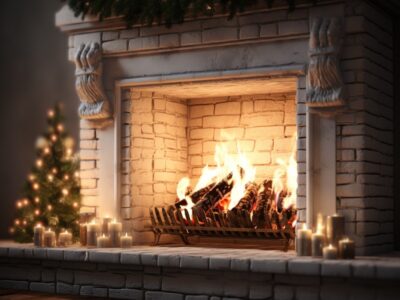 Cleaning white fireplace brick is essential to maintain its appearance and ensure the longevity of your fireplace. However, the cleaning process may vary depending on
Read More »
Looking to add a touch of elegance and warmth to your living space? Discover why a stone fireplace mantel is the perfect choice. Explore the
Read More »