Nowadays, electric fireplaces are becoming popular choices for homeowners due to their low installation cost, versatility, and modern look. They are also easy to customize and style, making them ideal for any home and any interior design style.
When you're adding any new design features to your home, styling can seem intimidating. How can you make sure that your vision comes to life and your new fireplace becomes a cohesive part of your home?
Today, we're going to talk about styling one of the most desirable electric fireplaces on the market: the white electric fireplace.
Read on for our complete guide to styling a white electric fireplace to match your home perfectly.
Start With the Right Location
One of the best things about an electric fireplace is that it doesn't require a ventilation system like wood-burning or gas fireplaces do. As long as you have the electrical wiring to power it, you can put an electric fireplace just about anywhere.
Of course, a popular location for electric fireplaces is the living room. However, you can also install your new electric fireplace in a bedroom, office, and even a large bathroom. Deciding where to install your fireplace will make a big difference in the way that you style it.
Pick Your White Electric Fireplace Style and Custom Accessories
There are many different types of fireplaces to choose from when you go the electric route. You can outfit an existing hearth with an electric fireplace insert, install a floating electric fireplace on a blank wall, or create the look of a semi-traditional fireplace by adding a mantle where a mantle never existed before.
You also have plenty of options when accessorizing an electric fireplace. For example, you can install logs that look like real firewood or stones that mimic the appearance of coal. You can also modify the color of the LED flames, sticking with yellow or orange for a classic look or going with a striking and modern color like blue, red, or pink.
Think About the Interior Design of the Room
When you're selecting your white electric fireplace and its accessories, think about the existing interior design of the room. If you prefer a more classic interior design style, like a farmhouse or Scandinavian look, you may prefer a floor-mounted electric fireplace that resembles or fits into a hearth. If your interior design style is modern, industrial, or minimalist, you may prefer the more futuristic floating fireplace.
The interior design style of the room will also impact the way that you style your fireplace once it's installed. You want the fireplace to look like a natural part of the room, not like an out-of-place addition.
Creating a Color Scheme
White electric fireplaces are quite striking. Unlike brick or tile fireplaces, the white exterior creates a blank slate that will compliment just about any color scheme.
One option is to create a monochromatic look. You can do this by installing a white electric fireplace against a white wall and bringing out that light, airy look with white upholstery, neutral-toned art, and a few pops of color.
Another option is to create a stark contrast. A white electric fireplace is sure to catch the eye when installed on a dark-colored wall, like navy or black. Once again, you can carry that color scheme through the room by selecting black and white furniture, textiles, and art.
Adding Height Above Your Electric Fireplace
One of the most important things to consider when styling any room is scale and proportion. The size of your furnishings and decor matters, and when the scale and proportion are off, the room looks incomplete.
Most homeowners choose to install electric fireplaces on the lower half of a wall. When you do this, you want to create a balance by placing something over the fireplace that adds height and makes the room appear larger.
If you're going for a minimalist approach, consider hanging one large object above the fireplace, like a television or framed artwork. If you prefer a busier look, consider creating a gallery wall with artwork and wallhangings in different sizes, shapes, and textures.
Incorporating Cozy Seating
A white electric fireplace makes a great focal point in any room. On a practical level, it also creates warmth and ambiance. Naturally, in front of the fireplace is the place to be.
Make it easy to enjoy the warmth and glow of the electric fireplace by incorporating cozy seating. In a living room, this can include sofas and armchairs. If you install your fireplace in a bedroom or bathroom, consider placing a single armchair or a lush throw rug in front of or next to the fireplace.
Putting Together the Final Touches
The key to styling your new white electric fireplace is personalization. After all, you're not trying to recreate a page in a design magazine. You're turning your house into your very own dream home.
If you have a mantle, add a few of your favorite scented candles, framed photos, tchotchkes, or potted plants. If you don't have a mantle, make sure to incorporate your favorite colors into the artwork and textiles you surround your fireplace with. These final touches are great for adding personality and a splash of color to your white electric fireplace.
Come to Dreifuss for Your White Electric Fireplace
Electric fireplaces are growing in popularity because they're easy to install and use. With the right know-how, they're also easy to style. If you're looking for a dramatic upgrade, consider a white electric fireplace and use our guide to ensure that this new feature blends well with your interior design.
There's no better way to add a new fireplace to your home than by partnering up with Dreifuss. As one of the oldest fireplace companies in the nation, we take great pride in what we do. Contact us and let us know what you have in mind and we'll let you know how we can deliver.
Related Articles: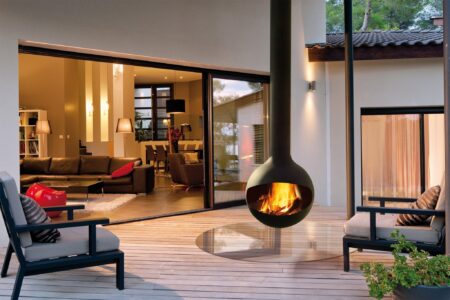 Venting a gas fireplace is crucial for proper air circulation and the removal of harmful combustion byproducts. However, not all homes are equipped with a
Read More »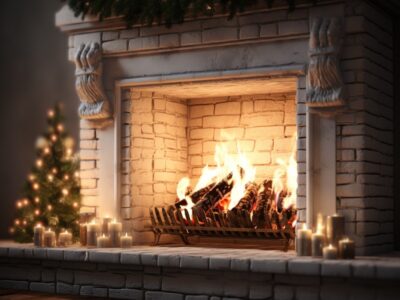 Cleaning white fireplace brick is essential to maintain its appearance and ensure the longevity of your fireplace. However, the cleaning process may vary depending on
Read More »
Looking to add a touch of elegance and warmth to your living space? Discover why a stone fireplace mantel is the perfect choice. Explore the
Read More »