When you install a fireplace into a room, be it your bedroom or living area, everyone's eyes are instantly drawn toward the fireplace. It becomes the focus of the entire room. The focal point, so to speak. 
That's why you want to use unique and creative fireplace mantel decor, so your fireplace doesn't start looking tacky or humdrum. There are many fireplace mantel ideas to choose from, some of which we have shared in the article below. So keep reading to get your creative juices flowing. 
Layered Paintings
If you are a painter or creative yourself and have several paintings that you would like to display, then you can use those. Pick several in different sizes and frame them in a color theme suitable to the room. 
But you don't necessarily have to use your own paintings. Pick out several paintings or prints from your favorite artist and layer them on your fireplace mantel, placing one in front of the other, depending on the size. 
Not only does this show that you have taste, that you care about art, and that you love to support the local artists, but also brings color and joy into your room. 
Vintage Collector Items
Are you a collector of vintage decor pieces? These could be old glass vases or pretty music boxes from the 1900s.
Whatever the item, ensure you have several pieces, so you can place them all on the fireplace mantel in a haphazard or charming fashion.
This is a great idea for several reasons.
Firstly, you are able to showcase your collector items in a way that will inspire conversation and delight all visitors to your home.
Secondly, you can always move these pieces around to showcase or highlight a particular item that is your current favorite. This keeps things interesting. 
Finally, if you collect several different items, you can switch these around as well, putting on one set of vases one month and then the music boxes the next. This way all your collector items can get their time in the spotlight. 
Statement Art Piece
If you don't like the idea of having several decor items on your fireplace mantel, then consider adding just one statement item. This is similar to how you would wear one bold statement bracelet or necklace when going out to a fancy event.
Pick a statement art piece, something in black and white or with abstract animated colors, and place only that on your fireplace mantel.
It's a simple way to decorate your fireplace, but quite effective. Make sure you match the colors of the statement art to the rest of your room so that it doesn't look too out of place. 
A Memento From a Special Occasion
Did you recently get married? Or celebrate a 50th wedding anniversary? Or maybe you recently finished a round-the-world trip? 
Whatever the occasion, you might have certain mementos from it that you want to highlight in your room. It could be a banner from your wedding reception hall or little art pieces from all the places you visited on your world trip. 
Place these items on the fireplace mantel or hang them over the mantel, so you can keep these joyous memories in your heart for a little while longer. It's also a great way to remind your visitors that you are going through a major life change and that you are proud of it. 
Flowers
You can never go wrong with flowers. Be it when you are giving it as a gift to friends or to a partner, or when you are decorating with it. 
The fireplace mantel is no exception. An easy way to decorate the fireplace is to place gorgeous fresh flower bouquets on it.
You don't have to do much for this—just have a standing order with the local floral supplier to get your favorites delivered to you twice a week. Don't forget to change the water for the flowers every day and also to replace them when they start wilting or dying. 
Or if you are the lazier kind of interior decorator, then you could buy fake orchids, some of which look almost real, and then use those to adorn your fireplace mantel. 
Fake or Real Plants
Another way to charm any visitors is to place plants on your fireplace mantel. These could be hanging plants that drape over your fireplace (make sure to avoid any fire hazards and keep them well away from the fire itself). 
Or it could be fake plants that bring some green to your room. 
Again, plants are an easy way to decorate your home and fireplace because they don't require much work, they are gorgeous, they aerate your room and make your indoor air healthier, and they brighten up a space like nothing else. 
Minimalist
Is minimalist another word for lazy? We don't think so. 
If you have the minimalist theme going in the rest of your home, then you will want to follow suit on your fireplace mantel as well. 
Keep it simple by adding just a couple of small items to the mantel, like family photographs or an award you received. 
Not only will this show off your personality more, but it will also not detract from the beauty of your fireplace. 
Fireplace Mantel Design—Pick What Appeals to Your Heart
This is your home and your fireplace mantel design, so you don't want to listen to any naysayers or interior designers on how to decorate it. Whatever appeals to you, goes. 
Even if you think it isn't the most chic of designs, if you like it, you should use it. 
Still searching for a suitable fireplace for your home? Get a free estimate for a fireplace for your home by choosing your scenario.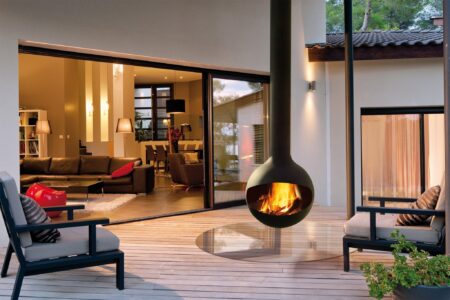 Venting a gas fireplace is crucial for proper air circulation and the removal of harmful combustion byproducts. However, not all homes are equipped with a
Read More »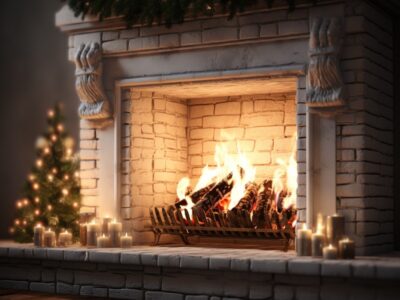 Cleaning white fireplace brick is essential to maintain its appearance and ensure the longevity of your fireplace. However, the cleaning process may vary depending on
Read More »
Looking to add a touch of elegance and warmth to your living space? Discover why a stone fireplace mantel is the perfect choice. Explore the
Read More »