According to the EPA, wood-burning fireplaces are one of the most inefficient ways to heat your home, causing 20 times more air pollution than EPA-certified appliances.
They recommend switching to a gas fireplace if you want to enjoy less smoke and more efficient heating.
The bad news is that gas fireplaces can't quite match the look, smell, and romance of a wood fireplace. The good news is that you don't need to buy a new fireplace to make the change to gas.
Keep reading to find out what it takes to convert a wood-burning fireplace to a more efficient gas version.
What Are Your Gas Fireplace Options?
You'll need a conversion kit for a prefabricated wood-burning fireplace, and many models don't cater to gas fireplace inserts at all. Those that do, must have a gas line knockout built into them.
This circular indentation allows for the insertion of a gas line.
If your prefabricated wood-burning fireplace is next to combustible framing, you shouldn't use ventless gas logs in them. It's against NFPA recommendations.
Fires caused by placing combustible materials too close to heating equipment result in half of home heating deaths.
In most cases, you're better off buying a new gas fireplace instead of engaging in the intricacies of converting your prefab fireplace.
Masonry fireplaces offer a few options. These are:
Switching to gas logs
Installing a gas fireplace insert
Converting it to a ventless fireplace
In turn, these three options offer a few more choices. Let's look at these in more detail:
Gas Inserts
Manufacturers design gas inserts to fit inside your existing fireplace. They have a decorative rim on the outside to ensure a seamless appearance after installation.
There are two types of gas inserts:
Direct Vent Gas Inserts
These inserts have a completely sealed venting system and firebox. They require a vertical co-linear venting system that you must buy separately and install through your wall.
Vent-Free Gas Inserts
Ventless inserts fit into your existing fireplace and cover the chimney opening. The top has a curved design to direct heat into your home.
These fireplaces draw air from inside your home to fuel the fire and they burn at almost 100% efficiency.
You can either buy a standalone box and install it, then buy the logs of your choice afterward, or buy the insert as a complete unit.
Vented Gas Logs
Vented gas logs are an affordable choice that closely mimics the appearance of a traditional wood fireplace. They aren't particularly good at heating a room, although they're highly decorative.
The ceramic logs burn with a full, natural appearance, and have an ember bed to enhance their realistic look. You can rearrange the logs to suit your mood.
There is no BTU limit on these fireplaces and you can get them with ANSI-certified burners.
You can only install these logs into a fireplace with a functioning chimney, and most of the heat escapes via the open damper. This means you'll only enjoy 10% efficiency when you install one of these fireplaces.
Ventless Gas Logs
Ventless logs come in a set and they're most often sold to produce supplemental heat, not for decoration. Ventless gas logs burn at nearly 100% efficiency with a smokeless, clean flame.
They're also a sleek and stylish choice for contemporary homes.
These types of fireplaces don't emit any smoke, but they do create small amounts of carbon monoxide. While this keeps all the heat they produce inside your home, these emissions can irritate your lungs.
Avoid these fireplaces if anyone in your home suffers from asthma or sensitivity to smells. If your ventless fireplace isn't operating optimally, carbon monoxide emissions can become hazardous.
For this reason, you aren't allowed to install these fireplaces in some states and municipalities.
Ventless gas logs can appear authentic, but they don't create the same cozy ambiance as a blazing wood fire.
Ventless gas logs produce water vapor as well as heat, and this can accumulate on the walls and windows of a poorly ventilated room. Always keep a window open slightly when operating these types of fireplaces to avoid the risk of mold and mildew growth.
Zero-Clearance Gas Fireboxes
Zero clearance fireboxes comprise premanufactured, insulated, and sealed fireplace inserts. They transfer very little heat to anything surrounding them.
This means you can install combustible materials like wood and drywall alongside your fireplace installation.
Manufacturers custom design these fireplaces with new builds in mind and they aren't a suitable replacement option for a wood fireplace due to the costs involved.

Steps for an Effective Fireplace Remodel
Once you've decided on the type of fireplace you would like to install, you need to prepare your fireplace for the upcoming conversion. This involves two steps:
Inspect Your Wood Fireplace
You'll need to get in touch with a licensed chimney service to inspect your fireplace before you go ahead with your replacement project.
In the process, they'll clean out any creosote build-up and make sure your chimney is ready for conversion. Your fireplace masonry and flue must be in excellent condition before you install a vented gas fireplace.
Install a Gas Line
You need a gas line to feed your new gas fireplace. Hire a professional gas plumber to run the correct gas line for your chosen fireplace.
They will source and install the correct size line to match your fireplace design and BTU rating. If the lines are too narrow, they'll whistle when you use the fireplace at its highest setting.
At the same time, you should install a carbon monoxide detector. You can never be too cautious when it comes to gas appliances.
Setting Up Your Gas Fireplace
A qualified installer will convert your fireplace within a day as it's a relatively simple process, although installing a vented gas fireplace takes a little longer.
The steps involved vary slightly depending on the type of gas fireplace you choose.
Installing Gas Inserts
The first thing your installer will do is remove the fireplace damper and install a collinear liner in your chimney.
This dual-liner system is a circular steel pipe that goes inside the firebox and in the flue to the chimney top. This improves the heat output.
Next, they'll attach the required electrical wiring and gas line to the insert, place it inside your fireplace, and test it to make sure it's working.
Placing Ventless Gas Logs
Before placing ventless logs, your installer must weld the chimney damper open or remove it. This is to ensure the flue vent remains open.
After that, they'll connect the gas and test their workmanship.
Inserting Vented Gas Logs
This is the most time-consuming installation of the three and can take up to a week in some cases. Yet, it does yield the most visually appealing results.
Before you get started, your installer will arrange to have the wood fireplace and chimney removed to install a chimney or vent system approved by your fireplace manufacturer. This new vent system replaces your old system.
The installation procedure involves running the gas supply and refurbishing the areas affected by the location of the old fireplace. This may include siding, drywall, and roofing.
Cost of Your Fireplace Renovation
Several factors influence the cost of your fireplace refurbishment. These are:
The type of insert or log set
Venting requirements
Gas plumbing costs
Electrician fees
Finishing materials
You'll also incur labor costs if you opt for a professional installer to do the work for you.
Gas log sets are the cheapest to buy and install and have fewer working parts, resulting in fewer breakdowns and less maintenance.
Can You Complete a Wood Fireplace Conversion Yourself?
You can complete some of the tasks involved in converting your fireplace yourself, as long as you don't tamper with gas lines or electricity.
Always hire a certified person to handle delicate and sometimes dangerous tasks associated with gas and electricity.
For safety's sake, it's best to hire a professional installer with the correct fireplace tools to ensure everything is correctly placed and functioning efficiently and safely.
Are You Ready for Change?
The cost of heating your home in winter can become a costly affair when you're burning through wood furiously. It's also no fun heading out in the cold to fetch firewood.
If you'd rather enjoy the cozy comfort offered by a gas fireplace, and the convenience of having fireplace fuel on tap, a gas fireplace is a good option for you.
Sure, you'll need to forego the allure and charm offered by a wood fireplace, but the cost-savings and health benefits of a gas fireplace make the sacrifice worthwhile.
Get in touch today to discuss your fireplace needs and ensure you enjoy a cozy, cost-effective winter.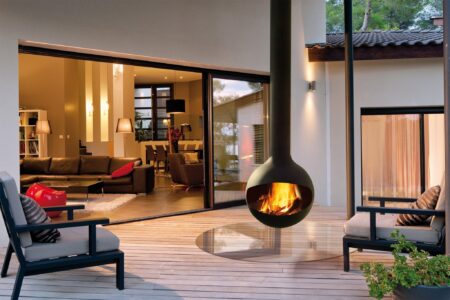 Venting a gas fireplace is crucial for proper air circulation and the removal of harmful combustion byproducts. However, not all homes are equipped with a
Read More »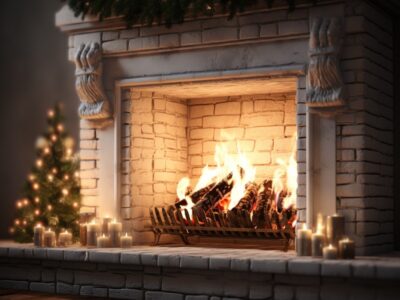 Cleaning white fireplace brick is essential to maintain its appearance and ensure the longevity of your fireplace. However, the cleaning process may vary depending on
Read More »
Looking to add a touch of elegance and warmth to your living space? Discover why a stone fireplace mantel is the perfect choice. Explore the
Read More »