Since 2015, homes built with a fireplace have been steadily declining. This may be why so many homeowners are starting to have a fireplace installed in their homes.
Brick fireplace designs are one of the most popular fireplaces people choose. This creates a beautiful and traditional look that enhances the coziness of a fireplace.
Even though a brick fireplace leans more towards being rustic, it complements most homes. You can further integrate a brick fireplace into your home with certain complementary features.
Keep reading to find out how to enhance the beauty of brick fireplace designs.
Choose Neutral Colors
One way to complement a modern fireplace is with neutral colors. Most brick fireplaces have a reddish-brown color that is very earthy and warm.
You can complement this and make it more modern by decorating the rest of the room in neutral colors. One great way to do this is to paint the fireplace wall a neutral shade of cream or tan.
You can also integrate other neutral features like rugs, furniture, and decorative pieces. This elevates the look of the brick and helps to make it look more modern rather than rustic.
Brick Walls
If you love your brick fireplace, you may want to add more brick to this area. This is a relatively large project, but it can pay off and make your fireplace a noticeable feature.
You can add a brick wall so that the fireplace surround blends in and looks well thought out. This also creates a statement wall that will wow guests when they enter your home.
This can be a great option for people who enjoy more traditional or rustic interior design.
Paint the Wall to Match
Another way to complement brick fireplace designs is to paint the wall the same color. Most brick fireplace surrounds are going to be that traditional reddish-brown brick color.
This color also makes beautiful paint that you can use on the wall behind the fireplace. This adds warmth and richness to the entire room and makes the fireplace pop.
Painting the wall a warm brick shade is especially beautiful in living rooms. This creates a cozy atmosphere that is a bit darker so that the light of the fire enhances the entire space.
Add Other Earthy Elements
Homes with a brick fireplace can design in this element with other earthy features. Bricks add earthiness to your home that is enhanced by similar colors and rustic elements.
You can add foliage to the room, such as fake trees or potted plants. These shades of green play off of the warmth of the brick and create a beautiful contrast.
You can also add other kinds of earthy features, such as woven rugs and wooden elements. These features are very rustic and helped pull the room together so that the fireplace isn't out of place.
There are all kinds of earthy touches you can add to the room, depending on your style. This is a great way to enhance farmhouse, Parisian, or rustic interior designs.
Get a Mantel
You should invest in a brick fireplace mantel if your fireplace doesn't already have one. Some fireplace surrounds don't have a mantelpiece, allowing the fireplace to be flush with the wall.
This is a very modern and sophisticated look that you may enjoy for the space. But adding a mantel can also be a touch that helps the fireplace to stand out more.
You can invest in a brick mantel or a wood mantle so that they blend in with the brick surround. A mantel also provides an area where you can add different design features.
This is a great way to add extra touches to your fireplace so that it becomes part of the room. A mantel also provides a more traditional touch that it otherwise wouldn't have.
Add Fireplace Accessories
All kinds of modern fireplace accessories can make your fireplace stand out. These kinds of accessories go especially well with a brick fireplace in a cozy space.
You can invest in a beautiful fireplace grate to go in front of the fireplace. These are usually heavy metal grates that are used to store wood.
Even if your fireplace doesn't use wood, this is a beautiful decorative feature that gives it a traditional appearance. You can also get a fireplace screen that protects the front of the fireplace.
Most screens are for appearances only, but they can also protect children and pets. You can find all kinds of screen designs to go with the style of the room.
Fireplace pokers can also give your fireplace a traditional look. You most likely won't be using these tools, but they usually look nice sitting next to a fireplace.
Add Surrounding Artwork
Hanging up different kinds of artwork around a brick fireplace creates a statement feature. Any kind of artwork will do, but darker shades and similar colors will look best.
Black and white artwork is very beautiful next to the warmth of the bricks. You can get as creative as you like and create a collage around the fireplace or include a bunch of family photographs.
How to Enhance Brick Fireplace Designs
If you are having a brick fireplace installed in your home, you may not know how to style it. Brick fireplace designs are traditional and warm, the perfect addition to most homes.
Do you want to invest in a brick fireplace? Contact us today at Dreifuss Fireplaces for high-quality fireplace options and installation.
Related Articles: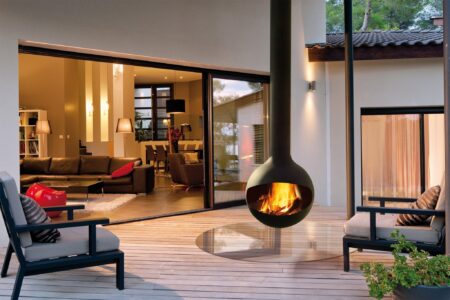 Venting a gas fireplace is crucial for proper air circulation and the removal of harmful combustion byproducts. However, not all homes are equipped with a
Read More »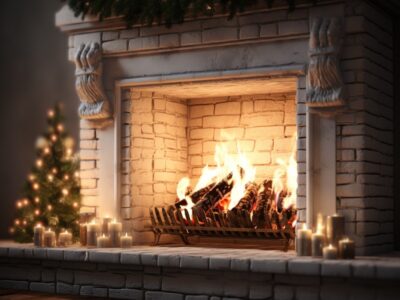 Cleaning white fireplace brick is essential to maintain its appearance and ensure the longevity of your fireplace. However, the cleaning process may vary depending on
Read More »
Looking to add a touch of elegance and warmth to your living space? Discover why a stone fireplace mantel is the perfect choice. Explore the
Read More »