Wood-burning fireplaces and stoves offer warmth, ambiance, and comfort. Something you can't easily access with a wood-burning appliance is temperature control.
You can throw a few logs on the fire to increase the flames. But there is only so much you can do for heat management. The temperature can be too low to provide warmth or too hot for you and others.
You may assume that keeping a traditional fireplace or wood stove is worth the savings it will bring. However, you might not save any more money than using an HVAC system to warm your house.
You may as well choose a gas or electric custom fireplace instead. Both types of fireplaces allow you to add thermostats for temperature control.
We're going to discuss why having heat management is a helpful fireplace function to have. Keep reading if you're not convinced why a fireplace thermostat is necessary. You may change your mind once you're done.
Are Wood-Burning Fireplaces and Stoves Inefficient?
By this point, you may assume we think wood-burning fireplaces and stoves are the worst heating option for your home. The answer, however, is a bit complicated.
Non-EPA-approved stoves and fireplaces can be very inefficient heating units. Most of the wood-burning heat appliances produce goes out of the chimney. The loss of heat comes from the chimney draft.
Drafts are currents within chimneys that pull smoke out of your home so your fire burns more effectively. But often, the draft also pulls away heat. Using your wood appliance with your HVAC system isn't helpful, either.
The two end up dueling each other to warm your house. Your wood-burning appliance can't maintain constant temperatures throughout the home while the HVAC system is running.
How to Mitigate Inefficiency
There are ways to combat the inefficiency of a wood-burning heater, though. One tip is to use dry or "seasoned" wood. Wet wood can't reach high enough temperatures to burn hotly.
You'll create more smoke than heat with non-seasoned wood. If you need to dry your wood, chop it no larger than six inches wide. It also helps to store it off the ground, split side down.
Cover the wood so rain and snow can't reintroduce water. Softwood needs at least six months before it's seasoned enough to burn efficiently. Hardwood will take up to one year to dry properly.
You can also install a gas log lighter kit in your fireplace to help light wood fires. Gas log lighters use gas to ignite the logs. Think of it as having a permanent standby match to make lighting your wood burner easier.
Why Add Temperature Control to Your Fireplace?
To answer our primary question, you'd want a fireplace thermostat for heat management. Take HVAC systems, for example; your heater allows you to heat or cool your home to your preferences.
The difference between an HVAC and a fireplace thermostat is you can still have the ambiance and cozy sophistication the latter offers. You no longer have to choose between your HVAC system or fireplace installation.
Temperature control provides the convenience you can't get with a traditional wood-burning heater. That said, the type of fireplace you want installed matters.
You may have guessed you can't install a thermostat on a wood burner. Electric and gas fireplaces have components that our fireplace installation team can manually connect to thermostat controls.
Gas and electric fireplaces are the only options if you're looking for customizable heat management.
Electric and Gas Vs. Wood Fireplaces
The nice thing about electric fireplaces is that they're the most efficient of three heating units. You may be surprised to hear this, considering you're still paying for electricity.
But electrical costs stay constant, unlike gas and wood. Gas prices may fluctuate from year to year. The costs associated with wood-burning units come from cleaning the chimney.
With wood-burning units, you must keep an eye on the fire and occasionally stoke it to maintain constant heat.
You can't leave a wood fire unattended, either. A stray ember can cause havoc in your home. You also have more placement options with these types of fireplaces.
A gas or electric fireplace can go practically anywhere in your home. You can install them in the living room, bedroom, or dining room if you have a ready source of natural gas, propane, and electricity.
Why are we mentioning all of this? You have more options with electric and gas units anywhere because you can install thermostats.
Both gas and electric fireplaces allow you to control the temperature at the touch of a button. The easy heat management gives you more choices, like where a fireplace can go and how easy it is to start a fire and maintain heat.
A thermostat provides more fireplace functionality than controlling the temperature.
What About Fireplace Design?
Perhaps the one thing all three types of fireplaces have in common is that they're all aesthetically customizable. You often see sleek, modern electric fireplaces, but your wood-burning or gas unit can also look that way.
People think of wood-burning fireplaces with large stone hearths and brick surrounds. Your gas burner can have the same exterior features. You don't have to have a wood fireplace to invoke the traditional look.
You can install hanging fireplaces if that's your preference. No rule says you can't have realistic-looking rainbow flames in your electric unit. Fireplace design depends mainly on the client's needs and wants.

Considering Fireplace Installation?
If you want a fireplace and don't have the patience to stoke a wood fire, get one with temperature control. Wood-burning stoves and fireplaces take effort that not everyone can do.
Electric and gas-burning units allow you to install fireplace thermostats for better heat management. Customizable heating settings help you create a more comfortable environment.
Contact Dreifuss Fireplaces if you want a custom fireplace installed in your home today. We've been outfitting homes with fireplaces since 1876. You can count on us for installation and fireplace-related questions.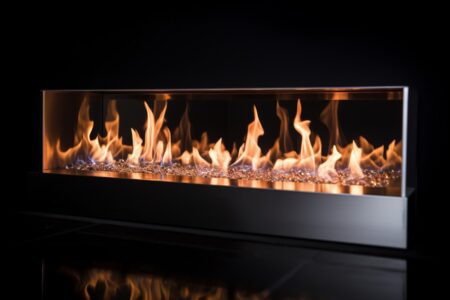 Gas fireplaces are a popular and convenient way to enjoy the warmth and coziness of a fire in your home. However, it is important to
Read More »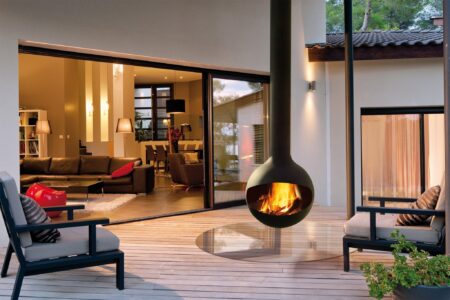 Venting a gas fireplace is crucial for proper air circulation and the removal of harmful combustion byproducts. However, not all homes are equipped with a
Read More »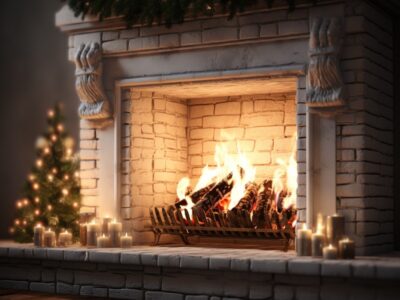 Cleaning white fireplace brick is essential to maintain its appearance and ensure the longevity of your fireplace. However, the cleaning process may vary depending on
Read More »