Architects, Designers, and Property Owners have unique views when it comes to commercial fireplace ideas. It's bright, it's bold, it's attention-grabbing, and it should instantly transform your commercial space from boring to beautiful. Sounds simple, right?
A creatively designed fireplace does all this and more when designed correctly for your space. Almost like a public display of art, a fireplace can be beautifully crafted and installed to enhance your commercial property and give guests and visitors something to remember.
Are you looking for some unique and innovative fireplace ideas for your commercial space? Would you like to find out more about how you can transform a room from drab to cozy and artistic?
If so, keep reading this guide to find out more about commercial fireplace design ideas! These examples can inspire you and open you up to more possibilities when designing a room for your commercial property.
Fireplace Ideas for Your Commercial Space
Whether you own a restaurant, hotel, or office space, a fireplace can elevate all these properties. Coziness, modernity, and artsy vibes can all be achieved by adding a creative fireplace to a room.
Besides looking good, fireplaces are also a cost-effective way to heat up your space and create a welcoming ambiance. As your guests enter the room, a unique fireplace is sure to leave a lasting impression as they visit your commercial property.
Here are eight unique fireplace ideas you can add to your hotel, restaurant, spa, or office space. These ideas vary in design, price, and size.
1. The Classic Fireplace
Simple and classic isn't always bad. The classic fireplace is usually on a wall from ceiling to floor with a classic mantelpiece. This fireplace can be an inexpensive option but can look fancier with added décor around the fireplace and on top of the mantle.
This design can make a room look classy and tasteful while still adding a unique focal point to a room.
2.  The Outdoor Fireplace
Outdoor fireplaces can add an extra degree of creativity to your outdoor space. These fireplaces can be built from stone, stucco, tile, or brick and can have a variety of design options. An example of a great outdoor fireplace would be a stacked stone fireplace located on a patio area.
Another example could be a stone fireplace with a TV above it for outside game-watching. If you would like to go for an extra modern look, you could install a floating fireplace into a tile or stone wall on your patio.
3. The Four-Sided Fireplace
This design is great for an open commercial space to draw eyes to the center of a large room. Installing a four-sided glass fireplace in the center of your room can better display the fireplace as an artistic structure and add flair to your space.
You can use a metal vent hood for the fireplace to add some modernity to the room while keeping the cozy feel.
4. The Suspended Fireplace
The suspended fireplace should also be a fireplace for the center of your room. This design would feature a suspended metal wood-burning fireplace hanging down from the ceiling. This design is sleek and modern, but the wood fireplace adds a rustic charm and coziness.
Since it is in the center of the room, it creates a more dramatic and artistic effect.
5. The See-Through Fireplace
This concept connects two rooms or two spaces together where people on both sides of the fireplace can see through it. It can also be used to separate a large space while still keeping an intimate feel.
This could work with a floating fireplace installed in a concrete or stone wall where you can see through into the other room or space. This is another great modern idea for a restaurant or hotel.
6. The Linear Fireplace
The linear fireplace design works perfectly for mid-century modern or industrial spaces. A linear fireplace is usually long and features one row of exposed flame, which is a result of a single flue intake.
Exposed flue fireplaces with a linear flame can be designed in different ways, such as a see-through fireplace in a wall, in a central stone or metal vent hood, or embedded into a wall on one side.
7. The Corner Fireplace
This fireplace is another great design for a hotel or restaurant! With a modern design and clean look, a corner fireplace can be two-sided or three-sided with glass on the edge of a wall.
People can see the fireplace from multiple angles, and you can take a bare or floating wall and elevate its look.
8. The Low Fireplace
This uses the idea of a linear fireplace design but moves the fireplace down to below knee level and closer to the floor. Featuring a long row of flames, this fireplace adds a modern vibe to your commercial space.
This design also looks great against a dark stone wall since it makes the fireplace pop out more.
Install Your Commercial Fireplace Today!
Now that you know all about the different commercial fireplaces you can install in your space, you can think about which design excites you and works best for you!
We believe fireplaces create warmth and ambiance, and we know there are numerous designs to fit your needs and lifestyle. If you are looking to install a commercial fireplace in and around the Philadelphia area, then contact us to find out more about what we can do for you!
We've been working at this for over 100 years, and we enjoy working closely with our commercial customers to make their fireplace ideas come true. Whether you need help designing, planning, or installing, we have got you covered!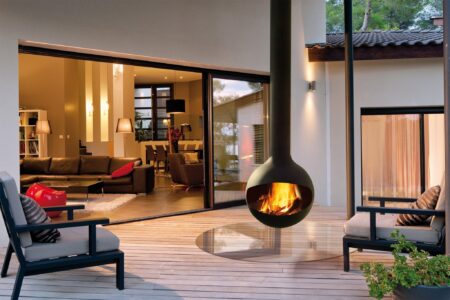 Venting a gas fireplace is crucial for proper air circulation and the removal of harmful combustion byproducts. However, not all homes are equipped with a
Read More »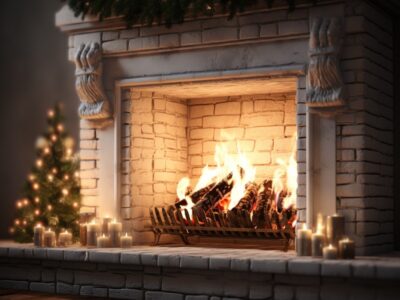 Cleaning white fireplace brick is essential to maintain its appearance and ensure the longevity of your fireplace. However, the cleaning process may vary depending on
Read More »
Looking to add a touch of elegance and warmth to your living space? Discover why a stone fireplace mantel is the perfect choice. Explore the
Read More »