If you're looking for a way to add some extra style and comfort to your home, consider fireplace decor. The right fireplace decorations can make your home look warm and inviting.
In this blog post, we will take a look at some of the latest fireplace decor trends. We'll also provide some fireplace decorating tips. So if you're ready to add some extra warmth to your home, keep reading!
Group Accessories
One of the latest trends in fireplace decor is to group accessories. This creates a more unified look and can add more visual interest to the fireplace.
For example, instead of having a vase of flowers on one side of the mantel and a candle on the other, try grouping three candles together or placing a vase of flowers in front of the fireplace.
Another option is to hang a mirror or piece of art above the mantel and then group some accessories below it. This gives the illusion of a larger space and can make the fireplace area more inviting. Whatever style you choose, grouping your accessories is a great way to create a more cohesive look in your fireplace decor.
Make It a Focal Point with Wall Art
Fireplaces have long been a focal point in homes, and now more than ever, people are looking for ways to make their fireplaces stand out. One of the latest trends is to use wall art to make a statement. Whether it's a large painting or a collection of smaller pieces, artwork can help to create a unique look that will be the envy of your guests. If you're not sure where to start, take a look at some of the following ideas:
Create a gallery wall: Arrange a selection of framed prints or photos around the fireplace for a cohesive look.
Mix and match: Use different sizes, shapes, and colors of frames to create an eye-catching display.
Think outside the frame: Get creative with other wall décor items like mirrors, clocks, or sconces.
With a little bit of imagination, you can transform your fireplace into a work of art. So get started and let your creativity flow!
Create a Reading Nook
If you're looking for a cozy spot to curl up with a good book, why not consider creating a reading nook around your fireplace? It's the perfect place to get cozy on chilly evenings, and with a few simple decorative touches, you can transform your fireplace into a stylish and inviting space.
Start by hanging a cozy throw blanket over a nearby chair. Choose a fabric that's soft and inviting, in a color or pattern that coordinates with your other decor.
Then, add some plump pillows in complementary colors or patterns. You might also want to add a small side table, so you can keep your coffee or tea close at hand. Consider adding some shelves or baskets to store your favorite books to complete the look.
Rustic Fireplace
Decorating a fireplace is a popular way to add personality to a room and make it feel more inviting. In recent years, rustic fireplace decor has become one of the most popular styles. Rustic fireplaces often feature natural materials such as stone or wood, and they often have distressed finishes that give them a vintage look.
If you're looking to add a touch of rustic style to your home, here are some fireplace decor ideas to get you started.
One of the simplest ways to add rustic style to a fireplace is to choose a rustic mantel. Mantels made from rough-hewn wood or stone are especially effective in creating a rustic look.
For an even more dramatic effect, consider using reclaimed wood for your mantel. Reclaimed wood has an inherent sense of history and character that will give your fireplace an instant boost of rustic charm.
Another popular option for rustic fireplace decor is to use reclaimed bricks for the surround. Reclaimed bricks have an authentic patina that can't be replicated with new bricks.
They also offer the added benefit of being eco-friendly since they're recycled from other buildings. If you're not sure where to find reclaimed bricks, check with your local salvage yard or demolition company. With a little bit of searching, you should be able to find enough bricks to complete your project.
Once you've chosen your mantel and surround, it's time to start accessorizing. Rustic fireplaces look great with antique tools and other rustic accessories.
Adding a few old lanterns or vintage signs can give your fireplace instant country charm. For an even more personal touch, try hanging family photos in antique frames above the mantel. Whatever accessories you choose, be sure to keep them in keeping with the overall rustic theme of your fireplace decor.
Mirror Above Fireplace
With the chilly weather well on its way, now is the perfect time to start thinking about fireplace decor. And what better way to add a touch of luxury to your home than with a mirror above the fireplace?
Not only will it reflect the flames and add a sense of space to your room, but it will also help to brighten up your home during the shorter days of winter.
If you're looking for something truly unique, why not try incorporating a vintage mirror into your design? Or for a more modern look, try using a geometric-shaped mirror. Whichever style you choose, a mirror above your fireplace is sure to make a statement in your home.
Get Started With These Fireplace Decor Ideas
Now that you have an idea of what fireplace decor is all about, it's time to get started on your project. Whether you're going for a rustic look or something more modern, there are plenty of fireplace decor ideas to choose from.
So get creative and start planning your fireplace makeover today!
Are you in the market for a new fireplace? Get in touch with us today!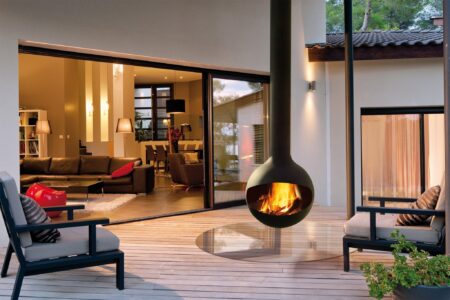 Venting a gas fireplace is crucial for proper air circulation and the removal of harmful combustion byproducts. However, not all homes are equipped with a
Read More »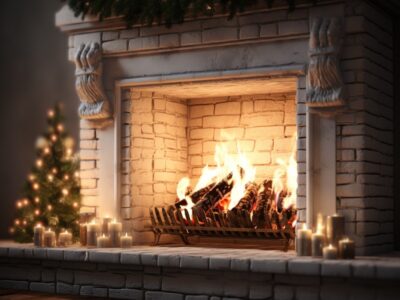 Cleaning white fireplace brick is essential to maintain its appearance and ensure the longevity of your fireplace. However, the cleaning process may vary depending on
Read More »
Looking to add a touch of elegance and warmth to your living space? Discover why a stone fireplace mantel is the perfect choice. Explore the
Read More »