Did you know that the market for fireplaces is expected to reach $13.4 billion by 2030? Since its growing popularity, fireplaces aren't just a one-size fits all addition. Contractors now can adjust them to your design aesthetic to blend into your home's interior design. This is good news for homeowners looking to add a custom fireplace to their home.
Start getting ideas for your custom fireplace with these unusual and creative designs.
Why Your Should Customize Your Fireplace
A unique fireplace allows you to design particularly for the layout of your home. This means that you will get better functionality and increased comfort.
Besides picking between a gas, wood, or electric fireplace, you can also choose from various styles including:
Double-Sided
Side-Facing
See-Through
Panoramic
Peninsula
Cylinder
By picking one of these styles, you will develop a fireplace that complements your home's design, making it easier to install.
Personalizing Your Custom Fireplace
Once you decide on one of the above types and styles, you can now start your custom fireplace design. There are a few things to consider to create your masterpiece.
Size
Your fireplace design ideas should first consider the size requirement. Decide where you want to place the fireplace according to the available space.
An average fireplace measures about 36 inches by 30 inches, but because you are creating a custom fireplace this can be altered. Remember that the larger the fireplace, the more heat it will generate. So, you don't want a very large fireplace in a small room that will overheat.
Adjust the size to accommodate the square footage of the room to heat the space appropriately.
Material
The material of your fireplace will also be important for your design to match your home's decor. Choose from brick, stainless steel, treated wood exterior, concrete, tile, plaster, stone, and more.
Depending on your style of fireplace, you may choose a material that fits best. For example, a modern-style, see-through fireplace may go better with a stainless steel material.
Mantel
Not all fireplaces need custom mantels, but they do offer a traditional design appeal if this is the style you want. Either use the same material for your mantel as you did for the rest of the fireplace or mix and match style for creative flare.
Color
Go with the natural tone of your chosen material or adjust your fireplace color with paint. You could paint bricks white or make an adobe-style clay any tone you wish.
Color offers you an outlet for creative expression that will make your fireplace the focal point of your room.
Chimney or Ventilation
A creative fireplace doesn't end with the facade. You can also customize how the smoke is released with a stylish chimney or ventilation system.
Keep the chimney hidden on the inside and make a grand reveal on the roof of your home with traditional brick or create an exposed stainless steel, industrial-style vent to add to the ambiance of your home inside.
Creative Fireplace Designs
You may have an idea of what you want your fireplace to look like, but seeing a finished one may help you make a final decision. Here are some unique fireplaces for inspiration.
Ceiling-to-Floor Geometric Marble
Make a grand statement by using decadent marble as your material. Accent the marble with geometric shapes that highlight its swirling template.
Choose between a grey or white marble against a contrasting wall color to make your ceiling-to-wall fireplace pop.
Integrated Sculptures
A great way to add an artistic detail to your fireplace is to make it a sculpture as well.
Use 3D shapes or cutouts to give your fireplace depth. Or make the whole wall an art gallery with the fireplace as a piece of your collection.
There is no limit to how you can design your fireplace when you get this creative.
Elegance With Romanic Tile
Tile doesn't have to be bland. In fact, customized tile can include details like unique patterns and intricate portraits.
Get inspiration from Ancient Greece or Rome to bring whimsy into your design, making your home's decor as special as a historic landmark.
Get Golden
Stainless steel is a common home design option but why not go for the gold?
However, instead of plating your fireplace in gold, try a shining brass cover. Brass goes well with black accents creating a modern yet elegant look.
Wall Paper Covering
Not all fireplaces need to stand out. You may want it to blend into the wall itself using wallpaper.
Pick a unique wallpaper design, then use crown molding to modestly highlight the curves of your fireplace. You can even use painted brick to make your wallpaper fireplace as cozy as a cottage.
Creative Curves
Squares and rectangles are a usual choice for fireplaces, but you may want to consider curves in your design.
Cut out sections of your fireplace to make it a one-of-a-kind art piece. Any material can be manipulated to bring creativity to your fireplace no matter what style you choose.
Transparency with Steel Rods
A transparent fireplace usually includes a glass enclosure to see to the other side. A creative alternative to this style includes the use of steel rods.
Place the rods around the exterior of your fireplace to keep it stylish and safe. This feature goes well with large rectangular fireplaces and small fire pits to avoid heating the rods.
Making Your Fireplace Design a Reality
A custom fireplace design can't be completed without the right builder. At Dreifuss Fireplaces, if you can imagine it then we can create it for you. And if you aren't sure about the design then we can help you decide.
Start by contacting us today to discuss your needs and get a free estimate.
Related Articles: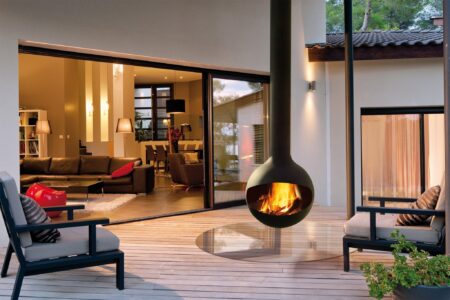 Venting a gas fireplace is crucial for proper air circulation and the removal of harmful combustion byproducts. However, not all homes are equipped with a
Read More »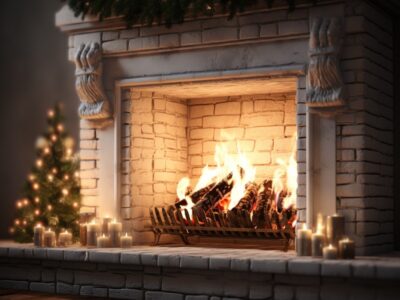 Cleaning white fireplace brick is essential to maintain its appearance and ensure the longevity of your fireplace. However, the cleaning process may vary depending on
Read More »
Looking to add a touch of elegance and warmth to your living space? Discover why a stone fireplace mantel is the perfect choice. Explore the
Read More »